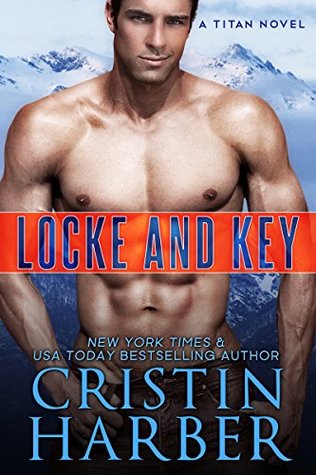 Locke and Key
(Titan #8)
by Cristin Harber
Kindle Edition, 312 pages
Published May 2nd 2017 by Mill Creek Press
ASINB06XRW5M7G
A Standalone Romantic Suspense novel from the NYT Bestselling author of the Titan Series...

THE STOIC SPECIAL FORCES OPERATOR
There's only one person to blame for darkening the last years of Locke Oliver's military career: Cassidy Noble. And damn if he doesn't have to save her from the side of a frozen mountain.
Even after the job is done, he can't shake the woman from his thoughts. He blames her for the deaths in his Army unit so many years ago, and he's not ready to let that go. It's driving him to the point of distraction, and now his Titan Group boss says to get his act together or get out.

THE FEISTY, FALLEN REPORTER
Cassidy is a disgraced journalist, once accused of treason—Or she's an American hero. It depends on who you ask. She's on a mission to rebuild her name and started with a simple question but discovered a complex web of spies and possible human trafficking.
Titan Group believes in her.
Locke does not. Until he can't deny the truth any longer about the past or what she's uncovered in her investigation.

BECOME AN INSEPARABLE TEAM
Cassidy volunteers to go undercover. Locke would do anything to stay by her side as she slips into the network and is sold to the highest bidder. All is going right until everything goes wrong. Nothing is as they expect, including falling in love with the woman he thought he hated.
Excerpt:
Cassidy's hand rested on the door handle, but she turned back to Locke. "Hey, wait."
He looked confused— or seasick. She couldn't get a good read on him, but either way, his paling face wasn't what she expected. "You okay?"
"Yes." Locke cleared his throat as he shifted his truck into park.
Again, she tried to understand what his facial expression was, but she came up empty. "If you're sure."
"Positive." He grabbed his water and chugged a few sips.
All righty, then. Cassidy didn't care to owe people favors. It never worked out for her. "If I tell you what I was doing at the school, can we call this even?"
"Info for the tire change?" His blue eyes lit up, and his loose hair fell forward as he faux contemplated. "I don't know, Red. It seems like you're getting the better offer."
"Red? The offer might be off the table, Blondie."
He dared her with a try-again smile and managed to do something sinful with his eyes. What was that? And for all that was holy, why did she notice? Cassidy steeled herself against the hair-eye combo that did silly things to her insides.
"People don't call you Red?" Locke asked.
Her blood pressure went up as did her eyebrows. "My name isn't Red."
She rolled her eyes. "It's a good offer."
"No!" Not thinking, she batted his arm. Damn. Damn. Dammmn. Just another reminder that the magical, muscle-building Henley wasn't making things up. He had bulges of muscle piggybacking their own muscles under that shirt. "I'll tell you what I was doing. And you won't hold this over my head, and never mention it again."
"You lied about having a spare tire and calling Triple A. I might bring that up again." He winked.
Cassidy had no choice. She jumped out of the truck. The hell with having him hold it over her head. The hell with knowing someone who could wink and make her melt.
ABOUT CRISTIN HARBER
Cristin Harber is a New York Times and USA Today bestselling romance author. She writes sexy, steamy romantic suspense and military romance. Readers voted her onto Amazon's Top Picks for Debut Romance Authors in 2013, and her debut Titan series was both a #1 romantic suspense and #1 military romance bestseller. http://cristinharber.com/