Well, we didn't have any April showers here in sunny Florida, but these May new releases are as pretty as flowers! I finished my last read just in time for Sarah J Maas' A Court of Wings and Ruin to be downloaded to my kindle this morning - woot, woot! I'm really looking forward to Death and Night by Roshani Chokshi. Loved the The Star-Touched Queen series and am really interested to see what happens in this prequel. Oh, and Lethal Lies by Rebecca Zanetti and Jay Crownover's Charged! Which releases are you looking forward to the most this month?
*This list may be updated throughout the month.
1st
Baby, Come Back
(Bad Boy Romance #2)
by Molly O'Keefe
ebook, 217 pages
Published May 1st 2017
A MAN WITH NOTHING LEFT TO LOSE





I sold my soul a long time ago to pay my father's debts. Now my life is a prison: no friends. No family. Nothing it would hurt to lose.





I never should've touched Abby. I tried not to, but she is beautiful, magnetic, sexy. Everything I want but can't let myself have.





UNTIL HE MET HER





She seduced me not knowing who I was or what I really do in the shadows. I should have resisted her, but I wanted to be the man Abby thought I was for as long as I could.





But all debts must be paid, sooner or later. And mine are paid with blood.





Now Abby knows who I am, what I am, and she's run from me.





I would have let her go for her own good. But when I find out she's carrying my baby — there's nowhere she can hide…
2nd
Title: Finding You
Series: Destination Love #3
Author: Jo Watson
Format: Paperback & eBook, 368pgs
Published: May 2, 2017 by Forever
ASIN: B01LL8BX0U
When you go to Greece to meet your family but end up making out with your smokin' hot tour guide #sorrynotsorry





Being adopted never made Jane Smith feel unloved, just unlike the rest of her family. As her twenty-fifth birthday approaches, she is struck by an overwhelming longing to finally find her place in the world. So in a very un-Jane-like move, she books a last-minute ticket to Greece to find her birth father and the real Jane. All she knows about him is it that he was a tour guide named Dimitri. Armed with this knowledge and several surprise boxes of condoms from her mom (not embarrassing at all), Jane takes off.





Within minutes of landing she makes two important discoveries. First, everyone in Greece is named Dimitri, and second, fate might be playing a sick joke on her when a sexy tour guide called Dimitri comes to fetch her from the airport. He offers to help Jane with her search---if she'll go on an adventure with him. Stable Jane would never risk a steamy vacation romance. But real Jane might finally be ready to listen to her heart. Will Jane find her biological father, or will she end up finding something else entirely?
All the Lies We Tell
(Quarry Road #1)
by Megan Hart
Paperback, 304 pages
Published May 1st 2017 by Montlake Romance
ISBN 1503942775
Everyone knew Alicia Harrison's marriage to Ilya Stern wouldn't last. They'd grown up on a remote stretch of Quarry Street, where there were two houses, two sets of siblings, and eventually, a tangled mess of betrayal, longing, and loss. Tragedy catapulted Allie and Ilya together, but divorce—even as neighbors—has been relatively uncomplicated.





Then Ilya's brother, Nikolai, comes home for their grandmother's last days. He's the guy who teased and fought with Allie, infuriated her, then fled town without a good-bye. Now Niko makes her feel something else entirely—a rush of connection and pure desire that she's been trying to quench since one secret kiss years ago. Niko's not sticking around. She's not going to leave. And after all that's happened between their families, this can't be anything more than brief pleasure and a bad idea.





But the lies we tell ourselves can't compete with the truths our hearts refuse to let go…
An ambitious Southern belle




Marabelle Fairchild knows she's a gal who can get things done. Feeling unappreciated at the exclusive private school where she's a kindergarten aide and varsity tennis coach, Marabelle determines to score with the next big fundraiser. What she doesn't expect? A smokin' hot football coach to throw her off her game...





A reclusive NFL bachelor...




NFL coach Nick Frasier is Raleigh's most eligible bachelor, but he wants to focus on his career...not his playboy status. He doesn't need a smart-mouthed, pint-sized kindergarten teacher pestering him. So he cuts Marabelle a deal—in exchange for Nick sponsoring a bachelor auction starring him and his gorgeous celebrity pals, Marabelle will pose as his fiancée to ward off unwanted advances.





What could possibly go wrong?
In the latest novel from the New York Times bestselling author of Don't Let Go, it's never too late for a second chance at first love…





When Loretta Simmons returns to Hope, Oklahoma, after a disastrous marriage, she's determined to remain independent for the sake of her daughter. The only thing standing in her way is Deacon Fox—the man she loved and walked away from years ago.





Since Loretta owns the bookstore right next to his current renovation project, Deacon can't escape the woman who broke his heart. Throw in her adorable little girl and one ridiculously oversized dog, and they're almost a family. Only he can't be that guy—what they had was once in a lifetime.





But love has a funny way of re-opening a door you thought was firmly closed…
A goalie has to trust his instincts, even when taking a shot to the heart…





Mike Beacon is a champion at defending the net, but off the ice, he's not so lucky. A widower and a single father, he's never forgotten Lauren Williams, the ex who gave him the best year of his life. When Lauren reappears in the Bruisers office during the playoffs, Beacon sees his chance to make things right.





Lauren hates that she's forced to travel with the team she used to work for and the man who broke her heart. There's still undeniable sexual tension running between her and Mike, but she won't go down that road again. She's focused on her plans for the future—she doesn't need a man to make her dreams of motherhood come true.





Lauren plays her best defensive game, but she's no match for the dark-eyed goalie. When the field of play moves to Florida, things heat up on the beach.





One of Mike's biggest fans doesn't approve—his teenage daughter. But a true competitor knows not to waste the perfect shot at love.
Cultures clash and passion ignites in the novel that will leave you begging for more—from the bestselling author of The Affair and Looking Inside.





There's something about this woman…





On a break between overseas jobs, journalist Asher Gaites returns to his hometown of Chicago—and allows his friends to persuade him to check out a hot new singer. At a downtown jazz club, he's soon transfixed by the lyrical voice and sensuous body of a woman who performs behind a thin, shimmering veil...





…That could bring a man to his knees.





The veil gives Moroccan American Laila Barek the anonymity she needs since she has never been able to reconcile her family's values with her passion for music. But one man is inexplicably drawn to her. And when Asher confronts her on a subway platform after a gig, he's shocked to recognize the woman who walked away from him nine years ago...





Laila has never been able to forget the touch, the feel, the taste of Asher. And despite the doubt and fear that wind their way into their lives, they must trust the heat of their desire to burn down the walls the world has placed between them…
Title: The Bad Luck Bride
Series: The Cavensham Heiresses #1
Author: Janna MacGregor
Format: Paperback & eBook, 349pgs
Published: May 2, 2017 by St. Martin's
ASIN: B01MAUDZCC
IS MARRIAGE A BLESSING OR A CURSE?





A man of honor, Alexander Hallworth, Marquess of Pembrooke, will not rest until he exacts revenge on the man who destroyed his family. Just one more piece must fall into place for him to succeed he needs to convince his enemy s fiancee, the tragically beautiful Lady Claire Cavensham, to marry him instead.





Lady Claire s curse has always left her one misstep away from social ruin her past three engagements have gone awry, and now her fourth is headed in the same direction. . .until Alex, a man she barely even knows, shocks the ton and Claire by announcing their engagement. What begins as a sham turns into something deeper, and more passionate, than either Claire or Alex could have imagined. But when their secrets are revealed, will the truth behind their union scandalize them both or is their love strong enough to break the curse and lead them toward their happily ever after?
Nothing Like a Duke
(The Duke's Sons #4)
by Jane Ashford
Mass Market Paperback, 352 pages
Published May 2nd 2017 by Sourcebooks Casablanca
Original TitleNothing Like a Duke
ISBN 149262165X
A Georgette Heyer-esque tale of high society in the glittering Regency





Lord Robert Gresham has given up all hope that the beautiful Flora Jennings will ever take him seriously. He heads to an exclusive country house party to forget about Flora, but his plans are thwarted when she suddenly arrives.





Their attraction flares, but their romance becomes complicated when the sinister Anthony Durand shows up and threatens Flora. Every bone in Robert's body says to save her…but he'll have to learn that some damsels in distress can save themselves if he truly wants to win her heart.
Never Trust a Pirate
(Playful Brides #7)
by Valerie Bowman
Mass Market Paperback, 288 pages
Published May 2nd 2017 by St. Martin's Paperbacks
Original TitleNever Trust a Pirate
ISBN 1250121698
The rules of engagement were never so scandalous. . .





A rumored pirate and the scurrilous black sheep of his well-to- do family, Cade Cavendish relishes his world of rebellion, deception, and seduction. Nothing and no one can hold him to be the duty-bound, honorable man he is expected to be. But when an unexpected run-in at his twin brother's estate with a ravishing, raven-haired maid leads her to believe he's actually a viscount, Cade's renegade life is thrown wildly off-kilter. And even though a case of mistaken identity can be quickly set to rights, matters of the heart are quite different...





Miss Danielle LaCrosse is startled to learn that the handsome gentleman who radiates sin and has the devil in his eyes is not her employer the Viscount, but rather his infamous brother. A former heiress, orphaned and left penniless, Danielle has more than a few secrets of her own. Cade may be skilled at coaxing even the most hidden desires out of Danielle but can he earn her trust--and win her heart--as they embark on an adventure to confront a dangerous enemy from both of their pasts . . . and uncover the identity of the so-called Black Fox along the way?





Never Trust a Pirate is part of the Regency-set Playful Brides series by Valerie Bowman
From the New York Times bestselling author of I Thee Wed comes a Wicked Worthingtons novel of a love that will not be denied....




As a ship's captain, highborn bastard Morgan Pryce has spent his life sailing away from England. The last thing he needs is a wife. But when he fears that his titled half brother, Neville, is about to be snared by a gold digger, Morgan aims to protect Neville by tricking the lovely crook into marrying him first. He knows he can't allow himself to believe a word she says. If only she weren't so convincing....





Determined beauty Bliss Worthington is not terribly fond of finding another man waiting for her at the altar—after all, no one tricks a Worthington and gets away with it. Somehow she must persuade her dangerously handsome new husband to grant her an annulment, because her heart is set on his brother.





Soon the newlyweds must deal with a secret but mutual attraction. Morgan finds himself oddly devastated by her tenderness and braveness. When Neville shows up to rescue her from a loveless marriage, she will have to quickly decide which man is the right one for her....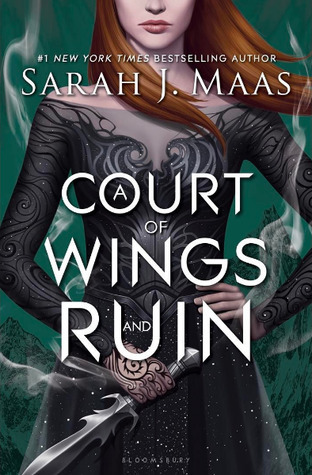 A Court of Wings and Ruin
(A Court of Thorns and Roses #3)
by Sarah J. Maas
Kindle Edition, 648 pages
Published May 2nd 2017 by Bloomsbury USA Childrens
ASINB01LOWN78Y
Looming war threatens all Feyre holds dear in the third volume of the #1 New York Times bestselling A Court of Thorns and Roses series.





Feyre has returned to the Spring Court, determined to gather information on Tamlin's maneuverings and the invading king threatening to bring Prythian to its knees. But to do so she must play a deadly game of deceit-and one slip may spell doom not only for Feyre, but for her world as well.





As war bears down upon them all, Feyre must decide who to trust amongst the dazzling and lethal High Lords-and hunt for allies in unexpected places.





In this thrilling third book in the #1 New York Times bestselling series from Sarah J. Maas, the earth will be painted red as mighty armies grapple for power over the one thing that could destroy them all.
Death and Night
(The Star-Touched Queen 0.5)
by Roshani Chokshi
Kindle Edition
Published May 2nd 2017 by St. Martin's Griffin
ASINB01MR48UBS
An exclusive Star-Touched novella over 100 pages long!





Before The Star-Touched Queen there was only Death and Night.





He was Lord of Death, cursed never to love. She was Night incarnate, destined to stay alone. After a chance meeting, they wonder if, perhaps, they could be meant for more. But danger crouches in their paths, and the choices they make will set them on a journey that will span lifetimes.
Dating The Undead
(V-Date.Com #1)
by Juliet Lyons
Paperback, 352 pages
Published May 2nd 2017 by Sourcebooks Casablanca (first published December 14th 2014)
ISBN 1492645303
It's Bridget Jones with vampires in this fresh and funny paranormal romance from debut author Juliet Lyons





When Silver Harris kisses sexy Irish vampire Logan Byrne on New Year's Eve, she knows other humans just won't suffice. Convinced she'll never see him again, she joins the uber-popular vampire dating site, V-Date.com.





What Silver doesn't know is that the site is more dangerous than she could ever imagined, and soon she's in over her head. When Logan returns, sparks fly and attraction sizzles, but they'll have to escape some very real demons if they have any chance of lasting forever.
The Untamed Vampire
(Last True Vampire #4)
by Kate Baxter
Published May 2nd 2017 by St. Martin's Paperbacks
16th
Title: Lethal Lies
Series: Blood Brothers #2
Author: Rebecca Zanetti
Format: Paperback & eBook, 417pgs
Published: May 16, 2017 by Forever
ASIN: B01K3WN7P4
A deadly secret can't stay buried forever . . .





Revenge. It's the only thing that will help Anya Best sleep at night. The serial killer who murdered her sister is on the loose, and Anya will stop at nothing to put him behind bars-even use herself as bait to lure him out of hiding. But she can't do this alone.





Private investigator Heath Jones's job is to bring bastards to justice. This time it's personal. He knew the Copper Killer's latest victim so when her sister asks for his help, he's all in. But when Anya uses the media to taunt the killer, she exposes Heath's identity, putting them both in jeopardy. Now, secrets buried long ago are coming to light and the forces determined to destroy him are watching Heath's every move, waiting to exact their own revenge. And they'll use anything and anyone to get to Heath.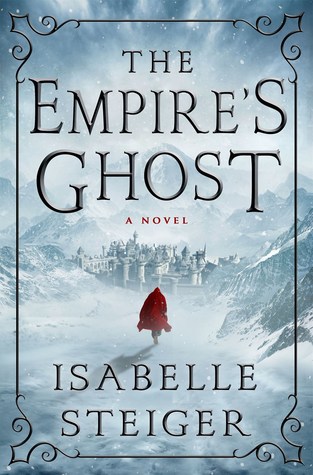 The Empire's Ghost
by Isabelle Steiger
Hardcover, 432 pages
Expected publication: May 16th 2017 by Thomas Dunne Books
ISBN 1250088488
An epic fantasy debut, The Empire's Ghost weaves together the lives of the haves and the have-nots both desperately fighting to reassemble the remains of a fallen empire.





The empire of Elesthene once spanned a continent, but its rise heralded the death of magic. It tore itself apart from within, leaving behind a patchwork of kingdoms struggling to rebuild. But when a new dictator, the ambitious and enigmatic Imperator Elgar, seizes power in the old capital and seeks to recreate the lost empire anew, the other kingdoms have little hope of stopping him. Prince Kelken of Reglay finds himself at odds with his father at his country's darkest hour; the marquise of Esthrades is unmatched in politics and strategy, but she sits at a staggering military disadvantage. And Issamira, the most powerful of the free countries, has shut itself off from the conflict, thrown into confusion by the disappearance of its crown prince and the ensuing struggle for succession.





Everything seems aligned in Elgar's favor, but when he presses a band of insignificant but skilled alley-dwellers into his service for a mission of the greatest secrecy, they find an unexpected opportunity to alter the balance of power in the war. Through their actions and those of the remaining royals, they may uncover not just a way to defeat Elgar, but also a deeper truth about their world's lost history.





Isabelle Steiger has crafted a powerful and masterful debut with The Empire's Ghost, the first book in a haunting new epic fantasy series.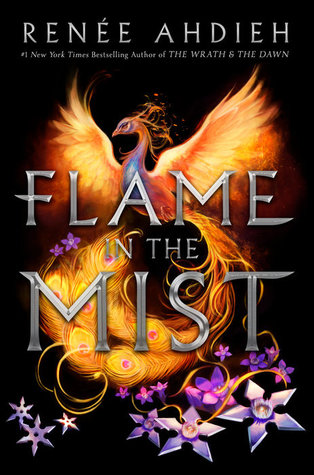 Flame in the Mist
(Flame in the Mist #1)
by Renee Ahdieh
Hardcover, 368 pages
Expected publication: May 16th 2017 by G.P. Putnam's Sons Books for Young Readers
ISBN 0399171630
The daughter of a prominent samurai, Mariko has long known her place—she may be an accomplished alchemist, whose cunning rivals that of her brother Kenshin, but because she is not a boy, her future has always been out of her hands. At just seventeen years old, Mariko is promised to Minamoto Raiden, the son of the emperor's favorite consort—a political marriage that will elevate her family's standing. But en route to the imperial city of Inako, Mariko narrowly escapes a bloody ambush by a dangerous gang of bandits known as the Black Clan, who she learns has been hired to kill her before she reaches the palace.





Dressed as a peasant boy, Mariko sets out to infiltrate the ranks of the Black Clan, determined to track down the person responsible for the target on her back. But she's quickly captured and taken to the Black Clan's secret hideout, where she meets their leader, the rebel ronin Takeda Ranmaru, and his second-in-command, his best friend Okami. Still believing her to be a boy, Ranmaru and Okami eventually warm to Mariko, impressed by her intellect and ingenuity. As Mariko gets closer to the Black Clan, she uncovers a dark history of secrets, of betrayal and murder, which will force her to question everything she's ever known.
Hunger
(Feral Passions #3)
by Eve Langlais, Kate Douglas, A.C. Arthur
Paperback, 544 pages
Expected publication: May 16th 2017 by St. Martin's Griffin
ISBN 1250078601
Dive into Hunger, a paranormal romance anthology by New York Times bestselling author Eve Langlais, Kate Douglas, and A.C. Arthur!
A brand new, never before published novella!



In The Alpha's Mate, villains aren't supposed to rescue damsels, and pack alphas are known to have complete control of their wolf. But when Fabian saves a certain lady from drowning, everything he knows gets tossed away and only one thing becomes clear: she's his mate—and someone wants to kill her. Hell no. Protecting her, though, is only part of his problem. He also has to convince her she belongs to him. In her words, "Hell no."





When she flees, little does she realize this wolf loves to chase. And when he catches the woman he wants? She'll become the Alpha's Mate.





Previously published in the 2-in-1 e-original Claimed by the Mate Volume 3 and in print for the first time!





In Dangerous Passions, finding a mate shouldn't be all that difficult for a sexy werewolf on the prowl. Modern women want romance and seduction, and Feral Passions Resort has served that purpose for providing both for the men of the Trinity Alps pack. Only two are still unmated—alpha leader Traker Jakes and his lieutenant Evan Dark—but danger stalks the women they've chosen. Danger that threatens everyone in the pack at Feral Passions.





In Bound to the Wolf, Marena Panos is an attorney with a dark secret that follows her into the mountains and into the bed of a Phelan Sava, a lycan whose strength and shared penchant for pleasure/pain will eventually own her body and soul.
18th
Dangerously Bad
(Dangerous #3)
by Eden Bradley
ebook
Expected publication: May 18th 2017 by Penguin Group (USA)
ISBN 0753550873
From the author of Dangerously Broken comes the third novel in the Dangerous Romance trilogy.





Being bad never felt so good…





Duff Stewart has two specialties: restoring vintage motorcycles and doing bad things to beautiful girls at New Orleans's most notorious BDSM club. And there's no girl he'd rather be with than the stunning Layla Chouset.





Layla has sworn off relationships with Dominant men, but there's something about the gorgeous Scotsman, and he is determined to win her heart. She may agree to submit to his every want and desire, but can she submit to love...?
22nd
The Nanny Arrangement
(Country Blues #2)
by Rachel Harris
Expected publication: May 22nd 2017 by Entangled Publishing, LLC (Bliss)
23rd
Title: A Counterfeit Heart
Series: Secrets and Spies #3
Author: K.C. Bateman
Format: eBook 312pgs
Published: May 23, 2017 by Random House
ASIN: B01LKCM1IK
As Sabine de la Tour tosses piles of forged banknotes onto a bonfire in a Paris park, she bids a reluctant farewell to her double life as a notorious criminal. Over the course of Napoleon's reign, her counterfeits destabilized the continent and turned scoundrels into rich men, but now she and her business partner must escape France—or face the guillotine. Her only hope of surviving in England is to strike a deal with the very spy she's spent her career outrunning. Now after meeting the arrogant operative in the flesh, Sabine longs to throw herself upon his mercy—and into his arms.





Richard Hampden, Viscount Lovell, is prepared to take any risk to safeguard England from the horrors of the French Revolution. To lure the insurgents out from the shadows, he's even willing to make a pact with his archenemy: Philippe Lacorte, the greatest counterfeiter in Europe. But when a cheeky, gamine-faced beauty proves herself to be Lacorte, Richard is shocked—and more than a little aroused. Unlike the debutantes who so often hurl themselves at him, this cunning minx offers a unique and irresistible challenge. Richard will help her. But in return, he wants something that even Sabine cannot fake.
Title: Wed to a Spy
Series: An All the Queen's Spies #1
Author: Sharon Cullen
Format: eBook 273pgs
Published: May 23, 2017 by Loveswept
ASIN: B01M6ATB84
Blistering seduction meets international intrigue in the Highlands as a veteran spy infiltrates the court of Mary, Queen of Scots. There he matches wits against a tantalizing enemy: his new wife.





Simon Marcheford wants nothing more than to settle down on the land bestowed upon him by the English crown. Queen Elizabeth, however, is not about to let her best spy retire so easily. Simon will have his reward, she decrees, after he completes one last mission in Scotland. But no sooner has he sussed out a diabolical plot up North than Queen Mary weds him to her cousin—an exquisite beauty with troubled, soulful eyes—and orders Simon to watch her every move.





Aimee de Verris is no spy. But her life may depend on becoming one. Banished from the French court by Catherine de Medici, Aimee finds herself tasked with reporting on Queen Mary's activities in Scotland, where she's unnerved by the frigid weather and brutish customs. Worst of all, Aimee's been married off to a most uncouth lout. But when murder strikes, she learns to appreciate Simon's talent for shielding her with every inch of his muscular frame. If Aimee desires her husband, perhaps she could trust him—or even love him.
Title: The Lady Traveler's Guide to Scoundrels & Other Gentlemen
Series: The Lady Traveler's Guide #1
Author: Victoria Alexander
Format: Paperback & eBook, 544pgs
Published: May 23, 2017 by HQN
ASIN: B01MXKL0P2
Embark on the breathtaking romantic adventures of The Lady Travelers Society in the brand-new series by #1 New York Times bestselling author Victoria Alexander





Really, it's too much to expect any normal man to behave like a staid accountant in order to inherit the fortune he deserves to support the lifestyle of an earl. So when Derek Saunders's favorite elderly aunt and her ill-conceived—and possibly fraudulent—Lady Travelers Society loses one of their members, what's a man to do but step up to the challenge? Now he's escorting the world's most maddening woman to the world's most romantic city to find her missing relative.





While India Prendergast only suspects his organization defrauds gullible travelers, she's certain a man with as scandalous a reputation as Derek Saunders cannot be trusted any farther than the distance around his very broad shoulders. As she struggles not to be distracted by his wicked smile and the allure of Paris, instead of finding a lost lady traveler, India just may lose her head, her luggage and her heart.
Cheater's Regret
(Curious Liaisons #2)
by Rachel Van Dyken
Kindle Edition, 286 pages
Expected publication: May 23rd 2017 by Skyscape
ASINB01LY2Z1BE
New York Times and USA Today bestselling author Rachel Van Dyken returns with a smoking-hot story about the satisfaction of plotting revenge on your ex—until he turns your world upside down again.





Austin Rogers's dreams of domestic bliss involved watching Netflix and eating hot dogs with the love of her life. But then he cheated on her. And dumped her—as if the whole thing was her fault. To maintain her pride and restore her sanity, she decides to get revenge. It feels immensely satisfying to plot her ex's downfall—but so does kissing him.





Thatch Holloway, a plastic surgeon straight out of residency, knows he ruined the best thing that ever happened to him. But not all cheaters are created equal. He got himself into this messed-up situation—true—but he has his reasons for what happened, and he'd do it all again to protect Austin.





He's not over her. And she's not over him.





Austin wants closure, but since Thatch refuses to give it to her, she takes matters into her own hands. She needs to write a human-interest piece for her MBA, so she demands the full plastic-surgery experience. Sparks fly as they're forced to work together. But Thatch isn't afraid to play dirty in return. And he's still hiding something—something that has the power to destroy not only Austin but their second chance at finding forever…
Grand Slam
(The Boys of Summer #3)
by Heidi McLaughlin
Kindle Edition
Expected publication: May 23rd 2017 by Forever (first published May 2nd 2017)
ASINB01LL8C0AC
Win the game. Lose your heart.





Everyone knows who I am and that I could have any female fan I want. That's supposed to be the "perk" of playing left field for the Boston Renegades. But I don't want just any woman; I want her.





She should be just another face in the crowd, but I can't stop thinking about the one night we spent together-and her look of regret the morning after.





Because Saylor Blackwell is the kind of woman who haunts a man. Smart, sexy as hell, and one of the best managers in the business. She's every ballplayer's dream woman. And I'd do anything to make things right with her.





I'm done sitting on the bench when it comes to Saylor Blackwell. Time to swing for the fences.
Just One Touch
(Slow Burn #5)
by Maya Banks
Kindle Edition, 256 pages
Expected publication: May 23rd 2017 by Avon
#1 USA Today and New York Times bestselling author Maya Banks continues her suspenseful and sizzling Slow Burn series with the fifth book featuring the men and women of Devereaux Security Services.





Abducted as a young girl and raised in a strict religious cult, Jenna has no connection to the outside world beyond vague flashes of memory that seem to be from another life. Memories she clings to when the cult leaders discover her extraordinary ability to heal—and punish her. Years held captive and forced to do the cult's bidding have turned Jenna into a meek, timid woman…or so they think. In truth, she is merely biding her time, waiting for the perfect moment to escape.





When a terrified young woman stumbles across Isaac's path, Devereaux Security's toughest recruit is intrigued by the beautiful, sheltered stranger. Jenna seems to know nothing of the world around her and refuses to tell him what danger haunts her, but Isaac will do whatever it takes to gain her trust. When it becomes clear that very powerful, dangerous people are after her, he vows to protect her at all costs… because with just one touch Issac knows he wants Jenna to be his—forever.
The Darkest Corner
(Gravediggers #1)
by Liliana Hart
Paperback, 368 pages
Expected publication: May 23rd 2017 by Pocket Books
ISBN 1501150030
New York Times and USA TODAY bestselling author Liliana Hart's first book in her suspenseful Gravediggers series, featuring an elite group of mysterious men who might be dead to the world, but are also tasked with saving it—and no one can ever know.





The Gravediggers aren't exactly what they seem. They're the most elite of the world's fighting forces—and all they have in common is that they've been betrayed by the countries they've died for. Because they are dead. To their country, their military, and their families.





Sometimes the dead do rise...





Solomon Lange is a dead man walking. A former black ops agent, he was disavowed and stripped of all honor before being recruited as a Gravedigger. But his honor and good name no longer matter, because no one knows he's alive, and he'll never get the recognition he deserves. His mission is simple: save the world or die trying. And for God's sake, don't ever fall in love. That's a rule punishable by death. The kind of death a man can't be brought back from.





Tess Sherman is the only mortician in Last Stop, Texas. She has no idea how Solomon Lange ended up in her funeral home, but she'll eat her hat if he's only a funeral home assistant. Solomon is dangerous, deadly, and gorgeous. And she knows her attraction to him can only end in heartache.





Solomon is on a mission to stop the most fatal terror attack the world has ever known—what's known as The Day of Destiny—a terrorist's dream. But when he discovers Tess has skills he can use to stop them, he has to decide if he can trust her with secrets worth dying for. And, most important, he has to decide if he can trust her with his heart.
Defender
(Long, Tall Texans #46)
by Diana Palmer
Paperback
Expected publication: May 23rd 2017 by Harlequin Books
ISBN 0373801971
The man who shattered her trust is back to protect her

New York Times bestselling author Diana Palmer delivers a breathtaking story of second-chance love



When Paul Fiore disappeared from Isabel Grayling's life, he told himself it was for all the right reasons. She was young and innocent, and he was her millionaire father's lowly employee. Three years later, Paul is the FBI agent assigned to Isabel's case. Too late, he realizes what life in her Texas mansion was really like back thenand how much damage he did when he left.





Once love struck and sheltered, Isabel has become an assistant district attorney committed to serving the law, no matter how risky it gets. But right now the man she can't forgive is the one person standing between her and a deadly stalker. She knows Paul won't hesitate to protect her life with his own. But if she can't trust herself to resist him, how can she trust him not to break her heart all over again?
24th
Title: Charged
Series: Saints of Denver #2
Author: Jay Crownover
Format: Paperback & eBook, 387pgs
Published: May 24, 2017 by William and Morrow
ASIN: B0166JMQS2
Avett Walker and Quaid Jackson's worlds have no reason to collide. Ever. Quaid is a high powered criminal attorney as slick as he is handsome. Avett is a pink-haired troublemaker with a bad attitude and a history of picking the wrong men.





When Avett lands in a sea of hot water because of one terrible mistake, the only person who can get her out of it is the insanely sexy lawyer. The last thing on earth she wants to do is rely on the no-nonsense attorney who thinks of her as nothing more than a nuisance. He literally has her fate in his hands. Yet there is something about him that makes her want to convince him to loosen his tie and have a little fun…with her.





Quaid never takes on clients like the impulsive young woman with a Technicolor dye job. She could stand to learn a hard lesson or two, but something about her guileless hazel eyes intrigues him. Still, he's determined to keep their relationship strictly business. But doing so is becoming more impossible with each day he spends with her.





As they work side-by-side, they'll have to figure out a way to get along and keep their hands off each other—because the chemistry between them is beyond charged.
29th
One Night Only
by Tory Richards
ebook
Expected publication: May 29th 2017 by Tory Richards
ISBN139781370171668
By the time the music stopped my whole body and soul was aroused to the point that I was certain I wouldn't be able to walk off the stage. I was tingling from head to foot, and had an itch between my legs that needed tending to, immediately. I watched as Joe slowly stood, our eyes locked until I couldn't stand it any longer and I lowered my head to look down. There was no way he could hide the hard-on behind his black thong. He didn't even try. He helped me to my feet.





"Come home with me." He wasn't asking. I glanced around for my friends, shocked to see them waving at me from the entrance doorway before they quickly turned and exited the place. What the hell? They were deserting me? I looked back at Joe. "Relax, birthday girl. I promised them if you weren't interested that I would get you home."





"I'm not a girl." I don't know why I said it, other than to bring attention to the fact that I was a woman and much older than him.





His sexy laugh stoked the fire between my legs. "No, you're a very sexy lady."





Oh my, he thought I was sexy? "Older woman."





"Not that much older, Lana, and age is only a number. So, will you come home with me?





This time he asked, and I didn't hesitate. "Yes."





"Good. Wait for me at your table while I go shower and dress."





As I took the side stairs down off the stage, I was already thinking about changing my mind. I must be crazy to think about going home with a man I didn't know. I was still horny as hell but I could take care of that with a little help from the overused dildo under my pillow, and there was always my little purple rabbit. My clit was actually throbbing, and it wouldn't take long to have an orgasm. Reaching my table, the first thing my eyes lit on was the folded note propped up against my glass. I sat down and reached for it at the same time.





Please don't be mad at Helen and me for leaving you. We've been coming to Big Dicks a lot longer than you have, and we know and trust Joe. He confessed to us a couple weeks ago that he'd like to get to know you. Don't do anything you don't want to, honey. Happy Birthday!





Smiling, I reached for my small purse where I'd left it hanging on a hook under the table, and slipped the note inside. Seems my friends had thought of everything. Their note set my mind at ease about going home with Joe.
30th
Title: Edge of Truth
Author: Brynn Kelly
Format: Hardcover & eBook, 400pgs
Published: May 30, 2017 by HQN
ASIN: B01MQICEYA
Tensions sizzle in this electrifying novel guaranteed to capture your heart and take your breath away. Fans of Julie Garwood, Suzanne Brockmann and Jayne Ann Krentz will devour this action-packed, emotionally stunning tour de force, where every page reveals another damning secret and daring gamble.





Rotting in an African dungeon is the last place journalist Tess Newell expected to find herself. As she's held hostage by the terrorist group she's investigating, Tess's salvation--and temptation--arrives in the form of another prisoner. A French Foreign Legionnaire with a sinful smile and too many secrets to be anything but dangerous. Yet she knows he's her only hope of surviving.





The Legion is the only family Flynn has. His sanctuary and his purgatory, after years spent in hell. When a mission goes south and Flynn is captured, it's not the enemy that worries him, but the brazen, alluring reporter whose prying questions threaten to bring down his world--and the walls he's built around his heart.





Yet after a daring escape, Flynn must risk it all and go on the run with Tess to retrieve the evidence she needs. The chemistry between them threatens to detonate but, with the enemy fast closing in, time is running out to unravel the truth from the lies in this deadly conspiracy...
Title: Toughest Cowboy in Texas
Series: Happy, Texas #1
Author: Carolyn Brown
Format: Paperback & eBook, 399pgs
Published: May 30, 2017 by Forever
ASIN: B01LL8BRVA
The Spark of an Old Flame





Last time Lila Harris was in Happy, Texas, she was actively earning her reputation as the resident wild child. Now, a little older and wiser, she's back to run her mother's café for the summer. Except something about this town has her itching to get a little reckless and rowdy, especially when she sees her old partner-in-crime, Brody Dawson. Their chemistry is just as hot as ever. But he's still the town's golden boy-and she's still the wrong kind of girl.





Brody hasn't had much time lately for anything other than ranching. Running the biggest spread in the county and taking care of his family more than keeps him busy. All that responsibility has him longing for the carefree days of high school-and Lila. She may have grown up, but he still sees that spark of mischief in her eyes. Now he's dreaming about late-night skinny dipping and wondering how he can possibly resist the one woman he can never forget...
Title: From Duke Till Dawn
Series: London Underground #1
Author: Eva Leigh
Format: Paperback & eBook, 384pgs
Published: May 30, 2017 by Avon
ASIN: B01LL0S9SW
Years ago, the Duke of Greyland gave his heart—and a princely sum of money—to a charming, destitute widow with unparalleled beauty. After one passionate night, she slipped from his bed and vanished without a trace. And just when he's given up hope of ever seeing her again, Greyland finds her managing a gaming hell. He's desperate to have her… until he discovers everything about his long-lost lover was a lie.





In truth, Cassandra Blake grew up on the streets, picking pockets to survive. Greyland was a mark—to be fleeced and forgotten—but her feelings for the duke became all too real. Once he learns of her deception, however, the heat in his eyes turns to ice. When her business partner absconds with the gaming hell proceeds—leaving unsavory investors out for blood—Cassandra must beg the man she betrayed for help.





Greyland wants compensation, too, and he'll assist her under one condition: she doesn't leave his sight until her debts are paid. But it's not long before the real Cassandra—the smart, streetwise criminal—is stealing his heart all over again.
Title: An Affair with a Notorious Heiress
Series: Scandalous Gentlemen of St. James #4
Author: Lorraine Heath
Format: Paperback & eBook, 384pgs
Published: May 30, 2017 by Avon
ASIN: B01M1MO39H
The son of a duke and an infamous mother, Alistair Mabry, Marquess of Rexton, fought his way to respectability. Now, the most eligible bachelor in London, marriage-shy Rexton will take only a wife with an impeccable reputation, good breeding, and a penchant for staying out of the gossip sheets. But when he strikes a deal to be seen "courting" a sweet young debutante whose notorious older sister has blemished her chances for marriage, Rexton is unexpectedly drawn to the highly inappropriate, calamitous Tillie, Lady Landsdowne herself.





After a scandalous incident that sent shockwaves throughout society and disgraced her, Tillie refuses to cower in the face of the ton. Instead, she will hold her head high as she serves as chaperone for her younger sister, but Tillie is convinced Rexton's courtship is shrouded with secrets—ones she vows to uncover. However, doing so requires getting dangerously close to the devilishly handsome and forbidden marquess…
Title: The Most Dangerous Duke in London
Series: Decadent Dukes Society #1
Author: Madeline Hunter
Format: Paperback & eBook, 304pgs
Published: May 30, 2017 by Zebra
ASIN: B01LJKQGAM
Three sinfully handsome dukes, three scores to settle, three hearts about to meet their matches. All in one thrilling new trilogy from New York Times bestselling author Madeline Hunter . . .





NOTORIOUS NOBLEMAN SEEKS REVENGE





Name and title: Adam Penrose, Duke of Stratton.




Affiliation: London's elite Society of Decadent Dukes.




Family history: Scandalous.




Personality traits: Dark and brooding, with a thirst for revenge.




Ideal romantic partner: A woman of means, with beauty and brains, willing to live with reckless abandon.




Desire: Clara Cheswick, gorgeous daughter of his family's sworn enemy.





FAINT OF HEART NEED NOT APPLY




Clara may be the woman Adam wants, but there's one problem: she's far more interested in publishing her women's journal than getting married—especially to a man said to be dead-set on vengeance. Though, with her nose for a story, Clara wonders if his desire for justice is sincere—along with his incredibly unnerving intention to be her husband. If her weak-kneed response to his kiss is any indication, falling for Adam clearly comes with a cost. But who knew courting danger could be such exhilarating fun?
White Hot
(Hidden Legacy #2)
by Ilona Andrews
Mass Market Paperback, 416 pages
Expected publication: May 30th 2017 by Avon
ISBN 006228925X
The Hidden Legacy series by #1 New York Times bestselling author Ilona Andrews continues as Nevada and Rogan navigate a world where magic is the norm…and their relationship burns hot





Nevada Baylor has a unique and secret skill—she knows when people are lying—and she's used that magic (along with plain, hard work) to keep her colorful and close-knit family's detective agency afloat. But her new case pits her against the shadowy forces that almost destroyed the city of Houston once before, bringing Nevada back into contact with Connor "Mad" Rogan.





Rogan is a billionaire Prime—the highest rank of magic user—and as unreadable as ever, despite Nevada's "talent." But there's no hiding the sparks between them. Now that the stakes are even higher, both professionally and personally, and their foes are unimaginably powerful, Rogan and Nevada will find that nothing burns like ice …
Forbidden Promises
(The O'Malleys #4)
by Katee Robert
Kindle Edition
Expected publication: May 30th 2017 by Forever
ASINB01KT7YSJM
All Sloan O'Malley ever wanted was a simple life—and now she's finally got it. She's left everything behind in Boston—her family, her money, even her name—and set herself up in a tiny seaside town in Oregon. What she doesn't plan for? Her mysterious and painfully attractive neighbor, Jude.





Jude MacNamara has been many things in his life—pampered son of a prestigious family, only surviving heir to a lost legacy, hit man—but now he's out for revenge on the man responsible for the death of his father and brothers—Colm Sheridan. He's tracking Colm's sister when he encounters Sloan living with her in her beach house. He's a patient hunter and he's willing to sit back and wait for his prey...he just doesn't expect for this woman to give rise to emotions he hasn't felt in years.





He doesn't want to see Sloan hurt, but in order to protect her, he will have to turn his back on the one thing he's spent his life pursuing—revenge. Even then, there's no guarantee either one of them will make it out alive.
Wrecked
(LOST #6)
by Cynthia Eden
Kindle Edition, 384 pages
Expected publication: May 30th 2017 by Avon
ASINB01LL0PQ0G
In New York Times Bestselling Author Cynthia Eden's gripping new LOST novel, who's the cat and who's the mouse…?





SHE LEFT HIM ONCE.





LOST Agent Ana Young was only fourteen when she was abducted by a madman, but unlike many kidnapping victims, she did go home. Now, her mission is to find the missing. But her new case has her on the hunt for the escaped convict who's obsessed with her. And Ana has an unlikely partner—the sexy, supposedly-by-the-book FBI agent she had one amazing night with and had to forget.





NOW HE HAS TO PROTECT HER 24/7…





FBI Special Agent Cash Knox knows that Ana, the petite, tough-ass former bounty hunter, can get the job done again. But this time, someone else leads them to "Bernie-the-Butcher," someone who's been watching Ana. Waiting for her.





FROM A CRAZED KILLER.





Now, catching a deranged murderer means Ana must trust her guarded heart to the gorgeous, complicated G-man she wasn't supposed to fall for.
Shadow Reaper
(Shadow #2)
by Christine Feehan
Kindle Edition, 480 pages
Expected publication: May 30th 2017 by Jove
ASINB01LZPA7BU
#1 New York Times bestselling author Christine Feehan continues her sexy new series, as the Ferraros—a Chicago crime family—use their power as shadow riders to protect their empire and the ones they love…





Billionaire playboy Ricco Ferraro knows no other life. Being a shadow rider is in his blood - but so is a haunting desperation stemming from the secrets of his dark past. His recklessness puts not only his life at risk, but also the future of his entire family. To save them all, he must find a woman who can meet his every desire with a heat all her own...





Just when Ricco has given up hope, he meets her - a mysterious woman whose shadow connects with his. She's someone looking for a safe haven from the danger that has stalked her over the last several months. In Ricco's embrace, she finds one. But the darkness in which they so often find sanctuary can also consume them...
Blaze
(Dark Kings #11)
by Donna Grant
Mass Market Paperback, 336 pages
Expected publication: May 30th 2017 by St. Martin's Paperbacks
ISBN 1250109558
His strength, his masculinity brought out something primal within her. In his arms, she felt like the Amazon warrior she'd once pretended to be as a little girl.





Anson is a fierce Dragon King, a dragon shapeshifter born and bred to protect his own. But when a rogue tech company hacks into their world, he must join forces with the unlikeliest of allies: a human female. Her name is Devon Abrams. A rising star at the firm, she has no idea that her boss is in league with the sinister Fae and their secret war against humanity. If Anson gains her trust, he can defeat the enemy from within. But first he must fight his own attraction--to this exquisitely beautiful mortal...





Devon loves her job at the firm. But sometimes she wishes she could find a man--a real man--who isn't threatened by her success. When she first meets Anson, she's overwhelmed by his powerful masculine presence and disarmingly gorgeous smile. But when he reveals his true mission--and his ability to transform into a dragon--she's irresistibly drawn into an epic battle between humans and immortals, magic and technology, danger and desire. Anson vows to protect her from the Fae. But can he control the flames of passion that blaze within his heart, in Blaze, the next sexy Dragon romance in the Dark Kings series from New York Times bestselling author Donna Grant.
The Watcher
by Bella Jewel
Paperback, 304 pages
Expected publication: May 30th 2017 by St. Martin's Paperbacks
ISBN 1250108381
NOW YOU SEE HER . . .





Seven years ago, Marlie Jacobson was kidnapped by a serial killer and lived to tell about it. But it was actually her mother who told the story, in a bestselling book that made Marlie famous. Today, she s known as the girl who slayed a killer. The one who got away. Now, there s just one thing Marlie wants to get away from: her past. But when her little sister disappears, her worst fears comes rushing back with a vengeance





NOW SHE S GONE.





Kenai Michelson is a world-renowned investigator. Dark, brooding, and dangerously good-looking, he s the kind of man Marlie would normally avoid at all costs. But Kenai is her only hope in finding her missing sister. Together, Kenai and Marlie follow a trail of clues that leads them toward the truth and into each other s arms. As her trust in Kenai grows, so does their fierce connection. But will their desire turn deadly as they close in on a ruthless enemy who s watching their every move?





Don't miss The Watcher by Bella Jewel!
31st
Title: The Wicked Cousin
Series: Rockcliffe #4
Author: Stella Riley
Format: eBook
Published: May 31, 2017 by Stella Riley
ASIN: B06ZY2B64K
Sebastian Audley has spent years setting every city in Europe by the ears and keeping the scandal-sheets in profit. Word that he is finally returning to London becomes the hottest topic of the Season and casts numerous young ladies – many of whom have never seen him - into a fever of anticipation.





Cassandra Delahaye is not one of them. In her opinion, love affairs and duels, coupled with a reputation for never refusing even the most death-defying wager, suggest that Mr Audley is short of a brain cell or two. And while their first, very unorthodox meeting shows that perhaps he isn't entirely stupid, it creates other reservations entirely.





Sebastian finds dodging admiring females and living down his reputation for reckless dare-devilry a full-time occupation. He had known that putting the past behind him in a society with an insatiable appetite for scandal and gossip would not be easy. But what he had not expected was to become the target of a former lover's dangerous obsession … or to find himself falling victim to a pair of storm-cloud eyes.
We're giving away your choice of one of May's new book releases to one reader! To enter, just be a RBtWBC follower (We offer lots of follow options!) and fill out the Rafflecopter below. Good luck! *Book must be $7.99 or under and available on Amazon Kindle, winner's choice will be in kindle format.
a Rafflecopter giveaway