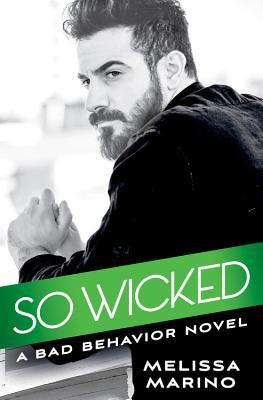 So Wicked
(Bad Behavior #3)
by Melissa Marino
Kindle Edition
Expected publication: May 7th 2017 by Forever Yours
ISBN 1455569577
Fate has a wicked sense of humor.

Alexis's new life was made up of two things: baking and hiding the details of her old life in Chicago. The first allowed her to finally find some happiness. And the second is about to be destroyed by a man who knows all her secrets.

Marshall Rawlins was prepared to do anything when he moved cross-country to launch an upscale cocktail bar---anything except work with Alexis, his best friend and business partner's ex-wife. Adding Alexis's boozy-baked goods to his menu would be a major feat for his bar. But striking a deal means getting in bed with the enemy.

Battling between distrust and desire, Alexis and Marshall give in to a passionate, forbidden affair. They know if they're discovered the consequences would be bad---it's just hard to remember that when being together feels so, so good.
About the Author
Melissa Marino is a full-time writer and part-time Storm Trooper collector. When she's not writing, you can find her watching Friends reruns, mastering her cupcake frosting swirl and hunting for the perfect red lipstick. Melissa lives in Chicago with her husband, son and very opinionated dachshund.