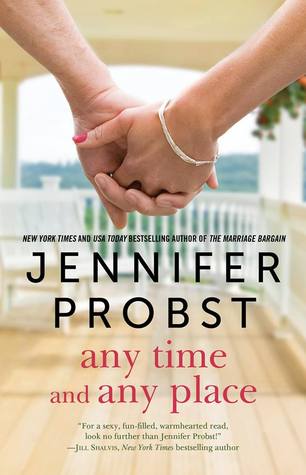 Any Time, Any Place
(Billionaire Builders #2)
by Jennifer Probst
Paperback, 400 pages
Published January 24th 2017 by Gallery Books
ISBN 1501124269
HGTV's Property Brothers meets The Marriage Bargain in this second volume in the Billionaire Builders series, an all-new heart-wrenching and sexy contemporary romance from New York Times bestselling author Jennifer Probst.

When she was a teen, Raven Bella Stratton's father was killed in a horrible car crash. The bigger shock was the discovery of a woman with him—Diana Pierce—and their two fully packed suitcases with airline tickets to Paris. Devastated by her father's betrayal, Raven went to live with her aunt, never truly overcoming the traumatic event. When she discovers that the mysterious woman had a family with a husband and three boys, Raven vows to leave the memory of her father behind.

Until Dalton Pierce visits one night and suddenly her past challenges her future...

Leaving his life in California behind to run Pierce Construction with his two older brothers, Dalton Pierce has enjoyed returning home and studying his passion of woodworking. But when he visits the local bar with his brothers one evening, he's immediately drawn to the smart-mouthed, badass, sexy bartender who sets his body on fire. Unfortunately, she doesn't seem as intrigued by him, and his multiple advances are met with rejection. When he offers to restore the bar back to its original glory, he begins to work with her on a daily basis, and falls harder. His plan of seduction slowly weaves a web around them both, until they are caught up in the spell. But Dalton doesn't know the secret that can either destroy them both...or finally mend two broken hearts.
"I'm a thirsty man, darlin'. Got a tall, cool one for me?"
She already knew the man attached to the voice but couldn't believe the punch of heat between them when she turned. Raven had dated a lot of men. Slept with a lot, too. She knew about dating, flirting, and teasing and wasn't scared of anything. She knew about dirty, delicious, mind-blowing sex. She knew about mornings after and speedy Batman disappearances in the ugly dawn light. But this man wiped all her expertise away with one bat of those dark lashes or a tug of those full lips.
A man she'd vowed to hate and the one man she was crazy attracted to.
A man who held the key to a past she didn't want to unlock.
Raven turned and studied him. Cocky, as always. Charming, as usual. He was a visual feast for the female sex and knew it. Tawny, goldstreaked strands, worn long, framed his face. He liked to tie them back or put them in a man bun, which should look ridiculous but only made him that much hotter 'cause he didn't care. Peacockblue eyes so bright and so deep, if she stared too long she'd never come back up for air. Square jaw with sexy scruff to keep him from looking too pretty, and actual dimples when he smiled. The sun had turned his skin tan and a bit rough. His hands were calloused, and he always smelled like varnish, lemon, and a faint hint of Hershey's chocolate. Sawdust clung to his black T-shirt, and his jeans had holes in the knees.
Dalton was the ultimate Achilles' heel for any walking, breathing female who'd sworn off men. Thank goodness he'd never be able to bust through her barriers. They were so thick and tall, he'd get bashed in the head each and every time he tried.
Yet the oddest shimmer of connection always sparked to life when they were close. As if the universe was playing the ultimate joke, forcing her to be attracted to the one man she could never be with.
The past surged up like a tsunami and dragged her under.
The Billionaire Builders Series