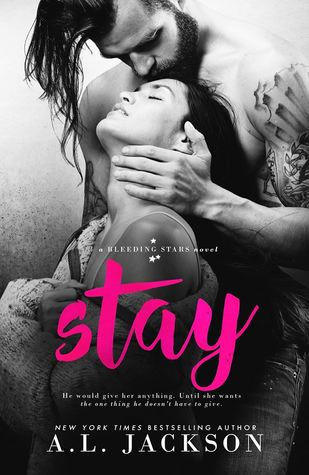 Stay
(Bleeding Stars #5)
by A.L. Jackson
Published January 23rd 2017 by A.L. Jackson Books Inc.
I'm Ash Evans.
The life of the party.
Hot. Rich. Charismatic.
A tattooed rock star with the world at my feet.
I burn through women faster than the strike of a match.

I've embraced my lifestyle and live it to the fullest.
Until the day my lifestyle caught up to me.

Willow Langston found me at my lowest.
Literally.
Facedown in a puddle of my own blood.

I owe her my life and I have three months to repay that debt.
What I never should have done was touch her. Kiss her. Take her to my bed.

Love wasn't supposed to be a part of the equation.
I gave up that nasty complication a long damned time ago.
Now I want her more than my next breath.
But she doesn't know what I know.

Do I leave to protect her? Or can I face my demons and ask her to Stay?

A Bleeding Stars Series
About the Author:
A.L. Jackson is the New York Times bestselling author of Take This Regret and Lost to You, as well as other contemporary romance titles, including Pulled, When We Collide, If Forever Comes, Come to Me Quietly, and Come to Me Softly.

She first found a love for writing during her days as a young mother and college student. She filled the journals she carried with short stories and poems used as an emotional outlet for the difficulties and joys she found in day-to-day life.

Years later, she shared a short story she'd been working on with her two closest friends and, with their encouragement, this story became her first full length novel. A.L. now spends her days writing in Southern Arizona where she lives with her husband and three children.

Connect with A.L. Jackson online: www.aljacksonauthor.com
Celebrate the release in A.L. Jackson's
reader group
with games, giveaways and more!