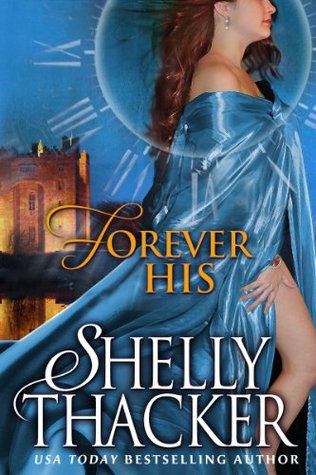 Title
: FOREVER HIS
Series
: Stolen Brides, Book 1
Author
: Shelly Thacker
Narrator
: Julia Motyka
Format
:
Unabridged Audio, 15 hours and 5 minutes
Published
: 10/8/2013 by Summit Avenue Books
ISBN
: Audible: ASIN:B00FFIGWMW / Kindle: ASIN:B006NG0GXQ
Links
:
Goodreads
|
Amazon
|
B&N
|
Audible
Reviewer
: Linda
Source
: Purchased from Amazon/Audible
Rating
: 5 out of 5 Wine Glasses
On New Year's Eve, she tumbles 700 years back in time--and into the bed of a darkly dangerous knight.

Sir Gaston de Varennes wanted a docile bride who would fit into his plans for vengeance and justice, but a trick of time finds him married to a thoroughly modern American lady who turns his castle, his life, and his heart upside down. Will her desperate secret tear them apart after only a few bittersweet weeks of stolen passion--or will they conquer mistrust, treachery, and time itself to discover a love that spans the centuries?
Linda's Thoughts:

"Time is too slow for those who wait, too swift for those who fear, too long for those who grieve, too short for those who rejoice, but for those who love, time is not." ~ Henry van Dyke

Forever His by Shelly Thacker is a spectacular historical time-travel romance. I'm still in uber swooning mode, but I can tell you that Forever His will most definitely be on my CY2016 top ten list of books. I am searching for words to describe it and can only think in terms of masterpiece. I've shared before that my love for romance books was ignited by Kathleen Woodiwiss' The Flame and The Flower, The Wolf and The Dove and Shanna. This book is on par with them. Shelly Thacker's Stolen Bride series is vivid storytelling akin to art and poetry.

On New Year's Eve in the Artois Region, France, Celine Fontaine went to bed alone. She awoke in the Artois Region in France in 1299 – but she was not alone. She would discover that the dark stranger in her bed is Sir Gaston de Varennes, a French knight and an original owner of the chateau in which she slept. He is being forced to marry Celine, who he believes to be Celeste, by King Phillippe the Fair. You can understand that being forced into marriage does not sit well with Gaston, and, to put it mildly, he does not trust the motives of Celine/Celeste. It doesn't help that he finds himself insanely attracted to her.

All the while, Celine is frantically trying to convince the people in 1299 that she is not Celeste. Having woken in medieval France, Celine also has to quickly learn how to cope without electricity, indoor plumbing or freedom. She has to do all this without being thought crazy. She only wants to find a way home before she loses her heart to the dark stranger whose bed she woke up in.

Following please find a few of my favorite quotes from this glorious listen:

Celine glanced up as she passed under an arch, at another of the chateau's decorations, her personal favorite: the entwined letters G and R, carved over every doorway. Family legend had it that one of the original owners of the chateau, a knight by the name of Sir Gaston de Varennes, was responsible for that bit of artwork. Sir Gaston, it seemed, had been quite a ladies' man—until he had met and married his wife, whom he loved so much, he had had her initial engraved with his in every castle he owned. ---


His mouth captured hers with a strong, soft heat and Celine discovered something far sexier than this man's voice or his body. His kiss. She never had the chance to think of a protest. To think at all. She had been kissed before, but never like this. It was neither awkward and teasing nor forceful and overpowering, but long, slow, confident, and devastating. It was as if he were binding them together, deftly drawing her soul into his. ---


She didn't have a hat or a veil or anything in her hands. No one had offered so much as a single dried-out flower; she had nothing to hold onto to steady her shaking fingers. Her head pounded as hard and as painfully as her rapid heartbeat. She stood there, unable to move, staring at the man who waited at the end of the aisle. This unpredictable knight who hours ago had touched her, kissed her, caressed her in a way that still made her tremble, then sworn he would never do so again. This dark lord who despised her. This man she was about to marry.

I had many favorite scenes – (The Whole Book!) – but, I still laugh when I think of Celine and her crepes when Gaston walked into the kitchen:

"What are you cooking this night, wife?" One of the crepes picked that moment to dislodge itself from the ceiling. It landed at her feet with a plop as if on cue.

"Crepes." She kept a straight face and tried to look like this was the normal way to make crepes.

I listened to Forever His in audio with the wonderful Julia Motyka narrating. I sat in my garage for over twenty minutes to finish listening to it as I could not go through my day until I had. She's one of my favorite narrators and her voice is a perfect fit for Shelly Thacker's books. She differentiates between characters and has a smooth, clear, well-paced voice exuding the appropriate emotions at the perfect times. She renders a professionally superb performance for an enchantingly exquisite story.

I would also mention that, while I listened to this book in its entirety, there were sections I wanted to enjoy again... word for word. I own the kindle version of this book, also, and it's whispersynced with the audible. I was able to switch back and forth between both editions seamlessly which further increased my enjoyment of the piece. I'm still on a glowing happy dance high right now. Thank you, Shelly Thacker and Julia Motyka.

I have now listened to all of Shelly's Stolen Brides series. I enjoyed the series completely out of order - so you may safely infer that every book in the series can be fully enjoyed as a standalone even though there are interconnected characters in the series. This is a series that I would enjoy listening to again and again. Each book has been a steamy swoon worthy treat that has left me gasping and in a place of pure bliss at the end after a wild ride to get there. OMG! Each trip back in time was so worth it. Forever His is sweet and funny and beautifully written. It teems with heart. If you enjoy historical romances like those of Kathleen Woodiwiss, I would highly encourage you to check out Shelly Thacker's Stolen Bride series.

Suggested Reading Order: HIS STOLEN BRIDE (Book #0.5) FOREVER HIS (Book #1) HIS FORBIDDEN TOUCH (Book #2) HIS CAPTIVE BRIDE (Book #3)