A brand new year and some amazing new books! Chanel Cleeton's On Broken Wings is a must read for any romance lover out there! If you love an epic mix of fantasy with your romance, then you don't want to miss Amanda Bouchet's Kingmaker Chronicles, and the second book in the series Breath of Fire. Elisabeth Naughton knows how to pen a twisting and emotional romantic suspense, I am looking forward to reading Gone. Frostblood (Frostblood Saga #1) by Elly Blake is on my radar for fantasy YA, as well! Which books are you looking forward to the most this month?
*This list may be updated throughout the month.
Diffraction
(Atrophy #3)
by Jess Anastasi
ebook
Published January 2nd 2017 by Entangled: Select Otherworld (first published January 2017)
ISBN 1633758036
After his unusual reaction to a weapon, Commando Varean Donnelly is accused of being a shape-shifting alien and imprisoned onboard the Imojenna. Sure, he has abilities he keeps hidden from everyone--including the gorgeous doc examining him--because the government makes sure people as different as him disappear. For good.

Imojenna doctor Kira Sasaki knows there's something different about the handsome commando the captain's thrown in their brig. She doesn't think he's Reidar, although he might have been a victim of their cruel experiments. But when Kira learns the stubborn commando's racial make-up, she finds herself torn between defending him to Captain Rian Sherron and his crew or urging Varean to escape while he still can.
On Broken Wings
(Wild Aces #3)
by Chanel Cleeton
Kindle Edition, 336 pages
Published January 3rd 2017 by Berkley
ASINB01E4WAGXK
The author of Into the Blue and Fly with Me returns with the newest, hot and high-flying Wild Aces romance...

A year after losing her husband, Joker, the squadron commander of the Wild Aces, Dani Peterson gets an offer from his best friend, Alex "Easy" Rogers, to help fix up her house. Dani accepts, and their friendship grows—along with an undeniable attraction.

Racked by guilt for loving his best friend's widow, Easy's caught between what he wants and can't have. Until one night everything changes, and the woman who's always held his heart ends up in his arms. Yet as Easy leaves for his next deployment, he and Dani are torn between their feelings and their loyalty to Joker's memory.
But when Dani discovers something that sends them both into a spin, the conflicted lovers must overcome the past to navigate a future together…
A Wedding in Maine
(McCullagh Inn #2)
by Jen McLaughlin, James Patterson
Kindle Edition
Published January 3rd 2017 by BookShots
ASINB01F1UD5TG
The McCullagh Inn is now open for weddings.

Jeremy Holland is exactly what Chelsea O'Kane wants in a man. After he proposes, she's ecstatic to host their wedding at the inn they built together. But it isn't long before the secrets from Chelsea's past refuse to stay buried, and they could ruin everything....
The Perils of Paulie
(Matchmaker in Wonderland #4)
by Katie MacAlister
Mass Market Paperback, 336 pages
Published January 3rd 2017 by Jove
ISBN 1101990686
A fast and furious new Matchmaker in Wonderland novel from the New York Times bestseling author of Daring in a Blue Dress.

Sheltered by a strict father, Paulina Rostakova spends her time working for the family business and yearning for some grand adventure. So when contestants are needed for a reality show reenacting an historic 1908 car race across the US, Asia, Russia, and Europe, Paulie jumps at the chance to get behind the wheel of a vintage car.

Dixon Ainslie has nothing to lose by entering the race, except the rut he's been in since the death of his girlfriend years ago. But as other racers begin to drop out, the producers want Dixon to join forces with Paulie—on one condition: they have to pretend to fall in love and get married.

And as their scripted courtship takes off, Dixon and Paulie will have to take a detour into reality to turn the sparks flying between them into a passion with staying power...
Satisfaction
(Lawless #2)
by Lexi Blake
Kindle Edition, 1st edition, 384 pages
Published January 3rd 2017 by Berkley
ASINB01E4WAFXQ
The sizzling second novel in a sexy new contemporary romance series featuring the Lawless siblings—from New York Times bestselling author Lexi Blake.

Brandon Lawless is a man on a mission: obtain the information that will clear his father's name. He's willing to do whatever it takes—even seduce his enemy's personal assistant, the beautiful and innocent Carly Hendricks. But with her beguiling smile and captivating intelligence, Brandon soon realizes he doesn't want to deceive Carly, he wants to win her over—both in the boardroom and the bedroom.

Then a twisted crime leaves Carly vulnerable and Brandon finds himself reeling. The stakes of his mission are now life or death—Carly's life. And Brandon realizes he's lost his heart to an amazing woman and his plan must succeed, because the stakes are no longer just revenge, but a once in a lifetime love.
Hard Hitter
(Brooklyn Bruisers #2)
by Sarina Bowen
336 pages
Published January 3rd 2017
He's a fighter in the rink, but he's about to learn that playing nice can help you score...

As team captain and enforcer, Patrick O'Doul puts the bruise in the Brooklyn Bruisers. But after years of hard hits, O'Doul is feeling the burn, both physically and mentally. He conceals his pain from his coach and trainers, but when his chronic hip injury becomes too obvious to ignore, they send him for sessions with the team's massage therapist.

After breaking up with her long-term boyfriend, Ari Bettini is in need of peace of mind. For now, she's decided to focus on her work: rehabilitating the Bruisers' MVP. O'Doul is easy on the eyes, but his reaction to her touch is ice cold. Ari is determined to help O'Doul heal, but as the tension between them turns red hot, they both learn that a little TLC does the body good...
The Barefoot Summer
by Carolyn Brown
Kindle Edition, 289 pages
Published January 3rd 2017 by Montlake Romance
ASINB01GOCENSM
New York Times bestselling author Carolyn Brown returns with a heartbreakingly hilarious novel about three women who had nothing in common, except their husband.

Leaving one widow behind is unfortunate. Leaving three widows behind is just plain despicable. Oil heiress Kate Steele knew her not-so-dearly departed husband was a con man, but she's shocked that Conrad racked up two more wives without divorcing her first. The only remnant of their miserable marriage she plans to keep is their lakeside cabin in Bootleg, Texas. Unfortunately, she's not the only woman with that idea.

Fiery, strong-willed Jamie wishes Conrad were still alive—so she could kill the scoundrel herself. But for their daughter's sake, she needs that property. As does Amanda—twenty-eight, pregnant, and still weeping over the loss of her true love. On a broiling July day, all three arrive in Bootleg…with a dogged detective right behind who's convinced that at least one of them conspired to commit murder. One momentous summer filled with revelations, quirky neighbors, and barefoot evenings on the porch offers three women the chance to make the journey from enemies to friends, and claim a bright, new beginning.
It's In His Arms
(Red River Valley #4)
by Shelly Alexander
Kindle Edition, 318 pages
Published January 3rd 2017 by Montlake Romance
ASINB01FSK7IZG
Lorenda Lawson has built a safe, sheltered life for her two young sons since their father was KIA several years ago. She has a beautiful cottage and a support network of family and friends. No one in Red River suspects that her marriage to Cam was ever less than perfect. Nobody, that is, except the gorgeous ex-SEAL who's shown up after a long absence: Cam's notorious twin brother, Mitchell.

Mitchell Lawson was a teenage rebel who fled Red River after the local watering hole burned down, choosing the military over jail. Now he has a new mission: making amends with the town and his sheriff father for his hell-raising days, while resisting the woman he's always wanted. Between Lorenda's warmth and sensuality and her boys' mischievous matchmaking ploys, it won't be easy.

When a string of fires breaks out, suspicious eyes turn toward Mitchell. Lorenda risks her reputation for his sake—but she'll need to risk her heart, too, to bring this onetime bad boy home for good.
Mulberry Moon
(Mystic Creek #3)
by Catherine Anderson
Kindle Edition, 448 pages
Published January 3rd 2017 by Jove
ASINB01E4WAEZU
The New York Times bestselling author of New Leaf returns to Mystic Creek, Oregon, where a wounded heart finds a place to call home. . . .
After a career on the rodeo circuit, Ben Sterling longs to settle down on his farm and start a family like his brothers. He's searched all over for the woman of his dreams. Yet the only one to spark his interest is the new owner of the local café. Getting her attention, however, won't be easy.

Sissy Sue Bentley has worked hard to make it on her own, and she doesn't need another man in her life. From her alcoholic father to the men she's dated, who were after only one thing, they are nothing but trouble. Except Ben keeps showing up whenever she really needs help. Sissy struggles to deny her growing feelings for him—but soon Ben's tender concern has her hoping for a happier future. Then her past comes barreling back into her life, and it will take more than the love in Ben's heart to hold them together.
It Happened in Scotland
(Kilts and Quilts #6)
by Patience Griffin
Kindle Edition, 379 pages
Published January 3rd 2017 by Berkley
ASINB01E4WAG0S
From the author of The Trouble With Scotland—a charming new romance set in the beautiful Scottish Highlands.
Christmas in the sleepy Scottish fishing village of Gandiegow this year is a time for quilting, patching up broken hearts, and rekindling an old flame...

After pulling herself out of a three-year fog of grief over the loss of her husband, Joe, Rachel is bringing their five-year-old daughter to see his hometown of Gandiegow and visit with his grandfather. But Rachel wasn't planning on running into Joe's cousin, the man who made her have second thoughts at the altar...

Brodie has come home to help his grandfather's fishing business, but he'd prefer not to see Rachel. Although she did break his heart six years ago, the grip she has on him hasn't faltered. If they can stop butting heads long enough and learn to overcome the past, they may find new love in the new year...
Intense Pleasure
(Bound Hearts #14)
by Lora Leigh
Paperback, 320 pages
Expected publication: January 3rd 2017 by St. Martin's Paperbacks
ISBN 1250105412
Sexy, scintillating, and secretive, Intense Pleasure is the story of hidden desires and illicit romance. When danger threatens a woman, the two men who crave her, cannot live without her, will stop at nothing to protect her life… and satisfy every burning desire she has. They must stay bound together to be stronger than what hunts her, and let passion consume them…

TOO HOT TO HANDLE

Her name is Summer, as beautiful and occasionally fierce as her name suggests. Her past has just come back to haunt her, and suddenly she's not sure who she can trust. Her longtime confidantes Falcone and Raeg seem to have Summer's best interests at heart. . .but it's clear that their desire for her still burns between them. Can they find a way to keep Summer safe—or will a bitter rivalry stand in their way?

Falcone and Raeg need to work together, now more than ever, if they intend to protect Summer from an old enemy who knows her dangerous secret. When Summer's identity as a sweet, Southern socialite gets out, the two men must find a way to draw out the ruthless assassin on her trail. . .and keep their illicit romance with her under wraps. But some passions are so intense they can't remain hidden.

What are Falcone and Raeg willing to risk for the woman they both crave like no other, in Intense Pleasure, the next Bound Hearts novel from #1 New York Times bestselling author Lora Leigh.
The Protector
(Sons of Texas #2)
by Donna Grant
Paperback, 304 pages
Published January 3rd 2017 by St. Martin's Paperbacks
ISBN 1250083400
EVERYTHING'S HOTTER IN TEXAS
When Marine Force Recon captain Cullen Loughman learns that his father's been kidnapped, he will do whatever it takes to find him. In order to achieve his mission, Cullen will need to team up with the best of the best—someone who just happens to be the most stunning woman he's ever laid eyes on…
This isn't the first rodeo for ex—Air Force pilot Mia Carter. Still, Cullen's bad-boy good looks and charm are distracting her from duty. . .and it appears that the feeling is mutual. As Mia and Cullen make their descent into a dark, dangerous world, their attraction reaches the boiling point. But is their desire worth the risk when a ruthless enemy is waiting in the wings—or will their Lone Star love conquer all?
Devil's Mark
(The Devil's Keepers #2)
by Megan Crane
Kindle Edition, 193 pages
Expected publication: January 3rd 2017 by Loveswept
ASINB01E2H3MAG
The bestselling author of Devil's Honor returns with a deliciously sinful novel about a good girl who goes bad—and the notorious Louisiana biker who can't resist the lure of forbidden fruit.
Holly Chambless is tired of being the squeaky clean daughter of Lagrange's holier-than-thou mayor. When her father is charged with corruption, she realizes that her whole life's been a lie. Now's her chance to do all the things she never dared, like scoring a job at a bar where reputations go to die, or reconnecting with the biker who sparked a secret hunger in her all those years ago. Holly isn't a wide-eyed girl anymore—and this time she wants a taste of what has always been denied.

Killian "Uptown" Chenier has no time for stuck-up princesses. He likes fast bikes and wild sex. Sure, he remembers Holly. He sent her running with a wicked smile and a lesson about prying eyes. And sure, she's grown up smoking-hot, with a body he'd like to personally desecrate. But Devil's Keepers business is real and intense. Her daddy stole from the club, leaving his pretty blonde daughter a walking target. And when Uptown takes aim at what he wants, he never misses.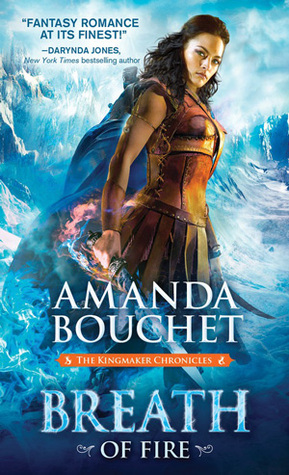 Breath of Fire
(Kingmaker Chronicles #2)
by Amanda Bouchet
Paperback, 448 pages
Published January 3rd 2017 by Sourcebooks Casablanca
ISBN 149262604X
SHE'S DESTINED TO DESTROY THE WORLD...
"Cat" Catalia Fisa has been running from her destiny since she could crawl. But now, her newfound loved ones are caught between the shadow of Cat's tortured past and the threat of her world-shattering future. So what's a girl to do when she knows it's her fate to be the harbinger of doom? Everything in her power.

BUT NOT IF SHE CAN HELP IT
Griffin knows Cat is destined to change the world-for the better. As the realms are descending into all-out war, Cat and Griffin must embrace their fate together. Gods willing, they will emerge side-by-side in the heart of their future kingdom...or not at all.
Lord Sebastian's Secret
(The Duke's Sons #3)
by Jane Ashford
Paperback, 384 pages
Published January 3rd 2017 by Sourcebooks Casablanca
ISBN 1492621625
Lord Sebastian Gresham is a battle-tested soldier and brilliant strategist. Yet all his life he's had to hide his complete failure to decipher letters. In his own mind, he's just stupid. What a miracle it is that he's found the perfect bride.

Lady Georgina Stane is beautiful, witty, and brilliantly intelligent. Sebastian is head over heels in love, proud as a peacock, and terrified. If she finds out his secret, will he lose her love forever?
My Highland Rebel
(Highland Trouble #2)
by Amanda Forester
Paperback, 416 pages
Published January 3rd 2017 by Sourcebooks Casablanca
ISBN 1492605468
Second in a passionate, fast-paced Scottish Highlander romance series from critically acclaimed author Amanda Forester

A conquering hero
Cormac Maclean would rather read than rampage, but his fearsome warlord father demands that he prove himself in war. Cormac chooses what he thinks is an easy target, only to encounter a fiery Highland lass leading a doomed rebellion and swearing revenge on him.

Meets an unconquerable heroine
Jyne Cambell is not about to give up her castle without a fight, even though her forces are far outnumbered. She's proud, hot-blooded and hot-tempered, and Cormac falls for her hard.

It's going to take all of Cormac's ingenuity to get Jyne to surrender gracefully-both to his sword and to his heart...
Waiting For an Earl Like You
(Masters of Seduction #3)
by Alexandra Hawkins
Mass Market Paperback, 352 pages
Published January 3rd 2017 by St. Martin's Paperbacks
ISBN 1250064740
LOVE ISN'T ALWAYS WHAT IT SEEMS.
Justin Reeve Netherwood, Earl of Kempthorn—a.k.a. Thorn—has never cared much for his neighbor's daughter. But his twin brother, Gideon, befriended the wild, reckless, and wholly inappropriate Miss Olivia Lydall in youth, and two have been close ever since. So when Olivia finds herself in a state of romantic conflict and seeks out Gideon for advice, he's only too pleased to oblige. Only problem: The man Olivia is speaking to is Thorn. And now it's too late for him to tell Olivia the truth…

Thorn always believed that Olivia was too smitten with Gideon for her own good. So what's the harm in steering her away from him? But Thorn's charade turns out to be anything but harmless once he begins to see Olivia for who she really is: A woman full of spirit and passion…and someone he can't live without. But how can Thorn claim Olivia's heart when their deepening connection—and burning desire—is built on lies and deceit?
Properly Groomed
by Boone Brux
Expected publication: January 9th 2017 by Entangled Publishing
When Joya Bennett wakes up after her brother's wedding, half-naked and lying next to her lifelong crush, she's mortified. OMG, did she try to jump his bones? Worse, did she succeed? Intending to lay low and house sit for her brother until the embarrassment fades, she sneaks away before he wakes up.

What she didn't plan on is having company.

Lincoln Fisher doesn't do relationships, but if he did, his friend's little sister would be the one to tie him down. Good thing Joya had one too many drinks during the reception or he'd have crossed a line. Her brother would kill him if he found out all the places Linc wanted to kiss the sexy, auburn-haired beauty.

And now they're stuck in the same house. For two weeks.

She's off-limits. And he needs to keep it that way, even if the heat building between them is hot enough to blow off the roof…
Gone
(Deadly Secrets #2)
by Elisabeth Naughton
Kindle Edition, 287 pages
Expected publication: January 10th 2017 by Montlake Romance
ASINB01ISXPGR2
Three years ago, Alec and Raegan McClane lived every parent's worst nightmare: their one-year-old daughter, Emma, was abducted from a park when Alec turned his back for just a moment. Emma was never found, and presumed dead. The crushing trauma, plus Alec's unbearable guilt, ended the couple's marriage.

Now a four-year-old girl matching Emma's profile is found wandering a local park. Alec and Raegan are heartbroken to discover she's not their daughter but are newly motivated to find closure…and each secretly feels desperate to be in the other's presence again.

Alec suspects his vengeful biological father is behind Emma's disappearance. But as Raegan investigates other abductions in the area, she sees a pattern—and begins to wonder if Emma's kidnapping is actually linked to something more sinister.

As Alec and Raegan race to uncover the truth, a long-burning spark rekindles into smoldering passion, and they realize they need each other now more than ever.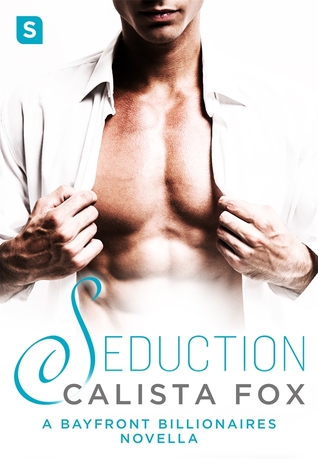 Seduction: A Bayfront Billionaire Novella
by Calista Fox
ebook
Expected publication: January 10th 2017 by Swerve
ISBN 1250129093
100 Shades of Sin...

Delicious and hot, the seductive Bayfront Billionaires need one thing, and one thing only: the woman made for them, the one woman on earth who can complete their trio of passion and desire.

Lily Hart has taken a temporary position as a live-in butler for billionaire musicians Jackson Sterling and Lexington Alexander. She expected to be on call day and night. But what she did not plan for was that these two billionaires would be as handsome as sin and hell-bent on having her in their bed. Entirely skilled at the art of seduction, they make Lily burn for pleasure in ways she never knew she could.

Jax and Lex have been waiting for a muse, and when breathtaking, sensuous Lily arrives on their doorstep, they know she's the woman to join them in the seductive web the three of them weave. But passion between three can end in flames, and Lily, Jax, and Lex must decide—is opening their hearts worth the risk?
Wild Kisses
(Wildwood #2)
by Skye Jordan
Kindle Edition, 267 pages
Expected publication: January 10th 2017 by Montlake Romance
ASINB01G50QX2M
Newly divorced, Avery Hart returns home to Wildwood eager to take on her dream opportunity and transform her family's dive bar into her own bakery. The contractor for hire isn't just a master with his hands—he's big, built, and wears a tool belt like nobody's business. Despite being an ex-con, Trace Hutton is irresistible. Too bad he'd never go for someone as inexperienced as Avery.

Trace needs to focus on the job at hand, not daydream about smearing icing all over the sexy baker…and licking it off. This job is the key to getting his construction company back on its feet after his time in prison. Besides, no one deserves a fresh start more than Avery, and she certainly won't get that with him.

After a delectable night of passion (and pie), Trace craves something more. But he'll be damned if he'll let his checkered past crush her dreams. And as Avery starts to realize how Trace fulfills more than just her physical needs, she struggles with whether to let her history decide her future, or explore the wild new possibilities of forever…
Back Check
(Aces Hockey #4)
by Kelly Jamieson
Kindle Edition
Expected publication: January 10th 2017 by Loveswept
ASINB01ILZT6UK
The so-bad-they're-good alphas of hockey's Chicago Aces are back in this emotionally charged novel of sex, love, and second chances from the bestselling author of Top Shelf and the Heller Brothers series.

Tanner Bennet hates weddings. They just remind him that he simply isn't cut out for any kind of healthy, committed relationship—never has been, never will be. After getting rejected by the girl he thought was "the one" all those years ago, he made a huge mistake and married the wrong person. Now that the divorced heartbreaker has reluctantly agreed to be a groomsman for one of his NHL teammates, the last thing he expects is a chance at redemption with the one that got away.

After Marc Dupuis of the Chicago Aces hires wedding planner Katelyn Medford, she discovers that her big break comes with a twist: a reunion with her college sweetheart. The way she dumped Tanner still haunts her. Eight years—and three broken engagements—later, Katelyn knows she'll never have that kind of innocent, wide-eyed passion again. Still, she and Tanner soon generate enough body heat to burn up the sheets. And even with Tanner's career with the Aces up in the air, Katelyn's wondering whether the time is right to let him in for real.
Frostblood
(Frostblood Saga #1)
by Elly Blake
Hardcover, 384 pages
Expected publication: January 10th 2017 by Little, Brown Books for Young Readers
ISBN 0316273252
Seventeen-year-old Ruby is a fireblood who must hide her powers of heat and flame from the cruel frostblood ruling class that wants to destroy all that are left of her kind. So when her mother is killed for protecting her and rebel frostbloods demand her help to kill their rampaging king, she agrees. But Ruby's powers are unpredictable, and she's not sure she's willing to let the rebels and an infuriating (yet irresistible) young man called Arcus use her as their weapon.

All she wants is revenge, but before they can take action, Ruby is captured and forced to take part in the king's tournaments that pit fireblood prisoners against frostblood champions. Now she has only one chance to destroy the maniacal ruler who has taken everything from her and from the icy young man she has come to love.

Fast-paced and compelling, Frostblood is the first in a page-turning new young adult three-book series about a world where flame and ice are mortal enemies—but together create a power that could change everything.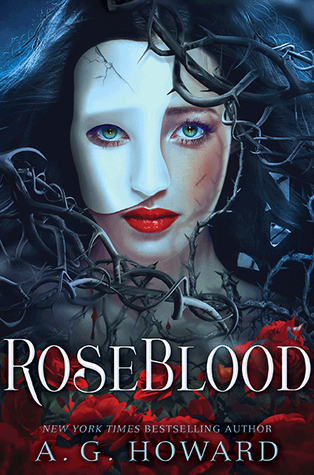 RoseBlood
by A.G. Howard
Hardcover, 432 pages
Expected publication: January 10th 2017 by Amulet Books
ISBN 1419719092
In this modern day spin on Leroux's gothic tale of unrequited love turned to madness, seventeen-year-old Rune Germain has a mysterious affliction linked to her operatic talent, and a horrifying mistake she's trying to hide. Hoping creative direction will help her, Rune's mother sends her to a French arts conservatory for her senior year, located in an opera house rumored to have ties to The Phantom of the Opera.

At RoseBlood, Rune secretly befriends the masked Thorn—an elusive violinist who not only guides her musical transformation through dreams that seem more real than reality itself, but somehow knows who she is behind her own masks. As the two discover an otherworldly connection and a soul-deep romance blossoms, Thorn's dark agenda comes to light and he's forced to make a deadly choice: lead Rune to her destruction, or face the wrath of the phantom who has haunted the opera house for a century, and is the only father he's ever known.
January 16th
The Rule Maker
(The Rule Breakers #2)
by Jennifer Blackwood
280 pages
Expected publication: January 16th 2017 by Entangled Publishing (Embrace)
ISBN139781682813607
Ten Steps to Surviving a New Job:

1. Don't sleep with the client. It'll get you fired. (Sounds easy enough.)
2. Don't blink when new client turns out to be former one-night stand.
3. Don't call same client a jerk for never texting you back.
4. Don't believe client when he says he really, really wanted to call.
5. Remember, the client is always right—so you can't junk punch him when he demands new design after new design.
6. Ignore accelerated heartbeat every time sexy client walks into room.
7. Definitely ignore client's large hands. They just mean he wears big gloves.
8. Don't let client's charm wear you down. Be strong.
9. Whatever you do, don't fall for the client. You'll lose more than your job—maybe even your heart.
10. If all else fails, see rule number one again.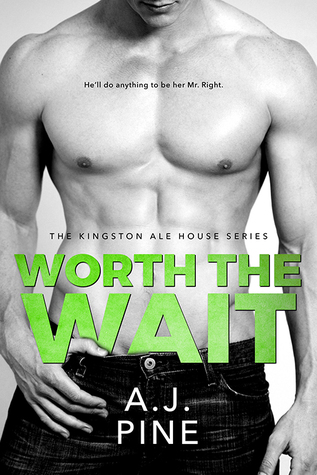 Worth the Wait
(Kingston Ale House #4)
by A.J. Pine
ebook
Expected publication: January 16th 2017 by Entangled Publishing, LLC (Select Contemporary)
ISBN 1633757951
I like to think of myself as a man of pleasure…

I enjoy a good pint of ale, being in the arms of a beautiful woman, and living by my own rules. The only thing I try to avoid? Commitment. And I've got a three-year success rate to prove it.

I wasn't planning on Grace—the beautiful, funny, totally off-limits massage therapist who keeps popping up in my life. She's on a six-month mission to rid her life of toxins. No alcohol. No red meat. And, yeah, no men. I'm talking full-on man cleanse.

I know I should walk away, but I can't…and the only way to keep her in my life is to live by her rules. I'll need to prove to a woman who's lost all trust in men that I'm worthy of her love. And do it all without so much as a single kiss.

The only problem? If I win, I'll lose the one thing I swore I'd never give up. My heart.
Seconds to Sunrise
(Black Ops: Automatik #3)
by Nico Rosso
ebook
Expected publication: January 16th 2017 by Carina Press
ISBN139781459293601
Readers of Maya Banks's KGI series will love the adrenaline-fueled, pulse-pounding suspense of Nico Rosso's SECONDS TO SUNRISE

She thought she'd lost everything…

April Banks thought her website crashing was just a glitch. Starting the online forum for war widows has been the only thing keeping her together since her husband died, and she won't let anything interfere with her work. But this is no technical malfunction—cyberterrorists have targeted the information locked in April's website and they'll do anything to get it. Even if that means removing April. Permanently.

He'll make them pay…

Automatik gave former SAS agent James Sant a way to protect the innocent again. He thinks life in the shadows is all he deserves…until he meets his newest assignment. April is everything James has never let himself want and he knows she's already had too much heartbreak in her life to risk feeling for him. But keeping things professional while hunting the hackers with the gorgeous widow is going to be the hardest job he's ever taken on.
January 17th
Feversong
(Fever #9)
by Karen Marie Moning
Kindle Edition, 512 pages
Expected publication: January 17th 2017 by Delacorte Press
ASINB01D7CJ43G
#1 New York Times bestselling author Karen Marie Moning returns with the epic conclusion to her pulse-pounding Fever series, where a world thrown into chaos grows more treacherous at every turn. As Mac, Barrons, Ryodan, and Jada struggle to restore control, enemies become allies, right and wrong cease to exist, and the lines between life and death, lust and love, disappear completely.

Black holes loom menacingly over Dublin, threatening to destroy the Earth. Yet the greatest danger is the one MacKayla Lane has unleashed from within: the Sinsar Dubh—a sentient book of unthinkable evil—has possessed her body and will stop at nothing in its insatiable quest for power.

The fate of Man and Fae rests on destroying the book and recovering the long-lost Song of Making, the sole magic that can repair the fragile fabric of the Earth. But to achieve these aims, sidhe-seers, the Nine, Seelie, and Unseelie must form unlikely alliances and make heart-wrenching choices. For Barrons and Jada, this means finding the Seelie Queen who alone can wield the mysterious song, negotiating with a lethal Unseelie prince hell-bent on ruling the Fae courts, and figuring out how to destroy the Sinsar Dubh while keeping Mac alive.

This time, there's no gain without sacrifice, no pursuit without risk, no victory without irrevocable loss. In the battle for Mac's soul, every decision exacts a tremendous price.
Thirst
(The Energy Vampires #1)
by Jacquelyn Frank
Kindle Edition, 279 pages
Expected publication: January 17th 2017 by Loveswept
ASINB01BJSOEYO
A hidden society of vampires—and the humans they love—are at the heart of this opening novel in a biting, all-original series from the New York Times bestselling author of the Nightwalkers saga.

Rafe DaSilva is an energy vampire, soaking up nourishment from the sun—and, only when necessary, drawing sweet sustenance from humans who are pure in body and spirit. As the right-hand man to his queen, Rafe is a key player at a historic peace summit in New York City, which will unite the vampire nations against a common threat: the sycophants, who feed on humanity and kill indiscriminately. But Rafe's fascination with a beautiful blond police detective may put everything at risk.

Detective Renee Holden has never worked a homicide quite like this. The victim has twin puncture wounds on his neck, and the only eyewitness swears she saw a vampire. Now's definitely not the time to get distracted by a seductive stranger. But the suave, darkly austere, exotically handsome Rafe DaSilva is a hard man to deny, and as Renee falls under his spell, she also falls prey to his enemies. Desperate to protect her, Rafe lifts the veil on a shadow realm she can only visit—a world of intoxicating power, terrifying dangers, and forbidden pleasures.
Home Run
(The Boys of Summer #2)
by Heidi McLaughlin
Kindle Edition
Expected publication: January 17th 2017 by Forever
ASINB01G1K1RRM
The second novel in New York Times bestselling author Heidi McLaughlin's Boys of Summer baseball series.

Cooper Bailey finally has a shot at being a major league ballplayer, but it will take all his focus and energy during spring training to make it happen. Complicating things is his instantaneous connection with Ainsley Burke. He can't get enough of her, and before he knows it, they're spending every night together. But as happy as he is off the field, his focus on it is suffering, and he isn't willing to risk his lifelong dream over a girl.

But without Ainsley, Cooper's miserable, and his game is still off. No matter what he tries, he can't get her out of his head, and he's starting to realize that maybe he doesn't want to. Baseball is just a game, but Ainsley might be the real thing. Now he just has to convince her of that.
Tangled Up
(Taking Chances #2)
by Erin Nicholas
Kindle Edition, 322 pages
Expected publication: January 17th 2017 by Montlake Romance
ASINB01GOCENTG
Storm chaser Max Grady can already feel it: there's a tornado coming to his hometown of Chance, Nebraska. Max is going after it, and the only person he wants by his side is police officer Bree McDermott, fellow adrenaline junkie, his best friend, and the woman Max has secretly been in love with for years. But when a close call with a tornado leaves them lip-locked, Max knows that the danger is only beginning.

Bree is always up for excitement. Her close and sexy encounter with Max is unlike anything she's felt before, and she wants more. As they work together to help clean up Chance, the air between them crackles with sexual tension. But Bree has a tendency to look ahead to the next thrill, and Max knows it. Now they're all tangled up as they chase the strongest force of nature on earth: love.
Flawed
(Ethan Frost #4)
by Tracy Wolff
Kindle Edition, 255 pages
Expected publication: January 17th 2017 by Loveswept
ASINB00VOYNKM6
The bestselling Ethan Frost series introduces a tantalizing new hero—and the broken woman only he can save. Discover why Beth Kery once declared that readers of Tracy Wolff will "fall in love under the spell of a master."

When Tori Reed loses everything, he sets her free.

I told myself I'd never trust Miles Girard, no matter how brilliant or sexy he may be. His sister, Chloe—Ethan Frost's wife—is my best friend, but I know just how low Miles will stoop to get what he wants. Now he's the last thing I want: my boss.

Growing up, I had it all—except for the sense that I belonged. And when a mistake from my past surfaces in the press, my parents don't hesitate to cut me off.

But surprisingly, Miles offers me a helping hand.

Before I know it, our relationship turns unprofessional in the hottest ways. Of course, he still drives me crazy. But when I'm dealt the ultimate blow, Miles is there for me. And maybe he's the one I've been looking for all along.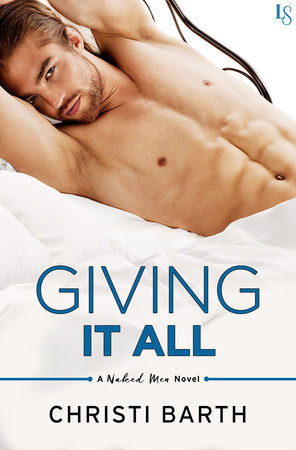 Giving It All
(Naked Men #3)
by Christi Barth
Kindle Edition, 224 pages
Expected publication: January 17th 2017 by Loveswept
ASINB01EQ2S2UM
Christi Barth's smoking-hot contemporary romance series continues as the five best friends who survived a tragedy as teenagers take to their Naked Men podcast to open up about women. In Giving It All, the group's globe-trotting hunk discovers that you need to go home to find love.
Logan Marsh never stays in one place for long. Through his family's foundation, Logan spends his days traveling to the world's most dangerous places to deliver disaster relief, which really puts a damper on his sex life—until he reconnects with his high-school crush. Stranded together in the Caribbean, they enjoy a steamy fling that awakens feelings Logan has ignored for too long. But family drama calls him away from her sweet embrace . . . or so he thinks.

Brooke Gallagher loved being a home economics teacher and cheerleading coach. Then an unexpected tragedy forced her to take some time off. Now she's back in D.C. and despite the intensity of her tropical encounter with Logan, she's shocked to bump into him again. Logan's dealing with his own issues (including a newly discovered half-sister) and he's itching to get back on the road. More than anything, Brooke wants to be there for him. But first, he has to decide if love is enough to keep him in one place.
A Merciful Death
(Mercy Kilpatrick #1)
by Kendra Elliot
ebook
Expected publication: January 17th 2017
FBI special agent Mercy Kilpatrick has been waiting her whole life for disaster to strike. A prepper since childhood, Mercy grew up living off the land—and off the grid—in rural Eagle's Nest, Oregon. Until a shocking tragedy tore her family apart and forced her to leave home. Now a predator known as the cave man is targeting the survivalists in her hometown, murdering them in their homes, stealing huge numbers of weapons, and creating federal suspicion of a possible domestic terrorism event. But the crime scene details are eerily familiar to an unsolved mystery from Mercy's past.

Sent by the FBI to assist local law enforcement, Mercy returns to Eagle's Nest to face the family who shunned her while maintaining the facade of a law-abiding citizen. There, she meets police chief Truman Daly, whose uncle was the cave man's latest victim. He sees the survivalist side of her that she desperately tries to hide, but if she lets him get close enough to learn her secret, she might not survive the fallout…
January 23rd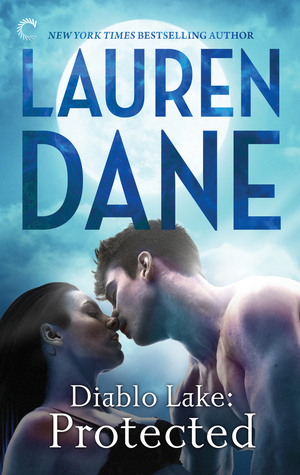 Protected
(Diablo Lake #2)
by Lauren Dane
Kindle Edition, 352 pages
Expected publication: January 23rd 2017 by Carina Press
ASINB017RK444S
New York Times bestselling author Lauren Dane welcomes you back to Diablo Lake, Tennessee: a town founded by witches, governed by werewolves and full of secrets

Tensions are building in Diablo Lake as the two main rival Packs vie for control, and the town is divided along lines of Pack loyalty. Aimee Benton and Mac Pembry are on opposite sides and he seems to find excuses to spar with her daily. He's infuriating—not to mention charming, gorgeous and oh-so-lickable.

Mac can't resist pushing Aimee's buttons. She's always been incredibly sexy, and the wolf in him craves a female with fire in her belly. When a heated argument ends with a sizzling kiss and Mac gets a taste of her, he craves more—and she can't seem to get enough of him, either. The forbidden nature of their attraction stokes their desires until they're secretly hooking up whenever they can.

But then Mac's clan goes too far, and Aimee shuts him out. She's hurt and angry—but that's nothing compared to the rage Mac is feeling toward his own Pack. A fight is brewing that will plunge the whole town into chaos, and someone will have to cross Pack lines to keep the town's fragile peace from breaking apart for good.
Wicked in His Arms
(Wedded by Scandal #2)
by Stacy Reid
Paperback, 300 pages
Expected publication: January 23rd 2017 by Entangled: Scandalous
ASINB01N9JCRD4
Tobias Walcott, the Earl of Blade, has learned it is best to exercise rigid control over his passions and emotions in all that he does. Uncaring that it makes him seem cool and aloof to most in the ton, he is content with his desire to only woo agreeable and demur females. Then unforeseen circumstances see him trapped in a closet at a house party with the last woman he would ever make his countess.

Lady Olivia Sherwood is everything he should not desire in a female—unconventional, too decisive, and utterly without decorum. But passion ignites between them and they are discovered. Honor demands they wed, and while Tobias finds himself unwillingly drawn to the bewitching beauty, he must do everything not to tempt the passion that burns in him for her, lest it leads to disastrous consequences.
January 24th
Raw Deal
(Larson Brothers #1)
by Cherrie Lynn
Kindle Edition
Expected publication: January 24th 2017 by Swerve
ASINB01N3XPVKY
Savannah's brother was killed in a cage fight with Mike "Red Reaper" Larson after a savage punch to the head.

When Mike shows up at the funeral, he's nothing like Savannah expected. Gone is the fierce, brutal beast she's seen in the cage. In his place is a beautiful man torn with guilt, seeking forgiveness, and willing to do anything to ease her pain.

Her family doesn't approve, but her heart doesn't stand a chance. Irresistibly drawn together, neither of them can deny the intoxicating desire unleashed between them, turning their pain into the most exquisite pleasure.

But every time Mike steps into the cage, Savannah knows she could lose him too. She can't go through that again, but how can she let go of the one man who sets her body and soul on fire?
Accidentally on Purpose
(Heartbreaker Bay #3)
by Jill Shalvis
ebook, 384 pages
Expected publication: January 24th 2017 by Avon
ISBN 0062448072
There's no such thing as a little in love…

Elle Wheaten's priorities: friends, career, and kick-ass shoes. Then there's the muscular wall of stubbornness that's security expert Archer Hunt—who comes before everything else. No point in telling Mr. "Feels-Free Zone" that, though. Elle will just see other men until she gets over Archer . . . which should only take a lifetime . . .

There's no such thing as a little in lust…

Archer's wanted the best for Elle ever since he sacrificed his law-enforcement career to save her. But now that she's earned happiness and success, Archer just wants Elle 24/7. Their chemistry could start the next San Francisco Earthquake, and Archer doesn't want to be responsible for the damage. The alternative? Watch her go out with guys who aren't him . . .

There is such a thing as…

As far as Archer's concerned, nobody is good enough for Elle. But when he sets out to prove it by sabotaging her dates, she gets mad—and things get hot as hell. Now Archer has a new mission: prove to Elle that her perfect man has been here all along…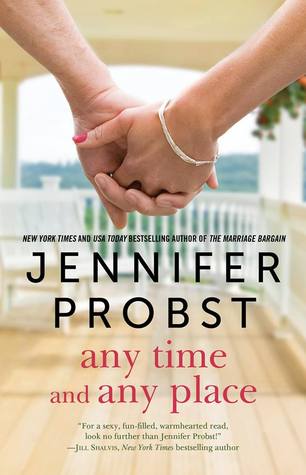 Any Time, Any Place
(Billionaire Builders #2)
by Jennifer Probst
Paperback, 400 pages
Expected publication: January 24th 2017 by Gallery Books
ISBN 1501124269
HGTV's Property Brothers meets The Marriage Bargain in this second volume in the Billionaire Builders series, an all-new heart-wrenching and sexy contemporary romance from New York Times bestselling author Jennifer Probst.

When she was a teen, Raven Bella Stratton's father was killed in a horrible car crash. The bigger shock was the discovery of a woman with him—Diana Pierce—and their two fully packed suitcases with airline tickets to Paris. Devastated by her father's betrayal, Raven went to live with her aunt, never truly overcoming the traumatic event. When she discovers that the mysterious woman had a family with a husband and three boys, Raven vows to leave the memory of her father behind.

Until Dalton Pierce visits one night and suddenly her past challenges her future...

Leaving his life in California behind to run Pierce Construction with his two older brothers, Dalton Pierce has enjoyed returning home and studying his passion of woodworking. But when he visits the local bar with his brothers one evening, he's immediately drawn to the smart-mouthed, badass, sexy bartender who sets his body on fire. Unfortunately, she doesn't seem as intrigued by him, and his multiple advances are met with rejection. When he offers to restore the bar back to its original glory, he begins to work with her on a daily basis, and falls harder. His plan of seduction slowly weaves a web around them both, until they are caught up in the spell. But Dalton doesn't know the secret that can either destroy them both...or finally mend two broken hearts.
Under Pressure
(Body Armor #1)
by Lori Foster
Mass Market Paperback, 384 pages
Expected publication: January 24th 2017 by HQN Books (first published January 23rd 2017)
ISBN 0373789939
He can protect anything except his heart

Leese Phelps's road hasn't been an easy one, but it's brought him to the perfect job — working for the elite Body Armor security agency. And what his newest assignment lacks in size, she makes up for in fire and backbone. But being drawn to Catalina Nicholson is a dangerous complication, especially since it could be the very man who hired Leese who's threatening her.

What Catalina knows could get her killed. But who'd believe the sordid truth about her powerful stepfather? Beyond Leese's ripped body and brooding gaze is a man of impeccable honour. He's the last person she expects to trust — and the first who's ever made her feel safe. And he's the only one who can help her expose a deadly secret, if they can just stay alive long enough...
Staying For Good
(Most Likely To #2)
by Catherine Bybee
Kindle Edition, 322 pages
Expected publication: January 24th 2017 by Montlake Romance
ASINB01D8PYV7G
Zoe Brown may have been voted Most Likely to Never Leave River Bend, but the paper-thin walls and suffocating air of her family's double-wide trailer were not what she wanted for her life. Other than BFFs Melanie and Jo, the only thing that kept Zoe sane during high school was her boyfriend, Luke.

She didn't just leave, she escaped—turning her back on the shame of her black-sheep siblings and imprisoned dad. Now a celebrity chef in Dallas, she can afford all the things she never could have growing up. But when she returns to rustic, ruggedly beautiful River Bend, Zoe has to face all that she abandoned—including Luke.

While Luke was a refuge for Zoe in the past, he knows they inhabit totally different worlds now. Anchored by his parents and his job as a mechanic in his father's shop, Luke never felt the urge to leave River Bend—until Zoe's return.

But when the two rekindle their old flame, Zoe is forced to make the hardest decision of her life: remain in River Bend and confront her past before it destroys her, or say good-bye to everyone she's ever loved…again, this time for good.
The Devil's Daughter
(Hidden Sins #1)
by Katee Robert
Paperback, 301 pages
Expected publication: January 24th 2017 by Montlake Romance
ISBN 1503940918
Growing up in a small town isn't easy, especially when you're the daughter of a local cult leader. Ten years ago, Eden Collins left Clear Springs, Montana, and never once looked back. But when the bodies of murdered young women surface, their corpses violated and marked with tattoos worn by her mother's followers, Eden, now an FBI agent, can't turn a blind eye. To catch the killer, she's going to have to return to the fold.

Sheriff Zach Owens isn't comfortable putting Eden in danger, even if she is an elite agent. And he certainly wasn't expecting to be so attracted to her. As calm and cool as she appears, he knows this can't be a happy homecoming. Zach wants to protect her—from her mother, the cult, and the evil that lurks behind its locked gates. But Eden is his only key to the tight-lipped group, and she may just be closer to the killer than either one of them suspects…
Power Game
(GhostWalkers #13)
by Christine Feehan
Kindle Edition, 1st edition, 464 pages
Expected publication: January 24th 2017 by Berkley
ASINB01KGZVSZO
A mysterious woman with her own agenda rescues a captured GhostWalker soldier held by a secret enemy. Together they uncover a conspiracy that extends beyond the reaches of the US government and proves a deadly threat to national security…
Eleventh Grave in Moonlight
(Charley Davidson #11)
by Darynda Jones
Hardcover, 352 pages
Expected publication: January 24th 2017 by St. Martin's Griffin
ISBN 1250078210
A typical day in the life of Charley Davidson involves cheating husbands, missing people, errant wives, philandering business owners, and oh yeah...demons, hell hounds, evil gods, and dead people. Lots and lots of dead people. As a part time Private Investigator and full-time Grim Reaper, Charley has to balance the good, the bad, the undead, and those who want her dead. In this eleventh installment, Charley is learning to make peace with the fact that she is a goddess with all kinds of power and that her own daughter has been born to save the world from total destruction. But the forces of hell are determined to see Charley banished forever to the darkest corners of another dimension. With the son of Satan himself as her husband and world-rocking lover, maybe Charley can find a way to have her happily ever after after all.
January 30th
Ruthless
(Playboys in Love #2)
by Gina L. Maxwell
Expected publication: January 30th 2017
January 31st
Mogul
(The Knickerbocker Club #3)
by Joanna Shupe
Mass Market Paperback, 352 pages
Published January 31st 2017 by Zebra
ISBN 1420139886
The privileged members of the Knickerbocker Club can never climb too high up the social ladder. But for one charming New York bachelor, does the ascent take precedence over love in the Gilded Age?

As owner of a well-respected national newspaper, Calvin Cabot has the means to indulge his capricious taste for excess—and the power to bring the upper crust of society to its knees. So when a desperate heiress from his past begs for his help, Calvin agrees . . . as long as she promises to stay out of his way. Except, like the newsman, this willful beauty always gets what she wants.

Lillian Davies lives a life brimming with boundless parties, impressive yachts, and exotic getaways. But when her brother disappears, Lily knows that blood runs thicker than champagne and she'll spare nothing to bring him back alive. Unfortunately, the only man who can help her is the one she never wanted to see again. Can Lily keep Calvin at arm's length long enough to save her brother and protect her name . . . even when the tenacious powerbroker turns out to be absolutely irresistible?
Between the Devil and the Duke
(Season for Scandal #3)
by Kelly Bowen
Mass Market Paperback, 368 pages
Expected publication: January 31st 2017 by Forever
Original TitleBetween the Devil and the Duke
ISBN 1455563412
Their love was always in the cards.

He should have thrown her out. But when club owner Alexander Lavoie catches a mysterious blonde counting cards at his vingt-et-un table, he's more intrigued than angry. He has to see more of this beauty—in his club, in his office, in his bed. But first he'll have to devise a proposition she can't turn down.

Gossip said he was an assassin.

Common sense told her to stay away. But Angelique Archer was desperate, and Lavoie's club offered a surefire way to make quick money—until she got caught. Instead of throwing her out though, the devil offers her a deal: come work for him. Refusing him means facing starvation, but with a man so sinfully handsome and fiercely protective, keeping things professional might prove impossible.
Falling for the Highlander
(Highlanders #4)
by Lynsay Sands
ebook, 384 pages
Expected publication: January 31st 2017 by Avon
ISBN 0062273620
Lady Murine Carmichael has known her share of bad luck. But when her debt-ridden half-brother tries to sell her off in exchange for a few Scottish horses, it's the final straw. If keeping her freedom means escaping through harsh countryside alone, so be it. She has barely begun her journey when she lands an unlikely escort—the brawny Highlander who just refused to buy her virtue.

Dougall Buchanan was disgusted by Lord Danvries' shameful offer, but Murine herself tempts him beyond measure. Even bedraggled and dusty, the lass glows with beauty and bravery. Dougall wants to do more than just help her flee. He wants to protect her—with his life and his heart—if she'll only let him. For Murine may be pursued by a powerful foe, but nothing compares to the fiery courage of a Highlander in love.
Seven Minutes in Heaven
(Desperate Duchesses by the Numbers #3)
by Eloisa James
Mass Market Paperback, 384 pages
Expected publication: January 31st 2017 by Avon
ISBN 0062389459
All of Eugenia Snowe's problems start when Edward Reeve, an arrogant bastard son of an earl, bursts into her registry office. He wants a governess and he wants her. She gives him the governess he demands, but she refuses to give herself.

No question that Eugenia enjoys crossing wits with the brilliant inventor, but she will never tarnish her reputation with an affaire, particularly with a man who doesn't realize she's a lady!

She holds her ground…until he kidnaps her.

Ward will stop at nothing to convince Eugenia that they're meant to be together. He promises her heaven.

She gives him seven minutes.
Wicked Cowboy Charm
(Lucky Penny Ranch #4)
by Carolyn Brown
Paperback, 336 pages
Expected publication: January 31st 2017 by Forever
ISBN 145553496X
ONE BLIZZARD, ONE BUNKHOUSE,AND A WHOLE LOTTA TROUBLE . . .

Josie Dawson is new in town, but it doesn't take a local to know that Deke Sullivan is trouble--in a smokin' hot package. He's sweet, sexy, and has charmed just about every woman in Dry Creek, Texas. Well, Josie won't be next. She'll keep her distance, even if he is great with babies and makes a mean cup of homemade hot chocolate.

Deke Sullivan really is a one-woman type of guy. He just had to do a lot of looking to find that one woman. Now he thinks he's found her and he won't let a strong, sassy gal like Josie slip away. Just when he's wondering how to convince her he only has eyes for her, they get stranded in a tiny cabin during a major blizzard. If Deke can melt her heart before they dig out of the snow, he'll be the luckiest cowboy in Texas . . .