Tuesday, June 4th, 2019
The Rogue of Fifth Avenue
(Uptown Girls #1)
by Joanna Shupe
ebook, 400 pages
Published June 4th 2019 by Avon (first published May 28th 2019)
ISBN 0062906828
Silver-tongued lawyer.
Keeper of secrets.
Breaker of hearts.

He can solve any problem…

In serving the wealthy power brokers of New York society, Frank Tripp has finally gained the respectability and security his own upbringing lacked. There's no issue he cannot fix…except for one: the beautiful and reckless daughter of an important client who doesn't seem to understand the word danger.

She's not looking for a hero…

Excitement lay just below Forty-Second Street and Mamie Greene is determined to explore all of it—while playing a modern-day Robin Hood along the way. What she doesn't need is her father's lawyer dogging her every step and threatening her efforts to help struggling families in the tenements.

However, she doesn't count on Frank's persistence…or the sparks that fly between them. When fate upends all her plans, Mamie must decide if she's willing to risk it all on a rogue…
A Touch of Forever
(Cowboys of Colorado #3)
by Jo Goodman
Paperback, 416 pages
Published June 4th 2019 by Berkley Books
ISBN 0440000645
A marriage of convenience turns into a sweetly seductive love-off-the-rails romance in the latest Cowboys of Colorado novel from USA Today bestselling author Jo Goodman.

Lily Salt has sworn off men. After finally gaining her independence, the last thing she needs is another man telling her what to do. But the handsome railroad engineer from New York isn't at all what she expected. He's kind, gentle...and tempting enough to make her wonder what a second chance at love might be worth.

A self-acknowledged black sheep, Roen Shepard knows what it means to feel alone. Recognizing a kindred spirit in the reserved widow whose fascinating blue-green eyes have seen too much, and charmed by the warmth of her ready-made family, the two begin an unlikely friendship.

When a complication from his past follows him to Frost Falls, Roen proposes a mad scheme to protect the new life he's built and keep close the stubborn woman he's accidentally fallen for--a marriage of convenience. But Lily has secrets of her own, and the closer he gets to uncovering them, the more he comes to realize that the only truth that matters is the secret to unlocking her heart.
Darkness Rising
(Darkness #9)
by Katie Reus
Kindle Edition, 251 pages
Published June 4th 2019 by KR Press, LLC
ISBN139781635561111
From USA Today bestselling author Katie Reus comes the final story in the sensual, pulse-pounding Darkness series…

When a bringer of death…

Awakened after millennia, dragon warrior Reaper is ready to fulfill his destiny…until he sees Greer. With one glimpse, everything Reaper has ever known throughout his very long life is irrevocably changed. Greer's his mate, he feels it in his blood, in his soul—but convincing her is another matter. The dragon clan healer finds him obnoxious and annoying, but he knows a woman's interest when he smells it. And Greer smells like one word: mine.

Meets a giver of life…

Greer has spent hundreds of years using her healing abilities for the good of others, making her the polar opposite of Reaper. The ferocious war general may be an ancient, but his arrogance proves he hasn't spent any of that time learning about women. Greer is displeased when her Alpha sends her to New Orleans with the insufferable warrior—then she sees him in action against a menace threatening to tear the city apart. Fierce, protective, magnificent…mate-worthy. Except he's hiding something from her. Something dark and devastating that could destroy their newly forged bond. Maybe opposites do attract, but if they want to live long enough to find out, they'll first have to save the world teetering on the brink of obliteration.
Wolf Rain
(Psy-Changeling Trinity #3)
by Nalini Singh
Hardcover, 416 pages
Published June 4th 2019 by Berkley
ISBN 198480359X
New York Times bestselling author Nalini Singh takes us on a new adventure in this next novel of the Psy-Changeling Trinity series…

The end of Silence was supposed to create a better world for future generations. But trust is broken, and the alliance between Psy, Changeling, and human is thin. The problems that led to Silence are back in full force. Because Silence fixed nothing, just hid the problems.

This time, the Psy have to find a real answer to their problems–if one exists. Or their race will soon go extinct in a cascade of violence. The answer begins with an empath who is attuned to monsters–and who is going to charm a wolf into loving her despite his own demons.
The Beyond
(Devil's Isle #4)
by Chloe Neill
Paperback, 336 pages
Published June 4th 2019 by Berkley Books
ISBN 0440001110
Sensitive Claire Connolly must journey to another world in the electrifying fourth installment of Chloe Neill's post-apocalyptic urban fantasy series.

It's been a year since the Veil between the human world and the world Beyond was torn apart, and war began again. Sensitive Claire Connolly and bounty hunter Liam Quinn have been helping their human and paranormal allies fight back against the ravaging invaders and save what's left of New Orleans.

But a new enemy has arisen, more powerful than any they've seen before, and even Devil's Isle cannot hold her. . .

When Claire learns of a new magical weapon–one built by paranormals themselves -she knows it could turn the tide of war. But to reach it, she and Liam will have to cross into the Beyond itself. In a world full of hostile magic and dangerous foes, she'll have to channel the powers she once kept hidden in order to survive. New Orleans hangs in the balance, and the storm is growing closer . . .
The Two Week Arrangement
(Penthouse Affair #1)
by Kendall Ryan
ebook
Expected publication: June 4th 2019 by Kendall Ryan
Wine&Dine
(Sexy Silver Foxes)
by L.B. Dunbar
Paperback, 250 pages
Published June 3rd 2019 by L.B. Dunbar Writes, Ltd
Dolores Chance.
When I was falling apart, I fell in love.
It wasn't supposed to happen like this.
I ran away from life and ended up running into…his dog.
Actually, his dog ran into me. I don't care for dogs.
Then I met the owner.

Garrett Fox.
When my neighbor's sister came to visit,
I promised to show her around town.
I'm an investor in things, not people, not emotions.
I'm not a fan of love. I've been burned before.
Then I met Dolores.

When a sexy mature, man-of-means encounters a silver vixen, healing her broken heart might be worth more than gold.

Romance has no age limit.
The Truth about Heartbreak
by B. Celeste
Published June 3rd 2019
Forbidden Romance - Check.
Cheating - Check.
Brother's Best Friend - Check.
Angst - Check.


I fell in love with him when I was thirteen years old.

He was older, mysterious, and unattainable. The guy I could never touch.

Then one night changed everything for us. But there was one huge problem.

He belonged to her.
This Is Crazy
(This is #1)
by Natasha Madison
265 pages
Published June 4th 2019
ISBN B07SN4NS5Y
From the best selling series, Something So comes the spin-off This is...

Zara Stone

All my life, I've said I will never date a hockey player. I know better because I've seen and lived it all. My father is a hockey god, my brother is the captain of the most successful NHL team in the world, and my brother-in-law also plays in the league.

Their lives are complicated, so I went in the opposite direction.

I fell in love with a scholar. But instead of proposing marriage, he broke up with me.

Three months later, I saw his engagement picture on Instagram. I couldn't let him get away with that. No, it didn't matter what, I was going to make that man see that I did not need him.

Evan Richards

I was in the running to pass my point record from last year, ready to claim the number one spot in the league. On top of my game, I was riding my career high wave.

Then, Hockey's Princess, Zara Stone tweeted me. She wanted me to crash her ex's wedding.

The worst that could happen? A PR nightmare. The best? A fun night with a beautiful woman.

It started out as a game—something I'm good at. Her crazy idea twisted into something I wasn't looking for, something neither of us wanted.

When push comes to shove, one thing runs through my mind:

This is Crazy. Also, this is crazy right.
A Single Touch
(Irresistible Attraction #3)
by W. Winters
Kindle Edition, 204 pages
Published June 4th 2019
ASINB07NPF14S3
From USA Today bestselling author Willow Winters comes the conclusion to the heart-wrenching, edge-of-your-seat gripping, romantic suspense trilogy, Irresistible Attraction.

Sometimes you meet someone, maybe meet isn't the right word. You don't even have say hello for this to happen. You simply pass by them and everything in your world changes forever. Chills flow all the way from the crook in your neck where you imagine he'd kiss you, all the way down, with only a single glance.
I know you know what I'm referring to. The moment when something inside of you ignites to life, recognizing their other half that's been gone for far too long.
It burns hot, destroying any hope that it's only a coincidence, and that life will go back to what it was. These moments are never forgotten.
That's only with a single glance.
I can tell you what a single touch will do. It will destroy you and everything you thought you knew.
I felt all of this with Jase Cross, every flick of the flames that roared inside of me.
I knew he'd be my downfall, and I was determined to be his just the same.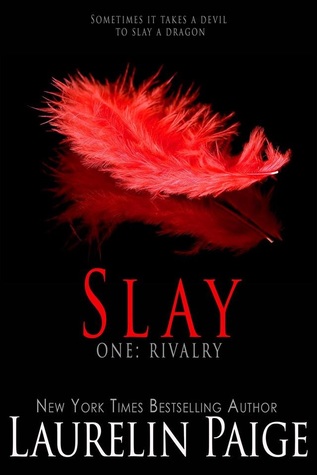 Slay: Rivalry
(Slay Quartet #1)
by Laurelin Paige
Kindle Edition, 1st Edition, 298 pages
Published June 4th 2019 by Paige Press LLC
ASINB07DX6ZLHT
Edward Fasbender is a devil.

He's my father's business rival, a powerful, vicious man who takes what he wants and bows to no one. I only took the meeting because I was curious. I thought he was going to offer me a job.

But that's not what he's after at all. His proposal is much more intriguing, and I see an opportunity. An opportunity to turn the tables and bring down the devil.

I've gotten in trouble playing these games before. I know when the risk is too great, when the stakes are too high. I know how to be cold and strong-willed and destructive. I know how to withstand dominant men with arrogant charm and rugged features.

Yet I can't resist taking on Edward.

And I can't resist the pull he has on me.

Soon I'm not so sure which side of the battle I'm standing on--if I'm the warrior meant to slay,

Or the one who will be slain.
Ghosts of the Shadow Market
(Ghosts of the Shadow Market #1-10)
by Cassandra Clare, Maureen Johnson, Sarah Rees Brennan, Robin Wasserman, Kelly Link
Paperback, 624 pages
Published June 4th 2019 by Walker Books
ISBN139781406385373
The Shadow Market is a meeting point for faeries, werewolves, warlocks and vampires. There the Downworlders buy and sell magical objects, make dark bargains, and whisper secrets they do not want the Nephilim to know. Through two centuries, however, there has been a frequent visitor to the Shadow Market from the City of Bones, the very heart of the Shadowhunters. As a Silent Brother, Brother Zachariah is sworn keeper of the laws and lore of the Nephilim. But once he was a Shadowhunter called Jem Carstairs, and his love, then and always, is the warlock Tessa Gray.

Follow Brother Zachariah and see, against the backdrop of the Shadow Market's dark dealings and festive celebrations, Anna Lightwood's first romance, Matthew Fairchild's great sin and Tessa Gray plunged into a world war. Valentine Morgenstern buys a soul at the Market and a young Jace Wayland's soul finds safe harbor. In the Market is hidden a lost heir and a beloved ghost, and no one can save you once you have traded away your heart. Not even Brother Zachariah...

Ghosts of the Shadow Market will be co-written with Maureen Johnson, Robin Wasserman, Sarah Rees Brennan and Pulitzer finalist Kelly Link and will initially be available digitally.

The first eight stories will be published as e-books from around March 2018 monthly, with the final two available in a print bind-up of all the stories, to be published in 2019.
Escape from the Isle of the Lost
(Descendants #4)
by Melissa de la Cruz
Hardcover, 272 pages
Published June 4th 2019 by Disney-Hyperion
ISBN 1368020054
Mal, Evie, Jay, and Carlos may have once been the baddest of the bad, but their wicked ways are (mostly) behind them—and now graduation is almost here! But before the seniors can don their custom-designed caps and gowns, courtesy of Evie, they've got an epic plan to put into action. There are tons of villain kids on the Isle of the Lost who are eager for their chance to come to Auradon Prep—even Celia, Dr. Facilier's trickster daughter, wants in on the deal!—and Mal's crew is using their upcoming visit to the Isle to help make it happen. But Auradon's biggest threat is still at large…
Trapped on the other side of the barrier, Uma is more desperate than ever to get her long-awaited revenge against Mal. When she discovers an underground lair belonging to Hades, god of the underworld, Uma realizes she's found the perfect partner in crime. Together, they can defeat Mal, bring down the barrier, and escape the Isle for good.
Mal and Uma have a score to settle, and they'll come face to face in an explosive underwater battle that could determine the fates of Auradon and the Isle of the Lost once and for all.
Rebel Born
(Secondborn #3)
by Amy A. Bartol
Kindle Edition
Published June 4th 2019 by 47North
ASINB073FBWZ9S
Roselle faces a mind-reeling showdown with the deep state agent controlling her psyche in the conclusion to the Wall Street Journal bestselling Secondborn series.

Roselle St. Sismode is many things: victim of a conspiracy, unwilling host of an ever-evolving mind algorithm, spy for a rebel army, and heir to the Fate of Swords. As a warrior, she's also the anticipated main event at the Secondborn Trials. When the opening ceremonies erupt in chaos, Roselle is abducted by a sadistic agent with a diabolical plan: transform Roselle into a mind-controlled assassin to topple society. But a rogue scientist has implanted Roselle with a genius technology that is far more powerful. It renders her untouchable. Faster. Stronger. And maybe immortal.

With her enhanced abilities come the highest stakes yet, as Roselle confronts shifting realities at every turn as well as her own mother's stunning betrayal. Racing against time with a determined resistance group, can Roselle overthrow the forces of destruction and reclaim the most valuable of commodities—her humanity?
The Beholder
(The Beholder #1)
by Anna Bright
Published June 4th 2019 by HarperTeen
Wild and Crooked
by Leah Thomas
Hardcover, 416 pages
Expected publication: June 4th 2019 by Bloomsbury
Critically-acclaimed author Leah Thomas blends a small-town setting with the secrets of a long-ago crime, in a compelling novel about breaking free from the past.
In Samsboro, Kentucky, Kalyn Spence's name is inseparable from the brutal murder her father committed when he was a teenager. Forced to return to town, Kalyn must attend school under a pseudonym . . . or face the lingering anger of Samsboro's citizens, who refuse to forget the crime.

Gus Peake has never had the luxury of redefining himself. A Samsboro native, he's either known as the "disabled kid" because of his cerebral palsy, or as the kid whose dad was murdered. Gus just wants to be known as himself.

When Gus meets Kalyn, her frankness is refreshing, and they form a deep friendship. Until their families' pasts emerge. And when the accepted version of the truth is questioned, Kalyn and Gus are caught in the center of a national uproar. Can they break free from a legacy of inherited lies and chart their own paths forward?
The Rest of the Story
by Sarah Dessen
Hardcover, 400 pages
Published June 4th 2019 by Balzer + Bray
ISBN 0062933620
Emma Saylor doesn't remember a lot about her mother, who died when she was ten. But she does remember the stories her mom told her about the big lake that went on forever, with cold, clear water and mossy trees at the edges.

Now it's just Emma and her dad, and life is good, if a little predictable…until Emma is unexpectedly sent to spend the summer with her mother's family—her grandmother and cousins she hasn't seen since she was a little girl.

When Emma arrives at North Lake, she realizes there are actually two very different communities there. Her mother grew up in working class North Lake, while her dad spent summers in the wealthier Lake North resort. The more time Emma spends there, the more it starts to feel like she is divided into two people as well. To her father, she is Emma. But to her new family, she is Saylor, the name her mother always called her.

Then there's Roo, the boy who was her very best friend when she was little. Roo holds the key to her family's history, and slowly, he helps her put the pieces together about her past. It's hard not to get caught up in the magic of North Lake—and Saylor finds herself falling under Roo's spell as well.

For Saylor, it's like a whole new world is opening up to her. But when it's time to go back home, which side of her will win out?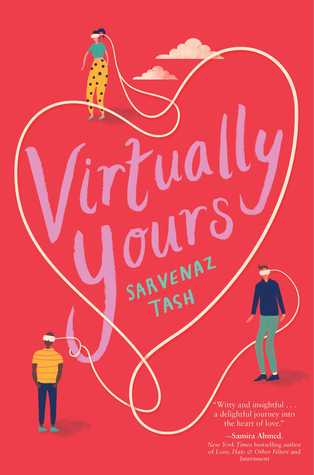 Virtually Yours
by Sarvenaz Tash
Hardcover, 368 pages
Published June 4th 2019 by Simon & Schuster Books for Young Readers
ISBN 1534436669
Modern love plus online anonymity is a recipe for romantic disaster in this lighthearted new romance from the author of The Geek's Guide to Unrequited Love.

How bad can one little virtual lie be?

NYU freshman Mariam Vakilian hasn't dated anyone in five months, not since her high school sweetheart Caleb broke up with her. So, when she decides to take advantage of an expiring coupon and try out a new virtual reality dating service, it's sort of a big deal.

It's an even bigger deal when it chooses as one of her three matches none other than Caleb himself. That has to be a sign, right?

Except that her other match, Jeremy, just happens to be her new best friend IRL.

Mariam's heart is telling her one thing, but the app is telling her another. So, which should she trust? Is all fair in modern love?
The Right Sort of Man
(The Right Sort Marriage Bureau #1)
by Allison Montclair
Hardcover, 336 pages
Expected publication: June 4th 2019 by Minotaur Books
ISBN 1250178363
"A delightful immersion in the period and personalities, with that touch of depth that transforms a good series to a great one." --Laurie R. King

First comes love, then comes murder.

In a London slowly recovering from World War II, two very different women join forces to launch a business venture in the heart of Mayfair--The Right Sort Marriage Bureau. Miss Iris Sparks, quick-witted and impulsive, and Mrs. Gwendolyn Bainbridge, practical and widowed with a young son, are determined to achieve some independence and do some good in a rapidly changing world.

But the promising start to their marriage bureau is threatened when their newest client, Tillie La Salle, is found murdered and the man arrested for the crime is the prospective husband they matched her with. While the police are convinced they have their man, Miss Sparks and Mrs. Bainbridge are not. To clear his name--and to rescue their fledging operation's reputation--Sparks and Bainbridge decide to investigate on their own, using the skills and contacts they've each acquired through life and their individual adventures during the recent war.

Little do they know that this will put their very lives at risk.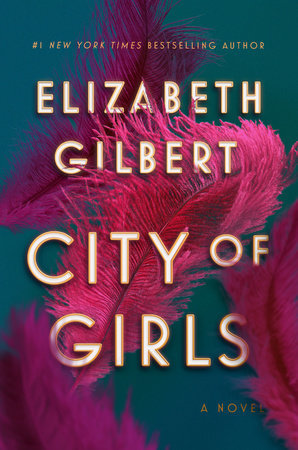 City of Girls
by Elizabeth Gilbert
Hardcover, 432 pages
Published June 4th 2019 by Riverhead
ISBN 1594634734
From the # 1 New York Times bestselling author of Eat, Pray, Love and The Signature of All Things, a delicious novel of glamour, sex, and adventure, about a young woman discovering that you don't have to be a good girl to be a good person.

Life is both fleeting and dangerous, and there is no point in denying yourself pleasure, or being anything other than what you are.

Beloved author Elizabeth Gilbert returns to fiction with a unique love story set in the New York City theater world during the 1940s. Told from the perspective of an older woman as she looks back on her youth with both pleasure and regret (but mostly pleasure), City of Girls explores themes of female sexuality and promiscuity, as well as the idiosyncrasies of true love.

In 1940, nineteen-year-old Vivian Morris has just been kicked out of Vassar College, owing to her lackluster freshman-year performance. Her affluent parents send her to Manhattan to live with her Aunt Peg, who owns a flamboyant, crumbling midtown theater called the Lily Playhouse. There Vivian is introduced to an entire cosmos of unconventional and charismatic characters, from the fun-chasing showgirls to a sexy male actor, a grand-dame actress, a lady-killer writer, and no-nonsense stage manager. But when Vivian makes a personal mistake that results in professional scandal, it turns her new world upside down in ways that it will take her years to fully understand. Ultimately, though, it leads her to a new understanding of the kind of life she craves-and the kind of freedom it takes to pursue it. It will also lead to the love of her life, a love that stands out from all the rest.

Now ninety-five years old and telling her story at last, Vivian recalls how the events of those years altered the course of her life - and the gusto and autonomy with which she approached it. At some point in a woman's life, she just gets tired of being ashamed all the time, she muses. After that, she is free to become whoever she truly is. Written with a powerful wisdom about human desire and connection, City of Girls is a love story like no other.
The Summer We Lost Her
by Tish Cohen
Paperback, 352 pages
Published June 4th 2019 by Gallery Books
ISBN 1501199684
It's been a busy—and expensive—few years for Matt and Elise Sorenson and their young daughter Gracie, whom they affectionately call Little Green. Matt, a Manhattan lawyer, has just been offered a partnership, and Elise's equestrian ambitions as a competitive dressage rider may finally vault her into the Olympics. But her long absences from home and endless hours of training have strained their relationships nearly to the breaking point.

Now they're up in the Adirondacks, preparing to sell the valuable lakefront cabin that's been in Matt's family for generations. Both he and Elise agree it's time to let it go. But as they navigate the memories the cabin holds—and come face to face with Matt's teenage crush, now an unnervingly attractive single mother living right next door—Gracie disappears without a trace.

Faced with the possibility that they'll never see their daughter again, Elise and Matt struggle to come to terms with what their future may bring. The fate of the family property, the history of this not-so-tiny town, and the limits of Matt and Elise's love for each other are inextricably bound up with Gracie's disappearance. Everything for the Sorenson family is about to change—the messy tangle of their past, the harrowing truth of their present, and whether or not their love will survive a parent's worst nightmare.