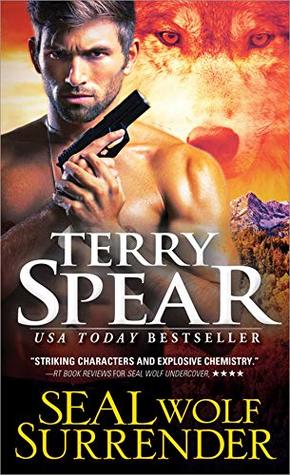 SEAL Wolf Surrender
(SEAL Wolf #6)
by Terry Spear
Kindle Edition, 352 pages
Published May 28th 2019 by Sourcebooks Casablanca
ASINB07LGFV9G3
For a shifter with no interest in she-wolves...he sure is territorial.

Wolf shifter and former Navy SEAL Brock Greystoke isn't interested in she-wolves. The last one in his life ambushed him with the intent to kill. So when he's tasked with helping his cousin's friend get to a wedding, he has no intention of getting involved with her...

She-wolf Natalie Silverton has inadvertently crossed a group of dangerous criminals, and she's in dire need of a bodyguard. Good thing Brock is there to protect her. At every turn, their work--and play--brings them closer to catching the criminals and to each other, but Brock will have to get them out of this alive if he has any hope of winning Natalie's heart.
Excerpt:
"All right, I'll stay on the line and get you here that way," Brock said.
She could listen to his calm, soothing, masculine voice all day. She imagined hers sounded frazzled and annoyed. "Okay."
"Turn right onto North Boulevard. Stay in the right--hand lane. You'll turn on the first exit to the right."
"Okay, leaving the nursery. I'm on North Boulevard, coming up to the first exit on the right."
"Good," Brock said, and she was glad he didn't sound as if he thought she was an idiot.
"Okay, exited North Boulevard."
"Go down to the third signal and turn left on Elm Street."
"Oak Street. Ash Street. Elm Street."
Brock chuckled. Okay, she knew she sounded silly, but she really, really hated getting lost in a strange city, especially when she was already late! She was really nervous about meeting all these strange wolves. Despite working in her parents' garden shop and being used to meeting customers—-human customers—-or presenting educational programs to humans, she wasn't used to meeting a lot of wolves.
"Keep going. You're nearly there. Stay in the right lane, and at the third signal, you'll turn right. Dallas's Steak House is three buildings down on your right."
"Thank you. I so appreciate it. I'm nearly there." She should have just thanked him and signed off, but he wasn't ending the call either, and she felt more at ease knowing if she missed the steak house somehow, Brock would redirect her and make sure she got there all right. "Okay, I see the steak house, and I'm pulling into the parking lot."
"You're driving a blue Toyota?"
"Uh, yeah." She turned to look at the deck leading to the front door of the restaurant, where a large fountain was flowing into a basin.
Wearing blue jeans, a dress shirt, cowboy boots, and a Stetson, Brock was standing next to the fountain, appearing bigger than life, but he looked as though he was into roping steers rather than scuba diving as a SEAL wolf. Dark hair, dark eyes, and a sensuous mouth, curved up in a slight smile, greeted her. His gaze was intense, all--consuming. She parked her car and joined him.
"You must be Natalie, Angie's best friend. Brock Greystoke, Aaron's cousin." Brock offered his hand to her and she shook it, but then worried hers was a little clammy from sweating out the drive there. She should have wiped her hand off on her skirt before she shook his hand.
"All Angie's talked about was one of us running to the airport and picking you up so you wouldn't get lost. You know, instead of staying at the hotel, you could stay with any of the families in the town of Greystoke out in Wolf Valley. That way, you won't have to make the long drive there in the morning for the wedding. I know how it is when you want to have your own getaway vehicle though. Oh, and welcome to Colorado. Angie said you've never been here before."
"Thanks, and no, I haven't." How could she tell the darkly handsome wolf she preferred staying at her own hotel because she didn't want to put anyone out? They'd insist she wasn't, but she just needed…her own space. She wondered how much Angie had told her new pack members about her.
She sighed, and Brock opened the door to the restaurant for her. The noisy conversation inside was nearly deafening, partly because of their enhanced wolf hearing. That was why she preferred her garden nursery to this.
The aroma of hickory--cooked steaks did appeal though.
"Are you ready for a good--sized steak after all the flying and rushing to get here?" Brock asked.
"Yes. I hate being so late."
"Don't worry about it. We just started at noon, and it's only a quarter of one. Everyone is enjoying cocktails and appetizers first."
Natalie figured no one would realize she hadn't been there earlier since no one even knew her and Angie would have been too busy enjoying herself. But Natalie hated arriving late to anything, as if she were the star of the occasion and needed a big entrance. Yet she was vitally aware of the man walking beside her, his arm brushing hers as they moved closer together so that customers could get by them. When a waiter nearly ran into her, Brock adroitly slipped in behind her, pulling her out of the waiter's way.
Heat spread through her whole body, and Natalie tried to think of anything other than the way his body was pressed against hers in the sudden crush of customers as a large party was leaving the restaurant. "Angie told me you and your brother, Vaughn, are Navy SEALs. Are you just here on a visit?" she asked Brock.
"No, we're both out of the navy now, retired. You know how it is. We didn't look like we were aging, so as soon as we could, we retired. Both of us had been private investigators. Vaughn hooked up with a jaguar policing force that's called the United Shifter Force, and he has a mate now. They live out here, but their headquarters is in the Houston area. They travel there whenever they need to for a mission. I'm doing the PI business on my own now."
"You look like you wrangle steers too."
He smiled at her.
She felt her face flush with heat. Maybe that was the wrong thing to say to him. She saw men wearing western wear in Amarillo too, so she was used to seeing it.
"I help out on Aaron's ranch when I can. I just like getting out and riding a bit. Do you ride?"
About the Author:
Love, love, love romance, the paranormal, hunky Highlanders with their delicious brogue and hot kilts, so Terry Spear writes about those hunky Highlanders both in medieval times and as wolves in contemporary times. Jaguar shifters too! And young adult urban fantasy. And romantic suspense.

She grew up reading mystery, adventure, mythologies from around the world, ghost stories, the paranormal, fell in love with Dracula and Wolfman, and felt they needed loving too. Everyone should have someone to love. Which means her stories always have a HEA.

USA Today Bestseller residing in Central Texas from Sacramento, California who creates award-winning teddy bears too! http://terryspear.com
Tour-Wide Giveaway:
a Rafflecopter giveaway