Tuesday, June 11th, 2019
Storm and Fury by Jennifer L. Armentrout is out today! Donna Grant also has a new book in her Sons of Texas series releasing today. Which one of these books will you be nabbing?! 📚💸🎉
Kickin' It
(Red Card #2)
by Rachel Van Dyken
Kindle Edition
Published June 11th 2019 by Skyscape
ASINB07K6PPN2N
Love breaks the offside rule in New York Times bestselling author Rachel Van Dyken's irresistibly sexy Red Card romance.

Successful, high-profile sports agent Matt Kingston thinks he can handle anything. Then soccer player Parker Speedman shows up at his door. She is young and gorgeous, has natural talent, and is looking for a team. She's also a hothead with a punchy past who floored her last coach on live TV. Despite his misgivings, Matt agrees to be both her agent and her coach. Professional common sense says she's off-limits. But what can he say about the raw attraction between them?

Parker plays soccer with her heart and soul. But after the events of the last year, she's shaken. She's already seen what a powerful man can do to a female athlete's career. And her beloved dream is in the hands of a sexy, gorgeous man with the uncanny ability to slip past her defenses…and into her heart.

Now Matt and Parker are about to learn that when it comes to love, the only way to win is by breaking every rule they know. And by playing nice. Real nice.
One Man
(Naked Trilogy #1)
by Lisa Renee Jones
Kindle Edition, 300 pages
Published June 11th 2019 by Julie Patra Publishing
ASINB07PRLKDJ5
Jax North. He's handsome, brutally so, and wealthy. Our first encounter is intense and sex is my escape. I go with it. I go with him and what a ride it is. And then, I say goodbye. Only you don't say goodbye to a man like Jax if he doesn't want you to. I've challenged him without meaning to. He wants me. I don't want to want him, and yet, I crave him. And he tears me down, my resistance, my walls. But those walls protect me. They seal my secrets inside. And I forget that being alone is safe.

Before long, my secrets begin to be revealed, and I trust him so deeply that I think maybe he can handle them. Maybe I dare to believe that alone isn't better.

Until I discover that Jax was never an accident.

He has secrets.

He knew my secret. He came for me.

One Man is the first book in the dangerously sexy Naked Trilogy by New York Times bestselling author Lisa Renee Jones.
More Than Anything
(Broken Pieces #1)
by Natasha Anders
Kindle Edition
Published June 11th 2019 by Montlake Romance
ASINB07KXMVBR6
Two lovers strive to trade a grim past for a bright future in this story of bittersweet yearning.
Tina Jenson belongs to the same social stratum as Harris Chapman, but he's out of her league—at least that's what she thinks before they jump in bed together. It's the perfect night, but when she overhears crude, hurtful comments the next morning, she can't get away fast enough.

Ten years later, Tina's life is a mess. That night with Harris didn't just hurt her feelings; it started a cascade of disappointment and heartbreak. Every time she bumps into Harris, her heart twists inside out. She still wants him, but she's harboring a painful secret from their night together that she's not ready to reveal.

Crossed signals, high-society whispers, and shame have kept Tina and Harris apart for years, but deep down, they're hungry for each other and eager to write their own rules. Can they let go of the past and find their way back to each other, or are the barriers between them too high and too strong?
A Girl Like You
(Magnolia Sound #2)
by Samantha Chase
Kindle Edition, 241 pages
Published June 11th 2019 by Chasing Romance, Inc. (first published June 3rd 2019)
ASINB07PQMSJC7
Sam Westbrook has always been the family hell-raiser, but as an adult he's enjoyed not being under the constant watchful eye of his family. That was until his great-grandfather passed away. Forced to move to the small coastal town of Magnolia Sound, Sam can't escape the reputation that has followed him since his teenage years. But he'll have to do it to get his inheritance.

Shelby Abbott was always the good girl – it's what happens when you're the pastor's daughter in a small town. Now, she's ready to leave that image behind. For years she's heard about wild Sam Westbrook, but she never though she would be the one to catch his eye. And being the center of Sam's attention ins't something Shelby ever prepared for.

Sam's time in Magnolia Sound has an expiration date and Shelby's not sure she's the kind of girl who can be just another one of his flings. But Sam's ready to make some changes. And a girl like her is just who he needs.
Take Me Down
(The Knight Brothers #2)
by Carly Phillips
Kindle Edition, 300 pages
Published June 11th 2019
Opposites not only attract, they combust!
Parker Knight was going through the motions… and then he met her.

In sweet, sexy Emily Stevens and the rundown resort she runs with her father, Parker sees the chance to reclaim the life he once lost and take care of the first woman who makes him feel … everything. He wants her in a way he's never desired a woman before and yearns to sample the treats the sexy baker has to offer.

But Emily doesn't trust charming city guys, especially one who is going to leave when his time off is over. No matter how good he makes her feel, in bed or out.

Parker has his hands full, not only with a wary Emily but with someone who doesn't want the lodge to succeed, and if things keep getting worse, not even a Knight can save her.
28 Dates
(Crazy Love #3)
by Stacey Lynn
Kindle Edition, 1st edition, 200 pages
Published June 11th 2019 by Loveswept
ASINB07HDRSK1H
In the age of apps and social media, how many dates does it take to find "the one"? The author of Knocked Up and Fake Wife swipes right on love with a captivating friends-to-lovers tale.

Caitlin Pappas is a lifelong commitment-phobe. The closest thing she's had to a relationship in the last few years was a friends-with-benefits thing that fizzled out because the guy wanted more. So when she and her best friend design a new app that promises to find "the one" in 28 Dates, Caitlin is the perfect guinea pig. Little does she know that she may have already met her match. . . .

Jonas Reeves has tried his best to move on after Caitlin didn't want take things to the next level. Now they really are just friends . . . without benefits. Caitlin's even a regular at his bar, The Dirty Martini. But when he learns that Caitlin plans to beta-test a new dating app on his home turf, Jonas senses a golden opportunity to win her heart. Even if he has to slide into her DMs to do it. . . .
The Edge of Us
(Crash and Burn #2)
by Jamie McGuire
Kindle Edition, 384 pages
Published June 11th 2019 by Forever
ASINB07GNDM6PL
From the #1 New York Times bestselling author of Beautiful Disaster comes a story of a fiercely independent widow who falls for a sexy firefighter in this gripping contemporary romance.

From the #1 New York Times bestselling author of Beautiful Disaster comes a story of a fiercely independent war widow who falls for a protective hotshot firefighter in this gripping contemporary romance.

Widowed before thirty, Naomi Abrams has been through a lot. Her husband Matt sacrificed his life to save his Marine brothers. Daughter of the US modern militia's founder, heartbroken Naomi joins the Marines in Matt's place, too-ready to do anything to help protect his team—men who are like brothers to her now. Retiring together to the town of Colorado Springs, they've assembled to take on the job of security at the top-secret military base, the Cheyenne Mountain Complex. As they struggle to adjust to their civilian lives, they also discover new dangers.

Zeke Lund has been alone since being bumped out of the foster system at age eighteen, and now his rag-tag family consists of his hotshot brothers and sisters. Shattered by his first love, Zeke never planned to fall for someone again, especially not during fire season in the Colorado mountains, but Naomi is unlike anyone he's ever met. She's strong, stubborn, and takes exactly zero crap from anyone. At the top of a freezing canyon, the fire glowing down below, Zeke finally admits he may have feelings for the widow with the foul mouth and broken soul. When his health begins to fail, he wonders if he should love her enough to let her go or let her fight with him—with the real possibility of burying another man she loves.

Despite hurt, pain, fires, and illness, two strong people with fragile hearts struggle to beat the odds... and their love might just be strong enough to survive it all.
Naughty Stranger
(Dangerous Love #1)
by Stacey Kennedy
ebook, 384 pages
Published June 11th 2019 by Forever Yours
ISBN139781538746929
From USA Today bestselling author Stacey Kennedy comes a thrilling, sexy romance about a woman in danger and a small-town police detective who will do anything to keep her safe.

After a sudden tragedy blew her world apart, Peyton Kerr fled her big city career and started over in Stoney Creek, Maine. So far, she's loving small-town life–no one knows about her past, and her easy flirtation with Boone Knight gives her a reason to smile. But then someone is murdered in Peyton's store, and her quiet, anonymous existence is instantly destroyed. To make matters worse, Boone–a police detective–is assigned to the case, and Peyton knows she can't keep him at arm's length any longer. She's resisted the simmering heat between them–but now this gorgeous man is promising to keep her safe–and satisfied…

Boone Knight doesn't want the complications of a relationship. But when he volunteers to protect his town's newest–and sexiest–resident, he finally admits he'd like to explore their sizzling attraction. And after one incredible night, everything changes for Boone. Peyton is sweeter–and braver–than anyone he's ever met, and with her in his arms, everything makes sense. He just needs to convince her to trust him enough to reveal her secrets, or risk losing her to a merciless killer who seems to grow bolder with each passing day.
Sisters of Summer's End
(Summer Resort #2)
by Lori Foster
Paperback, 368 pages
Published June 11th 2019 by HQN
ISBN 1335468323
As the summer ends, friendship begins...

When single mom Joy Lee abandoned her old life to take a job at a lakeside resort, she found something that her family's wealth and influence could never buy: peace of mind. Not easy to come by for the once-burned divorce who keeps everyone at a distance. But when her new friend, Maris, dares her to take a chance with the drive-in's charismatic new owner, everything changes for Joy and her young son.

A difficult childhood has left Maris Kennedy with definite priorities. Her job running Summer's End, the camp store and cafe, comes first. Always. Nothing could ever make her risk that hard-won security--especially not her free-spirited colleague. But the more she encourages Joy to open herself up to new experiences, the more Maris begins to wonder what she, too, might be missing. Learning how to trust will bring Joy and Maris together.

And soon they form a friendship that leaves them as close as sisters--and open to love where they least expect it...in Summer's End.
The Defender
(Sons of Texas #4)
by Donna Grant
ebook
Published June 11th 2019 by DL Grant, LLC
ISBN139781942017486
Their love knows no borders.

A loner who exudes danger, Lev Ivanski has spent his life in service to one man, someone he loves and respects. But things are changing. Rapidly. Lev and his boss have allies and friends and a new mission more important their than business, all because of the Saints. This clandestine organization needs to be taken down, and Lev has the skills to help. What he doesn't expect is to be at the mercy of a woman who makes him crave more than he ever thought to want.

Determined and dedicated, Reyna Harris is used to danger and living on the edge. An ex-CIA operative, she's been embedded with the Saints for years, trying to take them down from the inside. When her cover is blown, she is forced to trust a man she just met, fighting their way out of one battle after another. But there's something about Lev that Reyna knows she can trust. And love. She needs Lev – and not just to take a swipe at the Saints. Together they're an unstoppable force. And with their friends, they just might succeed in their mission.
Stay
by Tia Louise
ebook, 300 pages
Published June 11th 2019 by TLM Productions LLC
Stephen Hastings is a control freak.
He's arrogant. He's smart as a whip and sexy AF.
He has too much money. He's bossy, and he's usually right.
All I saw were his clear blue eyes, tight ass, and ripped torso.
I gladly handed him my V-card that night, ten years ago.
I was so stupid. I swore I'd never be that stupid again…

Emmy Barton works for a dry cleaner?
Yes, that Emmy Barton—long, blonde hair, bright blue eyes, pretty smile…
Sexy little ass. Smart mouth.
She was the only girl who interested me, but I was leaving to be an officer in the Navy.

Now I'm home, running my business, my life is perfectly ordered until I bump into her, divorced and struggling to make ends meet.

I hate seeing her like this. I hate that she married Burt "The Dick" Dickerson. What an asshole.

She says she hates me, but when we fight, it's all heat and lust.
I won't leave her this way.
She will let me help her and her son. She will stay...
It's a thin line between love and hate, and this line is on fire.
Sexy Filthy Boss
(White Collar Brothers #1)
by Piper Rayne
340 pages
Published June 11th 2019
He's the sexy alpha male in the corner office who goes through assistants faster than free donuts in the breakroom.

I'm the assistant who was chosen to cover for his last fire.

The owner of the company is clear—hook the biggest client in our firm's history and there's a partnership for him and a promotion for me. Stipulation—we do it together.

It doesn't take a tarot card-reading psychic to figure out where our story is headed… late nights, trips out of town, and more than a few awkward moments filled with sexual tension.

No worries though. I pride myself on my willpower. I can totally ignore his sexy grin, his rock-hard body and his dreamy brown eyes. I will not become the woman other women hate.

But it turns out that Enzo Mancini has a lot of layers and if I don't stop peeling, I'm going to lose everything, including my dignity.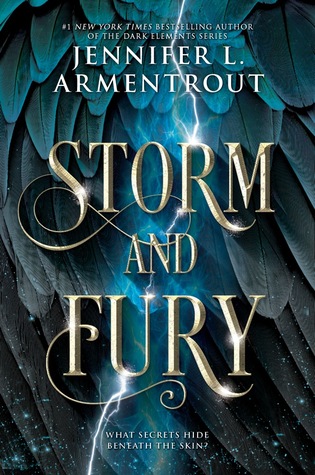 Storm and Fury
(The Harbinger #1)
by Jennifer L. Armentrout
Hardcover, 512 pages
Published June 11th 2019 by Inkyard Press
ISBN 1335218793
Eighteen-year-old Trinity Marrow may be going blind, but she can see and communicate with ghosts and spirits. Her unique gift is part of a secret so dangerous that she's been in hiding for years in an isolated compound fiercely guarded by Wardens—gargoyle shape-shifters who protect humankind from demons. If the demons discover the truth about Trinity, they'll devour her, flesh and bone, to enhance their own powers.

When Wardens from another clan arrive with disturbing reports that something out there is killing both demons and Wardens, Trinity's safe world implodes. Not the least because one of the outsiders is the most annoying and fascinating person she's ever met. Zayne has secrets of his own that will upend her world yet again—but working together becomes imperative once demons breach the compound and Trinity's secret comes to light. To save her family and maybe the world, she'll have to put her trust in Zayne. But all bets are off as a supernatural war is unleashed…
The Friend Zone
by Abby Jimenez
Published June 11th 2019 by Forever Romance