Daredevil Jimmy Rowan Describes His Most Dangerous Stunts
Hey, girl. Jimmy Rowan here. You might know me from my YouTube channel. Yeah, I'm the guy who nearly gets killed on every video. Say what? You want to know how I got started?
Ahh, long story. Maybe for another day. Or a night with some tequila Cuervo handy. The short is, I'm a daredevil. And I'm good at it. So…imagine my shock when prim and proper Miss Elizabeth Banks comes up to me at a bar, a really seedy, not-her-damn-type bar, and offers me a hell of a lot of money to be her 'perfect' freaking man.
Kind of wild, right?
All I have to do is wear her suits and act "civil" – whatever that means.
And I'm having a great time just raking her with my eyes.
This woman is all long legs, pouty lips, and looking all business in a business suit that's just begging to get rumpled.
Definitely what Lizzy wants me to do is a walk in a park compared to some of the stunts I do. I mean. I've thrown myself off tall buildings and pulled my chute way, way past the moment when I should've.
I've crashed motorcycles on top of cars when I tried to leap over them.
I've broken a rib or two, and sometimes several at a time, and I've got a good number of black eyes, with no help at all from anyone but me.
With Sexy little Lizzy here, there's no physical risk at all. Not one you could see anyway, except the one that I never really saw coming.
Damn her.
Damn her and her little big million dollar contract.
Damn this sexy, smart, closet-crazy perfectionist just waiting for more than just a sweep off her feet. Oh man, this girl needs a flat out toss to the ground. And I'm the man up for the challenge. What? You're shocked? Lady, they don't call me devil for nothing.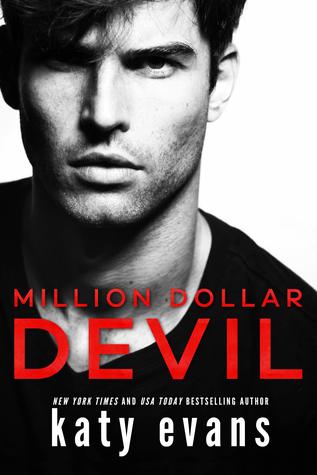 Million Dollar Devil
(Million Dollar #1)
by Katy Evans
Kindle Edition, 1st edition, 291 pages
Published May 28th 2019 by Montlake Romance
ASINB07HWPH8M2
Big-city sophistication meets carnal hunger in this devilish contemporary romance from New York Times and USA Today bestselling author Katy Evans.





Heir apparent to her father's company, Lizzy Banks needs a man. The perfect man. But when the rich "fundbabies" she usually rubs shoulders with prove impossible to hire, she takes a chance on a raw beast of a man salvaged from the wreckage of a bar brawl.





James Rowan earns a modest income as a YouTube daredevil, but he can't refuse Lizzy's million dollar deal. As she polishes his rough edges, creating a sophisticated gentleman fit for the highest circles of society, not only does she bring out the perfect man—it's like she's making the man of her dreams. How can she resist?





Though Lizzy loves seeing James in his clothes—and out of them—he isn't the kind of man you bring home to Daddy. Her father's disapproval and the pressure of the campaign have her eyeing the straight and narrow, but Lizzy's finding it awfully hard to resist the devil on her shoulder…
Author Biography
Katy Evans loves family, books, life, and love. She's married with two children and a dog, and she spends her time baking healthy snacks, taking long walks, and taking care of her family. To learn more about her books in progress, check out www.katyevans.net and sign up for her newsletter. You can also find her on Twitter @authorkatyevans and on Facebook at AuthorKatyEvans.
Tour-Wide Giveaway:
a Rafflecopter giveaway