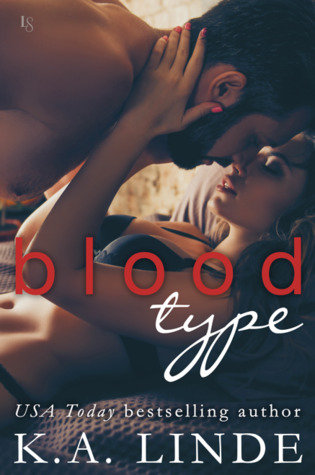 Blood Type
(Blood Type #1)
by K.A. Linde
ebook, 1st edition, 290 pages
Expected publication: April 24th 2018 by Loveswept
ISBN139781524798086
A startling new vision of paranormal romance: When a human ventures into the world of vampires—a decadent milieu of blood-bonds and betrayal—she discovers that not all is what it seems.

For Reyna Carpenter, giving up her body isn't a choice. It's survival.

In a civilization laid waste by poverty and desperation, Reyna accepts a high-paying position with the wealthy and hungry vampire elite. Her new job is as the live-in blood escort for the intimidating, demanding, and devilishly handsome Beckham Anderson. He's everything she expected from a vampire, except for one thing—he won't feed off her.

Reyna soon discovers that behind Beckham's brooding, wicked façade lies a unique and complex man. And that, in a dark and divided world, she is more valuable than she ever would have believed.

For with each passing night, Reyna can't shake the sensation that it's Beckham who's afraid of her.
About the Author:
K. A. Linde is the USA Today bestselling author of the Avoiding series and more than twenty other novels. She grew up as a military brat and attended the University of Georgia where she obtained a master's in political science. She works full-time as an author and loves Disney movies, binge-watching Supernatural, and Star Wars. She currently lives in Lubbock, Texas, with her husband and two super-adorable puppies.