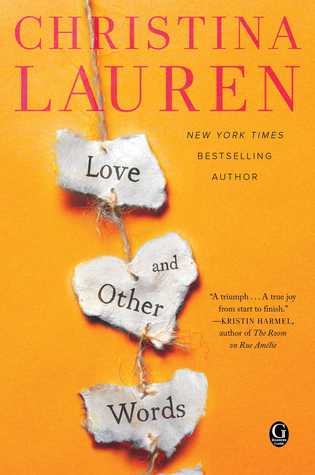 Title:
Love and Other Words
Author:
Christina Lauren
Format:
Kindle/Hardcover, 432 pages
Published:
April 10th 2018 by Gallery Books
ISBN:
1501190539
Links:
Goodreads
|
Amazon
|
B&N
Source:
NetGalley
Reviewer:
Crystal
Rating:
5 out of 5 Wine Glasses
Love, loss, friendship, and the betrayals of the past all collide in this first fiction novel from New York Times and #1 international bestselling author Christina Lauren (Autoboyography, Dating You / Hating You).

The story of the heart can never be unwritten.

Macy Sorensen is settling into an ambitious if emotionally tepid routine: work hard as a new pediatrics resident, plan her wedding to an older, financially secure man, keep her head down and heart tucked away.

But when she runs into Elliot Petropoulos—the first and only love of her life—the careful bubble she's constructed begins to dissolve. Once upon a time, Elliot was Macy's entire world—growing from her gangly bookish friend into the man who coaxed her heart open again after the loss of her mother...only to break it on the very night he declared his love for her.

Told in alternating timelines between Then and Now, teenage Elliot and Macy grow from friends to much more—spending weekends and lazy summers together in a house outside of San Francisco devouring books, sharing favorite words, and talking through their growing pains and triumphs. As adults, they have become strangers to one another until their chance reunion. Although their memories are obscured by the agony of what happened that night so many years ago, Elliot will come to understand the truth behind Macy's decade-long silence, and will have to overcome the past and himself to revive her faith in the possibility of an all-consuming love.
Crystal's Thoughts:
Author duo Christina Lauren, delivers a second chance romance unlike any you've read before with their latest title,
Love and Other Words
.
Macy Sorenson met Elliot Petropoulos when she was just thirteen years old, reading in the closet of the weekend home her father purchased in California's wine country. For the next five years they spend weekends and holidays swapping stories and favorite words, while forging an unbreakable bound of the heart. Until that one night eleven years ago, when Elliot shattered that bound and nothing in Macy's life was ever the same again...
Love and Other Words
is an all-consuming, transcending story that I simply could not put down! I read all day, and late into the night, enraptured by it's vivid characters and turmulent emotions. The book follows Macy Sorenson as she drifts through her safe, if somewhat indifferent life. With longs hours spent as a pediatric resident, and short hours with her older, artistic fiance and his young daughter. It may not be the life she dreamed of a decade ago, but her heart's not at risk of being shattered from loss or betrayal. Until Elliot Petropoulos walks into the same coffee shop as her. There was a time when Elliot was Macy's everything, now he's a stranger and he has no idea of the reasons behind her decade long silence. But no matter the time and distance that has been put between them, there is no denying the chemistry and love that they still share. Can Macy take the risk of opening her heart again? Sean is safe, no feeling involved. Elliot is a tangle of past and emotions.
I believe
Love and Other Words
is classified as women's fiction, and it is a moving coming of age, finding yourself kind of story. However, it is also very much a romance. The female protagonist's relationships is one of the two key points that drive the story as it alternates between Then and Now, teenage Macy and adult Macy. So you have all of those new, pent up adolescent passions as well as the mature second-chance, is it as good as I remember desires. The plot flowed impeccably, transitioning well between timelines, building the story to it's eventual climax. The relationships between characters was all-encompassing, and incredibly engrossing.
Bottom line is; Christina Lauren weaves a flawless, poignant tale that gave me all of the feels and left me completely satisfied at the end. For a majority of the story readers are left guessing, just what happened on New Year's Eve eleven years before?! I both loved and hated reaching that final tell all in the story because it meant that I was that much closer to the end. I would recommend this story to any and all romance fans out there,
Love and Other Words
is not a book to be missed and will definitely be gracing my Best Books of 2018 List at the end of the year!