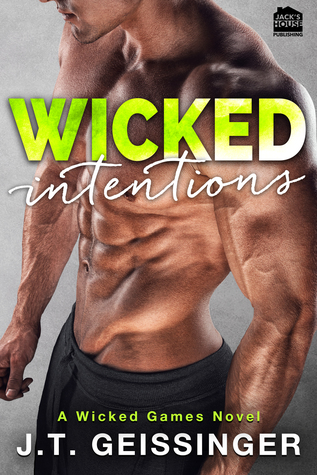 Wicked Intentions
(Wicked Games #3)
by J.T. Geissinger
Paperback, 350 pages
Expected publication: July 11th 2017 by Jack's House Publishing LLC
ISBN139781945340109
Ex special-ops officer and security expert Ryan McLean is getting a much-needed vacation. In the Caribbean for his best friend's wedding, his plans include nothing more strenuous than working on his tan. But when he meets a beautiful woman in the hotel bar, their connection is immediate and intense, and they spend a passionate night together with pleasure as their only goal.

Until Ryan wakes the following morning to discover the beautiful woman has vanished, along with millions worth of jewels from the safe of the Saudi prince staying in the suite next door. Realizing he was duped, Ryan becomes determined to find the mystery woman and bring her to justice. If only he could forget how explosive their chemistry was, how her kisses drove him wild like no other woman before.

A notorious thief known to authorities only as the Dragonfly, Mariana Lora only has one more score to settle until she can retire, but the sexy-as-hell Marine she spent one explosive tropical night with is hot on her heels at every turn. She has to outwit him to stay out of jail, but fighting their magnetic attraction soon becomes a game neither one of them can resist.

When Mariana's last job goes dangerously wrong and she needs Connor's help to survive, he has to decide if their game of cat and mouse is only a game, or if he can trust this beautiful thief with something no woman has ever stolen: his heart.
Excerpt:
She tastes like strawberries and sunshine and secrets that go deep, and kisses like it's her last day alive. Whoever this siren calling herself Angeline really is, she's sexy as fuck.
She's also clearly dangerous.
If my cock were any harder, it would be titanium. Her hands are balled to fists on my chest, the one sign of resistance to the otherwise total surrender her body melts into as we kiss. Along with everything else about her, it's an intriguing contradiction. Like the sadness in her eyes that's paired with cold calculation. The self-confidence paired with the vulnerability. The pounding pulse paired with the disinterested smile.
She makes a sound deep in her throat, a soft, feminine moan. It makes my cock twitch. I tighten my arms around her and pull her closer.
"Wait!" She gasps, breaking away. Her eyes are startled. She lets out a surprised little laugh. "Wait a minute!"
Breathing hard, we stare at each other, our noses inches apart. I give her five seconds to get her bearings. Then I growl, "That's as long as I can stand," and take her mouth again, fisting my hands in her hair to hold her head in place.
From somewhere far off, I hear catcalls and clapping.
Her hands flatten over my pecs. After a moment, she winds her arms around my shoulders. Then she gives me her weight, leaning into me with a little sigh as she goes slack against my body. The kiss softens but also deepens, so now it's slower and less greedy, but somehow even more intense.
Judging by how hard her nipples are against my bare chest, how irregular her breathing is, and how she's digging her nails into my skin, I'd say she's just as turned on as I am.
When the kiss finally ends, a minute or a century later, I'm dizzy. I mutter, "Fuck." My voice sounds like I've swallowed a handful of gravel.
Her laugh is low and throaty. "Well said."
I open my eyes and look at her. She's flushed. Her eyes are half-lidded. She has that hazy, satisfied look a woman gets after she comes.
The amount of blood leaving the rest of my body to boil in my cock can't be healthy. Pretty soon I won't be able to remain upright.
I grin at her. "This is already turning out to be a fantastic friendship."
She stares at me for a second, then breaks into full-throated laughter, her head thrown back.
Goddamn. If I thought she was gorgeous before, watching her laugh is on a whole other level. She's fucking stunning.
Wicked Games Series Series
About J.T. Gessinger
A former headhunter, J.T. Geissinger is the author of more than a dozen novels in contemporary romance, paranormal romance, and romantic suspense.

She is the recipient of the Prism Award for Best First Book, the Golden Quill Award for Best Paranormal/Urban Fantasy, and is a two-time finalist for the RITA® Award from the Romance Writers of America®. Her work has also finaled in the Booksellers' Best, National Readers' Choice, and Daphne du Maurier Awards.

Join her Facebook reader's group, Geissinger's Gang, to take part in weekly Wine Wednesday live chats and giveaways, find out more information about works in progress, have access to exclusive excerpts and contests, and get advance reader copies of her upcoming releases. http://www.jtgeissinger.com/