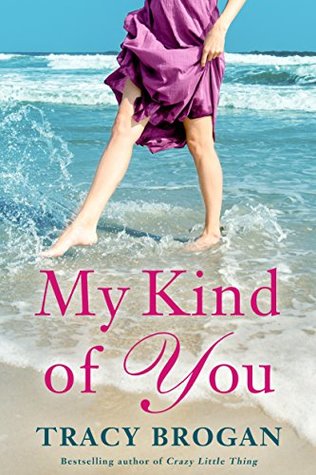 Title
: My Kind of You
Series
: Trillium Bay Book #1
Author
: Tracy Brogan
Narrator
: Amy McFadden
Format
: Unabridged Audiobook (10 hours and 11 minutes)
Published
: April 18, 2017 (Brilliance Audio)
ISBN
-
10
: 1536628778
ISBN
-
13
: 978-1536628777
Links
:
Goodreads
|
Amazon
|
B&N
|
Audible
|
Audiobooks.com
Reviewer
: Linda
Source
: Contest Win
Rating
: 4 ½ out of 5 Wine Glasses
Wall Street Journal bestselling author Tracy Brogan is back with a sweet, hilarious series about family, forgiveness, and what it means to go back home.

Emily Callaghan never expected to spend another summer on Wenniway Island. Yet here she is, back in her quaint northern Michigan hometown of Trillium Bay, divorced, flat broke, and dragging along her precocious twelve-year-old. It's a simple arrangement: Emily, a house flipper, will renovate one of her grandmother's rental properties in exchange for a much-needed loan. Once a wild child, the reformed Emily also hopes to remodel her reputation and show her family she's all grown up.

But coming home is never simple. Emily's dad is more distant than ever. Her younger sister is dating a much older man, and Emily's worried it's a mistake. The cottage remodel grows increasingly daunting. And then there's handsome out-of-towner Ryan Taggert…

Ryan has his own family drama. A smart, ambitious land developer, he's come to Wenniway to rescue his father from the grips of a new girlfriend and protect their family business. But he's quickly distracted by gorgeous, witty Emily Callaghan.

There's no denying the attraction between Emily and Ryan. But will their conflicting interests destroy any chance at love? Or will Emily finally get the chance to rebuild her life—and repair her heart?
Linda's Thoughts:
We don't have to tell secrets. We don't have to talk at all. We could just, you know, kiss . . . and stuff."
My Kind of You by Tracy Brogan is a highly entertaining contemporary romance with a great island setting. It is the hilarious story of house flipper Emily Callaghan and land developer Ryan Taggert.
First, I want to share about the idyllic locale. Michigan's MacKinac Island served as Tracy's inspiration for this story's fictional Wenniway Island. In Tracy's words: "Trillium Bay is located on Wenniway Island, a place so small that cars have been banned and everyone gets around by horse, bike, or on foot. Most of the 600 year-round inhabitants are from families who've lived on the island since the 1700's. Naturally this gives the town a very distinct and unique personality. Everyone knows everyone's business and secrets are a luxury. Tourism is their main source of income and during the summer there are as many as 15,000 visitors in one day. They're called "fudgies" because they come for the famous Wenniway Island fudge." Seriously, I could smell the fudge while I was listening to this book and I want to spend my summer there too!
As the story opens, we meet single mother Emily and Chloe, her daughter, as they are traveling to Wenniway Island, Emily's hometown. It's not a happy time for Emily. She is flat-out broke because a project of hers took a dive. She is also uncertain of her welcome once they arrive. When she was young, she had a wild streak that resulted in an impulsive marriage, a union which also gave her Chloe, Emily's pride and joy. She hasn't been home for the last seven years as she is estranged from her father and not close to her older sister. However, without an extra dime to her name, she has accepted her grandmother's offer to renovate one of her rental properties. Emily fully intends to pay her grandmother back in full.
On their last stop before reaching Wenniway Island, Emily and Chloe meet Ryan and end up sharing a taxi to the nearest town where they can catch the ferry to the island. While in route, they learn that Ryan is on his way to the island to save his rich father from the clutches of a gold-digging bimbo. When Emily and Ryan end up joining forces to break up Ryan's father and his girlfriend, they discover sparks of their own.
I really liked both Ryan and Emily. They are alike in so many ways. They are each driven and creative. When they put their minds together on Gigi's project, they fed off each other's ideas. Their chemistry flared from the beginning and the sparks only got stronger as they spent more time together. But, there were obstacles to any lasting relationship for them. Would they be able to overcome them to have a chance at a future together?
I had literally loads of favorite scenes but will only mention three…
There's a segment where Ryan and Emily go horseback riding with grandiose plans to sabotage his father's romance relationship. OMG. I know people around me on the bridge thought I'd lost my mind. The scene includes a laugh-out-loud discourse on farting and, in addition, readers are treated to a vivid sexy image of Ryan coming out of a lake with water droplets accentuating his muscles. I can still conjure the picture even though I listened to this a couple of months ago. Needless to say, their plans backfired stupendously.
I will never forget when they first the visited the lighthouse….
AND I actually teared up with the story about the fireflies…
There were many wonderful supporting characters. Emily's grandmother was a hoot. I choked laughing when she admitted to being "good at burying men." Chloe, Emily's twelve-year-old precocious daughter, was a standout too. She liked Ryan from the moment they met and her matchmaking skills were on full display herein. In addition, there were the quirky characters who made up Emily's work crew and Dmitri Krushnic, the man who is never without his beekeeping hat even when he's nowhere near his bees.
Following please find a few of my favorite quotes from My Kind of You:
"Private fireworks are far superior to public fireworks."
---
Life had a way of shifting under her feet like quicksand and she had learned to just make the best of it. Like Gigi always said, 'when God closes a door, he shoves you out the window.'
---
"Just one more?" he said, holding up his thumb and index finger to indicate tiny. Oh so small. "Just one more little one? I don't think that was my best work, and what if this is the only time we ever kiss? Then you'll go on for the rest of your life thinking that's the best I can do. I don't think my ego can take that."
He sure as hell hoped this wouldn't be the only time they ever kissed. In fact, he was going to make damn sure of it, and then some. But for the moment, this angle was going to work for him. He could see her indecision. He leaned closer, his lips nearly touching hers. Her eyes fluttered shut as he whispered against her mouth, "Just one more."
---
Your….your bat cave?" Emily responded.
"Yes, I'm quite proud of it. I put those visiting Boy Scouts to good use building bat houses, and now I've got dozens of them lining the walls of my tool shed." She ran a hand down her long, witchy hair. "Bat houses, I mean. Not Boy Scouts. I don't have any Boy Scouts in my shed." She looked around, and Ryan couldn't help but wonder if anyone might indeed be missing a Boy Scout.
Amy McFadden is the narrator for My Kind of You. Her voice is crystal clear and easy to understand. She exuded the proper emotions and differentiated between the characters to where I had no issue discerning who was speaking at any one time. That said, I didn't care for Amy's male voices - only because they sounded too female to me; I got used to her interpretation as the story progressed. Other than that, she did a great job and I look forward to hearing her again. I might even pick up this book to listen to again sometime.
I can't wait for the next installment which will be Brooke's story. She's the eldest Callaghan sister and was running for mayor in this book. It seems that she will win her election, but holding public office is not what she expected. In addition, in her book, there will be a jewel theft and a funeral for a guy who died ten years ago. The third book will feature Tag's and Lily's May/December romance. I'm pulling for them! Whatever ensues, Tracy has promised more secrets, more reveals and more fun!
My Kind of You is a sweet romance with some heat and oodles of comical overtones. It's also a family saga that emphasizes forgiving and reconciling. I listened to the last fifteen minutes of this audio at home in my garage because I just had to hear the ending before exiting my car. The ending was a complete surprise, until the very last. I highly recommend My Kind of You to anyone who enjoys small-town yummy contemporary romances with plenty of humor and a family focus.
Suggested Reading Order:
My Kind of You (Book #1)
TBD (Book #2) – Brooke Callaghan's story!
TBD (Book #3) Lily Callaghan's story!