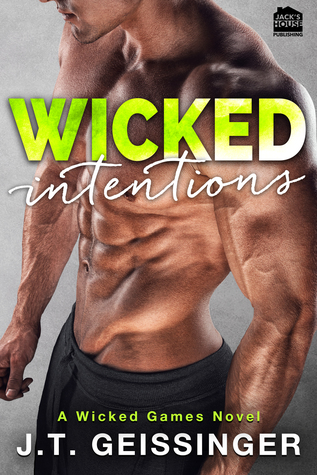 Wicked Intentions
(Wicked Games #3)
by J.T. Geissinger
Paperback, 350 pages
Expected publication: July 11th 2017 by Jack's House Publishing LLC
ISBN139781945340109
Ex special-ops officer and security expert Ryan McLean is getting a much-needed vacation. In the Caribbean for his best friend's wedding, his plans include nothing more strenuous than working on his tan. But when he meets a beautiful woman in the hotel bar, their connection is immediate and intense, and they spend a passionate night together with pleasure as their only goal.

Until Ryan wakes the following morning to discover the beautiful woman has vanished, along with millions worth of jewels from the safe of the Saudi prince staying in the suite next door. Realizing he was duped, Ryan becomes determined to find the mystery woman and bring her to justice. If only he could forget how explosive their chemistry was, how her kisses drove him wild like no other woman before.

A notorious thief known to authorities only as the Dragonfly, Mariana Lora only has one more score to settle until she can retire, but the sexy-as-hell Marine she spent one explosive tropical night with is hot on her heels at every turn. She has to outwit him to stay out of jail, but fighting their magnetic attraction soon becomes a game neither one of them can resist.

When Mariana's last job goes dangerously wrong and she needs Connor's help to survive, he has to decide if their game of cat and mouse is only a game, or if he can trust this beautiful thief with something no woman has ever stolen: his heart.
Excerpt:
If my boner doesn't chill pretty soon, I'm gonna have to seek medical attention.
"For fuck's sake," I mutter, looking down at the big guy jutting out from the front of the towel wrapped around my waist. "Would you behave?"
He doesn't answer. He also doesn't budge. I've got an organ that's been sticking out at a ninety-degree angle from my body for the past three and a half hours. If I didn't love him so much, I'd grab a length of duct tape and tape him to my leg.
I wipe the steam from the bathroom mirror, slap my face with a dollop of foam, and start to shave. It's awkward because I have to tilt my hips back so I don't bash my dick on the edge of the sink. I finish the shave, brush my teeth, comb my wet hair, and throw on clean clothes, thinking the entire time about a brown-haired siren who seems about as likely to kiss me as she is to stab me in the back with an ice pick.
I haven't been this turned on in years.
Whistling, I set the motion detectors and alarms that will send an alert to my cell if they're tripped, and lock my hotel door. I'm ten minutes early, but I don't want to miss Angeline coming off the elevator. The woman moves like poetry. I've got the perfect spot in mind where I'm gonna stand and wait until she comes down.
Angeline Lemaire, age twenty-six, born and raised in Paris, France. Freelance travel writer for Condé Nast and National Geographic Travel, among others. Graduated from the Sorbonne with a degree in journalism, never married, no children, no criminal record, pays her taxes on time.
Biggest load of bullshit ever invented. Boring too. If I were gonna invent a background for myself, you can bet it would include something awesome like astronaut or race car driver. A writer? Seriously? She looks like a Bond girl, all slinky strides and knife-blade eyes. She should've gone with "international lingerie model/ boner inducer." It would've been way more believable.
Fuck, this is gonna be fun.
So. Much. Fun.
Wicked Games Series Series
About J.T. Gessinger
A former headhunter, J.T. Geissinger is the author of more than a dozen novels in contemporary romance, paranormal romance, and romantic suspense.

She is the recipient of the Prism Award for Best First Book, the Golden Quill Award for Best Paranormal/Urban Fantasy, and is a two-time finalist for the RITA® Award from the Romance Writers of America®. Her work has also finaled in the Booksellers' Best, National Readers' Choice, and Daphne du Maurier Awards.

Join her Facebook reader's group, Geissinger's Gang, to take part in weekly Wine Wednesday live chats and giveaways, find out more information about works in progress, have access to exclusive excerpts and contests, and get advance reader copies of her upcoming releases. http://www.jtgeissinger.com/