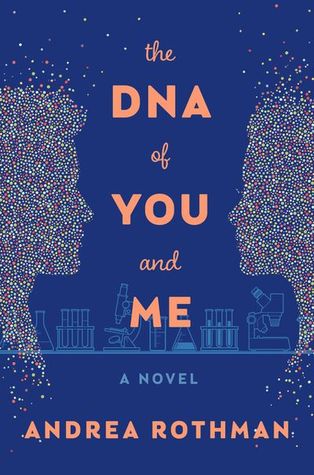 Title
: The DNA of You and Me
Author
: Andrea Rothman
Format
: eBook/Hardcover, 256 pages
Expected publication
: March 12th 2019 by William Morrow
ASIN
: B0796THJX6
Links
:
Goodreads
|
Amazon
|
B&N
Source
: Edelweiss
Reviewer
: Kimberly
Rating
: 3.5 out of 5 Wine Glasses
How does smell work? Specifically, how do olfactory sensory neurons project to their targets in the olfactory bulb, where smell is processed? Justin McKinnon has hired fresh-faced graduate student Emily to study that question. What Justin hasn't told Emily is that two other scientists in the lab, Aeden and Allegra, are working on a very similar topic, and their findings may compete with her research.

Emily was born focused and driven. She's always been more comfortable staring down the barrel of a microscope than making small talk with strangers. Competition doesn't scare her. Her special place is the lab, where she analyzes DNA sequences, looking for new genes that might be involved in guiding olfactory neurons to their targets.

To Emily's great surprise, her rational mind is unsettled by Aeden. As they shift from competitors to colleagues, and then to something more, Emily allows herself to see a future in which she doesn't end up alone. But when Aeden decides to leave the lab, it becomes clear to Emily that she must make a choice: follow her research or follow her heart.

A sharp, relevant novel that speaks to the ambitions and desires of modern women, The DNA of You and Me explores the evergreen question of career versus family, the irrational sensibility of love, and whether one can be a loner without a diagnostic label.
Kimberly's Thoughts:
"I don't think it's just you, Emily. I think we all feel like mutants in our own way."
In a very strong debut, Rothman gives us a contemporary fiction slice of life story featuring Emily, a daughter of a single father, starting off in the science research community. As a child, Emily had an allergy to cut grass and had to stay indoors in the summer, essentially isolating her from playing around with kids her own age. Raised only by her father as her mother dropped her off as a baby and never looked back, he immersed her a lot in his science work. Trying to isolate the genes that allow us to smell, with hopes of possibly one day fixing anosmia, Emily ends up in a lab rife with personal and job political pitfalls.
The story started off with giving us a peak at the ending and then rewinding to show how Emily got where she was. Told completely from Emily's point of view, the story is broken up into parts that worked really well to help conceptually understand where and how Emily is mentally and emotionally at each part. The background on her childhood, reason for not being able to be outdoors, relationship with father, and how this molded her, gave a good emotional impact building block for why her work was important to her and even her feelings toward Aeden, her co-worker and love interest.
As this is, what I call, a slice of life story, it is a glimpse into one character's life, they and the other characters don't always act in ways that the reader wants them to. I thought it was interesting how the parallels were there to be drawn between Aeden and Emily's father. Emily mentions similarities between the two and then how she can't quite connect with Aeden the way she wants to, possibly why she very quickly became fixated on Aeden. Aeden was a bit hard to read as we don't get his point of view, did he feel guilt tripped or did his feelings just naturally grow from being around Emily? However, this uncertainty did put the reader in the same boat with Emily and as she seems to struggle overall with human connection; you'll feel it.
The science in the story was interesting and if you go in with the desire to soak in this world for awhile, you won't feel overwhelmed or lost. I'm definitely a layman with this field and thought everything was explained and relayed in a clear interesting manner, very few times did I feel maybe some in depth moments could be edited out. I do wish I could have gotten a better feel for Emily and some of the emotional moments could have reached deeper; her relationship with her father seemed like a rich well. I also thought her relationship with her boss Justin could have been explored more.
I did think, for a debut, the author had an amazing ease of writing style that flowed well and kept me engaged to keep reading; the pages flew by. However, I ended up feeling like I didn't quite have a solid handle on Emily, her growth emotionally and career wise, was left somewhat open. Competitiveness and relationships in the workplace, why we do the things we do, and destiny versus our own decision making were all leading themes in this story about Emily as she searched for scientific and emotional answers. A slice of life story, where mice hold a lot of the answers.
"[...]because at the end of the day science has nothing to do with luck, but with truth, and the truth does not always make one happy."