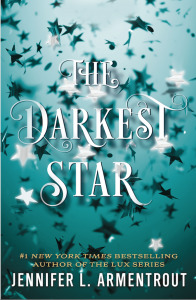 Title:
The Darkest Star
Series:
Origin #1
Author:
Jennifer L. Armentrout
Format:
Hardcover, 368 pages
Expected publication:
October 30th 2018 by Tor Teen
ISBN:
1250175739
Links:
Goodreads
|
Amazon
|
B&N
Reviewer:
Crystal
Source:
Netgalley
Rating:
4.5 out of 5 Wine Glasses
When seventeen-year-old Evie Dasher is caught up in a raid at a notorious club known as one of the few places where humans and the surviving Luxen can mingle freely, she meets Luc, an unnaturally beautiful guy she initially assumes is a Luxen...but he is in fact something much more powerful. Her growing attraction for Luc will lead her deeper and deeper into a world she'd only heard about, a world where everything she thought she knew will be turned on its head...

#1 New York Times, USA Today, and internationally bestselling author Jennifer L. Armentrout returns to the universe of the Lux in this brand new series, featuring beloved characters both new and old.
Crystal's Thoughts:
With
The Darkest Star
, readers return to the unparalleled Lux universe, with a gripping new tale rife with danger, intrigue, and passion!
When Evie Dasher goes with her friend to a local nightclub known for its Luxen patrons, Evie has no idea that her life is about to be turned upside down. When, Luc, the owner of the club singles her out, she knows that she is in trouble. But when the club is raided and Evie winds up running from the authorities with the notorious Luxen, Evie realizes that nothing is what it seems...
It has been a while since I read anything from the Lux series, I honestly couldn't even remember Luc's character in the beginning. So when starting
The Darkest Star
I was as disoriented as our protagonist, Evie. However, I quickly got sucked into the story and soon despised every reading interruption. Lux fans are sure to rejoice with this sensational spin-off. As with any story from Armentrout, angst and action abound creating a whirlwind of sensation. With the lively dialogue, likable characters, and rich world-building, I was enraptured from the first page to the last.
The Darkest Star
is escapism at it's finest! Luc was a phenomenal character to get to know better, I loved his drive and protectiveness. Everything he has done has been for Evie and those he sees as his family.
"What do you want?" he asked, his gaze holding mine.
"You," I whispered, cheeks burning.
"You have me." His thumb dragged along my lower lip. "You've always had me. Always."
Evie, who was an engaging character herself, still has a writhe road ahead of her, and
The Darkest Star
ended with plenty of questions left unanswered. I'm looking forward to the next book in the series and am keeping my eye out for more news on it's release!
The Lux is a complex and unique sci-fi, fantasy world and while I would definitely recommend the reading of the Lux series, this first tale in the Origin series makes a fine stand-alone. Fair warning though, it is an addictive ride! If you enjoy quirky characters, an action-packed plot, and vivid story-telling in a YA setting, then I encourage you to pick up your own copy of
Darkest Star
today!
Suggested Reading Order:
Lux Series-
Book #1 Obsidian
Origin Series-
Book #1 The Darkest Star