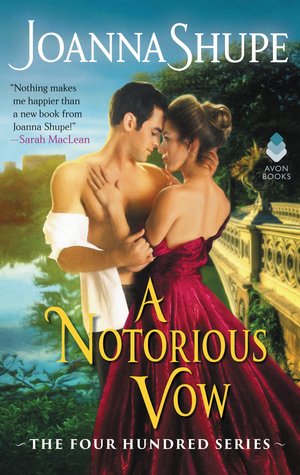 Title:
A Notorious Vow
Series:
The Four Hundred #3
Author:
Joanna Shupe
Format:
ebook, 384 pages
Published:
September 25th 2018 by Avon
ISBN:
0062678922
Links:
Goodreads
|
Amazon
|
B&N
Source:
Edelweiss
Reviewer
:
Crystal
Rating:
4 out of 5 Wine Glasses
Joanna Shupe returns to New York City's Gilded Age, where fortunes and reputations are gained and lost with ease—and love can blossom from the most unlikely charade

With the fate of her disgraced family resting on her shoulders, Lady Christina Barclay has arrived in New York City from London to quickly secure a wealthy husband. But when her parents settle on an intolerable suitor, Christina turns to her reclusive neighbor, a darkly handsome and utterly compelling inventor, for help.

Oliver Hawkes reluctantly agrees to a platonic marriage . . . with his own condition: The marriage must end after one year. Not only does Oliver face challenges that are certain to make life as his wife difficult, but more importantly, he refuses to be distracted from his life's work—the development of a revolutionary device that could transform thousands of lives, including his own.

Much to his surprise, his bride is more beguiling than he imagined. When temptation burns hot between them, they realize they must overcome their own secrets and doubts, and every effort to undermine their marriage, because one year can never be enough.
Crystal's Thoughts:
A sojourn through Joanna Shupe's Gilded Age is always a delight!
Lady Christina Barclay has traveled to America for the sole purpose of finding a husband wealthy enough to satisfy her parents debts so that they may return to England and claim their rightful place in society. However, Christina has no interest in marriage, let alone a marriage to anyone that her parents may deem suitable. When her mother introduces her to a rich, but miserly man of New York society that is easily three times her age, Christina knows that she must somehow stand up to her parents demands. Until she can find the back-bone though, her only escape is the gardens of her cousin's reclusive neighbor.
Oliver Hawkes may be one of the wealthiest men in New York, but that doesn't mean that he is a society man. Oliver much prefers the solitude of his home and laboratory, where he can work on his inventions in peace and without ridicule. When a beautiful young women intrudes on his privacy, Oliver is at first irked, but soon becomes enchanted with each subsequent meeting. When he learns the plans Christina's parents have in store for her, Oliver offers his help, but he never expects to be forced into marriage with the young woman.
When a marriage of convenience turns into passion like no other, Christina and Oliver must overcome their doubts and insecurities if they ever hope to best adversaries waiting in the wings and find a future that neither ever dared to dream of...
Joanna Shupe pens a refreshing tale of love in nineteenth century New York, that swept me away. Christina may be the daughter of an Earl but she wants nothing to do with her parent's high society. Her family is impoverished, thanks to her father's penchant for gambling, and her mother is a horrible shrew. I disliked them and their treatment of Christina right away. Christina's awkwardness was endearing but her penchant for being a doormat to everyone for most of the novel was frustrating. I cheered towards the end of the book when she finally found the courage to stand up for not only herself, but Oliver. Oliver was a excellent leading man, though his hot and cold treatment towards Christina was disheartening at times, I did understand his motives. I adored the way Oliver saw right through Christina's parents actions and would not stand for it. The push and pull between this couple created a wonderful, sizzling tension that led to a satisfying conclusion when they each sorted through those nasty inner demons.
A Notorious Vow
is one of those rare tales that while I may not have loved the characters entirely, I still enjoyed the over-all story. The plot was engaging, and I appreciated the author's research into the deplorable way that the death were treated in history. The way that Christina and Oliver overcame the many hurdles in this story to find that happily-ever-after was heartwarming. There character growth was well done, and I constantly enjoy Shupe writing and world-building. She brings the glittery, and opulent gilded age to life on the pages. I always love the appearance of a certain delectable lawyer as well, and I hope that we get a story from him soon. I recommend the entire Four Hundred series to those who fancy a jaunt into the industrial age, captivating characters, and a charming romance.
Suggested Reading Order:
Book #1 A Daring Arrangement