(Dark Court Rising #1)
by Bec McMaster
ebook, 400 pages
Expected publication: September 19th 2019 by Lochaber Press
Princess. Tribute. Sacrifice. Is she the one prophesied to unite two warring Fae courts? Or the one bound to destroy them?

In a realm ruled by magic, the ruthless Queen of Thorns is determined to destroy her nemesis, the cursed Prince of Evernight.

With war brewing between the bitter enemies, the prince forces Queen Adaia to uphold an ancient treaty: she will send one of her daughters to his court as a political hostage for three months.

The queen insists it's the perfect opportunity for Princess Iskvien to end the war before it begins. But one look into Thiago's smouldering eyes and Vi knows she's no assassin.

The more secrets she uncovers about the prince and his court, the more she begins to question her mother's motives.

Who is the true enemy? The dark prince who threatens her heart? Or the ruthless queen who will stop at nothing to destroy him?

And when the curse threatens to shatter both courts, is she strong enough to break it?
About the Author: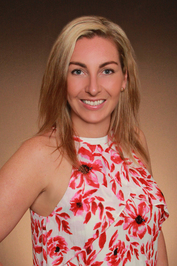 Bec McMaster is the award-winning author of the London Steampunk series. A member of RWA, she writes sexy, dark paranormals, and adventurous steampunk romances, and grew up with her nose in a book. Following a life-long love affair with fantasy, she discovered romance novels as a 16 year-old, and hasn't looked back.

In 2012, Sourcebooks released her debut novel, Kiss of Steel, the first in the London Steampunk series, followed by: Heart of Iron, My Lady Quicksilver, Forged By Desire, and Of Silk And Steam. Two novellas–Tarnished Knight and The Curious Case Of The Clockwork Menace–fleshed out the series. She has been nominated for RT Reviews Best Steampunk Romance for Heart of Iron (2013), won RT Reviews Best Steampunk Romance with Of Silk And Steam (2015), and Forged By Desire was nominated for a RITA award in 2015. The series has received starred reviews from Booklist, Publishers Weekly, and Library Journal, with Heart of Iron named one of Library Journal's Best Romances of 2013.

When not poring over travel brochures, playing netball, or cooking things that are very likely bad for her, Bec spends most of her time in front of the computer. In 2016, she debuted the Dark Arts series with Shadowbound; Nobody's Hero, the start of the Burned Land Series; and the second London Steampunk: The Blueblood Conspiracy series, with Mission: Improper.

Bec lives in a small country town in Victoria, Australia, with her very own Beta Hero; a Staffordshire terrier named Kobe, who has perfected her own Puss-in-boots sad eyes–especially when bacon is involved; and demanding chickens, Siggy and Lagertha.

Connect with Bec at her website http://www.becmcmaster.com, Facebook, and Twitter.