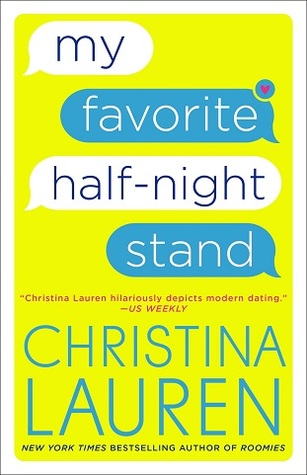 Title:
My Favorite Half-Night Stand
Author:
Christina Lauren
Format:
eBook/Paperback, 400 pages
Expected publication:
December 4th 2018 by Gallery Books
ISBN:
1501197401
Links:
Goodreads
|
Amazon
|
B&N
Source:
NetGalley
Reviewer:
Crystal
Rating:
4 out of 5 Wine Glasses
By the New York Times bestselling author who "hilariously depicts modern dating" (Us Weekly), My Favorite Half-Night Stand is a laugh-out-loud romp through online dating and its many, many fails.

Millie Morris has always been one of the guys. A UC Santa Barbara professor, she's a female-serial-killer expert who's quick with a deflection joke and terrible at getting personal. And she, just like her four best guy friends and fellow professors, is perma-single.

So when a routine university function turns into a black tie gala, Mille and her circle make a pact that they'll join an online dating service to find plus-ones for the event. There's only one hitch: after making the pact, Millie and one of the guys, Reid Campbell, secretly spend the sexiest half-night of their lives together, but mutually decide the friendship would be better off strictly platonic.

But online dating isn't for the faint of heart. While the guys are inundated with quality matches and potential dates, Millie's first profile attempt garners nothing but dick pics and creepers. Enter "Catherine"—Millie's fictional profile persona, in whose make-believe shoes she can be more vulnerable than she's ever been in person. Soon "Catherine" and Reid strike up a digital pen-pal-ship...but Millie can't resist temptation in real life, either. Soon, Millie will have to face her worst fear—intimacy—or risk losing her best friend, forever.

Perfect for fans of Roxanne and She's the Man, Christina Lauren's latest romantic comedy is full of mistaken identities, hijinks, and a classic love story with a modern twist. Funny and fresh, you'll want to swipe right on My Favorite Half-Night Stand.
Crystal's Thoughts:
Christina Lauren delights readers with a modern day tale of dating and disasters in
My Favorite Half-Night Stand
!
Millie Morris, a professor at UC Santa Barbara, along with her four best guy friends attempt to navigate the online dating world in order to have a plus one for the University's upcoming gala. Things get complicated though after a half-night stand with her best friend and fellow university professor, Reid Campbell. Deciding to keep their relationship strictly platonic despite that one hot night, they set up their profiles and wait for their results. The guys are instantly bombarded with matches, but Millie's results are meager. Wanting to shake things up, she secretly makes a second profile under an alter ego, adding to it what she was too afraid to say as herself. And what do you know, Reid comes up as her match. Not wanting to out herself but curious to see where it might lead, Millie begins an online relationship with Reid as Catherine, while their relationship in real life also deepens. When Reid begins to fall in love with both Millie and Catherine, Millie must learn to expose both parts of herself before Reid finds out her secret and she looses him as both a friend, and a lover.
My Favorite Half-Night Stand
was a cute and fun story that tugged on my heartstrings. The author duo weaves an ingenious story-line full of raw wit and fresh insight into today's online dating world. With an entertaining cast of characters, there wasn't a dull moment to be had. Millie was an endearing leading lady who is a criminologist with a bit of a lady serial-killer obsession. She's emotionally closed off, but tries to hide that fact with a wicked sense of humor. While she could be frustrating at times because of this, and the conflicts that it caused in her life, I think we can find a little piece of Millie in all of us. Her authenticity shined bright from the pages. The story is told is dual point of views, so readers also get insight into Reid's persona as well. Loyal and charming, he really is an all-around nice guy who just happens to he incredibly hot as well. He shouldn't have any problem getting a date himself but tends to focus more on his work life than any personal one. Reid irked me a little towards the end of the story, but I enjoyed his character overall. His family was fun as well. These two had a pulse-pounding chemistry and when they finally gave into it, it left me tingling in all of the right places.
This romantic comedy had a little bit of everything. Secrets, betrayals, misunderstandings, forgiveness, reveals, love, and friendship. The flow of the plot was great, and how the chat's between Chris, Ed, Alex, Millie, and Reid were depicted was a brilliant touch.
My Favorite Half-Night Stand
was a thrilling friends-to-lovers novel that I loved every moment of, and I dare you not to love a Christina Lauren book!