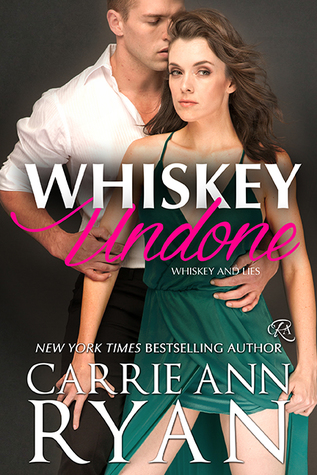 Whiskey Undone
(Whiskey and Lies #3)
by Carrie Ann Ryan
ebook
Published November 13th 2018
ISBN139781943123919
Two best friends follow a dangerous and seductive path in the final standalone novel of the bestselling Whiskey and Lies series from NYT Bestselling Author Carrie Ann Ryan.

Ainsley Harris has always kept a secret from her best friend. She's stood by his side, helped him raise his daughter, and tried to keep her distance even though she's been in love with him for years. She knows he has secrets of his own and she's not willing to chance what they have on a possibility.

Loch Collins has hidden himself and his past from the world for good reason. Darkness always comes back to haunt those who fight against it, and he knows better than most. One night of temper, however, forces him to realize his true feelings for Ainsley—for better or worse.

But Loch's former allies aren't on his side anymore, and now not only is his life and the life of his daughter on the line, but Ainsley is in the crosshairs, as well. Together, two best friends must fight for each other and their small town, because Whiskey has never burned brighter. And danger, it seems, is ever lurking.
Excerpt:
Ainsley had pretty much used up most of her courage walking up to the door and looking Loch right in the eyes. She hoped she'd figure out how to gain some more soon.
As in, right now.
Loch moved to the side, and she held up her chin, stepping into his home like she was welcome and not like she'd been practically kicked out the last time she was here. When he closed the door behind them both, she turned, trying not to look at him too closely.
That was the problem when it came to Loch Collins. She always looked, always wanted to see beneath the surface.
And the surface was damn pretty.
She loved his strong jawline, the fact that the line tensed up and revealed little divots at the top when he got angry or thoughtful. He didn't have dimples, but then again, he rarely smiled unless it came to Misty. He'd recently let his hair grow slightly, just long enough that Ainsley could slide her fingers through it if she wanted to. Long enough that she had slid her fingers through it when he'd slipped into her.
She swallowed hard, pushing those thoughts back, though those memories were one of the reasons she was here in front of him.
He wore a button-down shirt and jeans, and she couldn't help but look at the skin peeking out at his neckline since he'd left the top button undone. Then her gaze traveled down his body, his broad shoulders, the waist she knew was all muscle, the core capable of helping him lift her up when he was inside her so they could find a new position. His thighs were thick and stretched the fabric of his jeans. She knew he was hard muscle and strength all over, and knew exactly what to do with every inch of him.
And she did mean every inch.
His feet were bare, something he often did in the house. Before Misty, when he'd been working for his old job, he always had his shoes on as if he had one foot out the door and into danger at all times. When Misty was born, and he'd settled fully in Whiskey, she'd noticed that he had taken to going barefoot in the house, having others take off their shoes at the door when they stopped by, as well.
The gesture made the house a home, his life one of family rather than a journey through whatever hell he'd been in before.
Ainsley didn't know why she studied him like this, why she wanted to know more about him. He'd pushed her away, and she knew it had to be because of fear. Of what, she didn't know, but she was going to find out.
She cared about that little girl and the man in front of her far too much to back down when her feelings ended up hurt.
"I can't believe you said the words you did the last time I was here." She did her best not to let the pain she felt slide into her words, but since this was Loch and he knew every part of her—except the parts she hid deep down and kept from the world—she wasn't sure she succeeded.
"Ainsley."
She held up her hand, thankful that he shut up when she did. "No, you had your turn to talk last time. Now, it's my turn."
He swallowed hard, and she watched the way his throat worked.
Damn him.
But she still wasn't going to back down.
Not now.
And maybe not ever.
She deserved more.
She deserved answers.
About Carrie Ann Ryan
Carrie Ann Ryan is the New York Times and USA Today bestselling author of contemporary and paranormal romance. Her works include the Montgomery Ink, Redwood Pack, Talon Pack, and Gallagher Brothers series, which have sold over 2.0 million books worldwide. She started writing while in graduate school for her advanced degree in chemistry and hasn't stopped since. Carrie Ann has written over fifty novels and novellas with more in the works. When she's not writing about bearded tattooed men or alpha wolves that need to find their mates, she's reading as much as she can and exploring the world of baking and gourmet cooking.

http://carrieannryan.com/