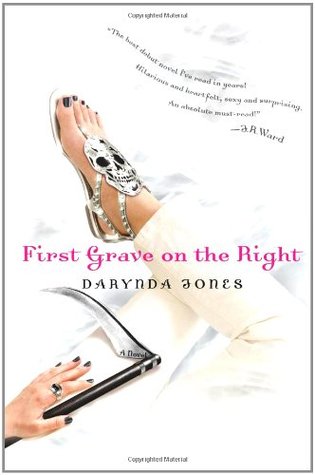 Title:
First Grave on the Right
Series:
Charley Davidson #1
Author:
Darynda Jones
Format:
eBook / Hardcover, 310 pages
Published:
February 1st 2011 by St. Martin's Press
ISBN:
0312662750
Links:
Goodreads
|
Amazon
|
B&N
Source:
NetGalley
Reviewer:
Crystal
Rating:
3.5 out of 5 Wine Glasses
This whole grim reaper thing should have come with a manual.
Or a diagram of some kind.
A flow chart would have been nice.

Charley Davidson is a part-time private investigator and full-time grim reaper. Meaning, she sees dead people. Really. And it's her job to convince them to "go into the light." But when these very dead people have died under less than ideal circumstances (like murder), sometimes they want Charley to bring the bad guys to justice. Complicating matters are the intensely hot dreams she's been having about an entity who has been following her all her life...and it turns out he might not be dead after all. In fact, he might be something else entirely. But what does he want with Charley? And why can't she seem to resist him? And what does she have to lose by giving in?

With scorching-hot tension and high-octane humor, First Grave on the Right is your signpost to paranormal suspense of the highest order.
Crystal's Thoughts:
Fun, fresh, and sexy,
First Grave on the Right
is a slapstick introduction into the chaotic life of Charley Davidson. Private investigator. Grim Reaper. And consultant for the local police department.
Charley can see dead people. Sometimes she even gets to help those dead people cross over. Other times she finds justice for their murders. Right now, she needs to find the person behind the shooting of three lawyers, so that they and their families can have some closure. But she also needs to insure that one of her clients got away from her abusive husband safely and figure out the reason behind her decidedly erotic dreams... especially when those dreams begin to appear in her waking hours...
First Grave on the Right
is a book that I may not have loved, but I liked a great deal. The story, which is told mostly through the inner dialogue of the protagonist, Charley Davidson, was a little too sporadic for my tastes but I am hoping that with each installment the plot will flow smoother. Darynda Jones weaves a complex story line of life and death, and all of those interesting nuances in between. Replete with mystery and intrigue, these puzzles unfold for the heroine and reader alike. Though there are still so many questions left unanswered at the end!
I did enjoy the characters of the series, Charley is full of snark and walks a fine line between annoying and lovable. While the secondary characters are quirky and fun. Uncle Bob and Garrett kept the dialogue entertaining while Cookie lent it support. Though there were a few random exchanges that threw me from the story on occasion. Reyes, enigmatic and decadent, instantly fascinated me. I wish the story focused a little bit more on that enigma but expect that future books will satisfy.
All in all,
First Grave on the Right
had a good premise. I look forward to reading more of this series and learning about Charley and Reyes purposes.
Suggested Reading Order:
Book #1 First Grave on the Right