Promise of Darkness
(Dark Court Rising #1)
by Bec McMaster
ebook, 400 pages
Published September 19th 2019 by Lochaber Press
Princess. Tribute. Sacrifice. Is she the one prophesied to unite two warring Fae courts? Or the one bound to destroy them?

In a realm ruled by magic, the ruthless Queen of Thorns is determined to destroy her nemesis, the cursed Prince of Evernight.

With war brewing between the bitter enemies, the prince forces Queen Adaia to uphold an ancient treaty: she will send one of her daughters to his court as a political hostage for three months.

The queen insists it's the perfect opportunity for Princess Iskvien to end the war before it begins. But one look into Thiago's smouldering eyes and Vi knows she's no assassin.

The more secrets she uncovers about the prince and his court, the more she begins to question her mother's motives.

Who is the true enemy? The dark prince who threatens her heart? Or the ruthless queen who will stop at nothing to destroy him?

And when the curse threatens to shatter both courts, is she strong enough to break it?
The tension in the prince's shoulders softens as I press my back into the stone of the arch, turning my entire body toward him. "Do you think I'd stand in an open window with my enemy behind me if I wasn't bedazzled by his pretty eyes?"
"I thought we were past the 'enemies' part of this?"
"I'm still considering the notion. I don't know what comes after 'enemies.'"
"That's easy." His voice grows rough. "We kiss. We argue. We fall into bed."
My cheeks heat. I'd wondered if he'd mention that.
Thiago brings his hand to my cheek, brushing his knuckles against the smooth skin there. "But you're the one who makes that decision. I won't steal into your bed, Vi. You're the one who's going to have to do that." He gives a sly smile. "Though for every day you make me wait, I'll repay you with an hour of sensual torture."
Help.
I stare at him breathlessly. "Doesn't that behoove me to make you wait longer?"
Thiago leans closer, stealing a soft kiss from my lips. "That depends." He takes a step back, finally giving me some space to breathe. "On whether your willpower is stronger than temptation."
It's not.
I know it's not.
I want to throw up the white flag of surrender right here, to taste more of that kiss he barely gave me.
And some part of it must show on my face, because he draws back and laughs. "Willpower, Vi."
It's a smoky sound that curls inside me, as though he's somehow infected me.
"I'm trying to remember why this is a bad idea."
"Oh, it's not. It's a very, very good idea," he croons. "But we're supposed to arrive in Stormhaven within the hour, and an hour's not long enough to do any of what I have planned."
I close my eyes. Images dance there, of the pair of us tangled together on heated sheets. "That isn't helping."
Thiago chuckles under his breath. "It wasn't supposed to. Come. Kyrian will be waiting for us."
About Bec McMasters :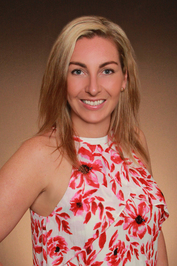 I'm a writer. Dreamer. Travel Addict. And enthusiastic-if-not-perfect baker. I'll honestly admit that I don't always follow the recipe, be it cooking, or writing romances. If I'm not sitting in front of the computer, I'm probably plotting my next world trip. Or eating chocolate. Sometimes I run. Because...chocolate. I grew up on a steady diet of 80's fantasy movies like Ladyhawke, Labyrinth and The Princess Bride, and love creating epic, fantasy-based worlds with heroes and heroines who must defeat all the odds to have their HEA. I live in a country town in Australia, with my very own beta hero, Byron; Kobe, a dog who will eat anything (even used teabags); and demanding chickens, Siggy and Lagertha.
Tour-Wide Giveaway(s):
a Rafflecopter giveaway
a Rafflecopter giveaway