Abandon
(Seaside Pictures #3.6)
by Rachel Van Dyken
Kindle Edition, 120 pages
Published August 27th 2019 by Evil Eye Concepts, Incorporated
ASINB07L9HHKSK
From New York Times and USA Today bestselling author Rachel Van Dyken comes a new story in her Seaside Pictures series…

It's not every day you're slapped on stage by two different women you've been dating for the last year.

I know what you're thinking. What sort of ballsy woman gets on stage and slaps a rockstar? Does nobody have self-control anymore? It may have been the talk of the Grammy's.

Oh, yeah, forgot to mention that. I, Ty Cuban, was taken down by two psychotic women in front of the entire world. Lucky for us the audience thought it was part of the breakup song my band and I had just finished performing. I was thirty-three, hardly ready to settle down.

Except now it's getting forced on me. Seaside, Oregon. My band mates were more than happy to settle down, dig their roots into the sand, and start popping out kids. Meanwhile I was still enjoying life.

Until now. Until my forced hiatus teaching freaking guitar lessons at the local studio for the next two months. Part of my punishment, do something for the community while I think deep thoughts about all my life choices.

Sixty days of hell.

It doesn't help that the other volunteer is a past flame that literally looks at me as if I've sold my soul to the devil. She has the voice of an angel and looks to kill—I would know, because she looks ready to kill me every second of every day. I broke her heart when we were on tour together a decade ago.

I'm ready to put the past behind us. She's ready to run me over with her car then stand on top of it and strum her guitar with glee.

Sixty days. I can do anything for sixty days. Including making the sexy Von Abigail fall for me all over again. This time for good.

Damn, maybe there's something in the water.
Excerpt:
Call it the science of breakups.
Nothing worked.
Not drugs.
Not alcohol.
Not music.
Not space.
Not even time. Because the memories were always there, and it was incredible how easy it was for your brain to conjure up smells, tastes, and feelings.
And since both Abigail's and my career had erupted at the same time? Everything related to music was also tethered to her.
I put a pillow over my head and yelled into it.
She was desperate. But I felt like a weak piece of shit for letting her stay with me. I hated those guys: the ones that just wanted one morsel of the girl that got away and were willing to do anything, even exchange their dicks, for a pussy. Just so they could have one last look, taste, fill, call it whatever you wanted. I hated those guys.
They sucked.
The last thing I needed was to become that guy. Because I knew if she hurt me again, I would literally have nothing left.
And it was a terrifying thought, to say the least.
I put the pillow back behind my head and turned to my side, touching the wall with my fingertips like the biggest loser on the planet. I wondered how many inches separated the space between us. If I pressed my ear to the wall, would I hear her crying because of the storm? Or was she just dreaming about stabbing me in my sleep?
It was a toss-up. I mean, it always had been with us.
The thunder cracked again, scaring the shit out of me as I jumped out of bed and shut the guest bedroom window.
This was ridiculous.
At least I wouldn't have to see her at the music camp since Drew had gone to bat for me. I was headed to Trevor's studio to help with his music students. He was so thankful that he could have more time with the kids and his new fiancée that I actually felt relief that I was finally helping and not making a mess of things.
It hadn't always been that way.
You knew there was something terrifyingly wrong when Drew, the f-up of the group, told you to put your big boy pants on.
Thunder cracked again.
Yeah, I was getting zero sleep tonight.
I grabbed my guitar on my way out to the living room, then snatched up one of my sharp number-two pencils from my satchel, along with my old, ratty, blue music notebook and sat on the couch. The front cover of the journal was almost completely torn off and had stickers from places I'd visited covering it. No matter how many times I tried to buy a new one, I still kept this one and just stapled more pages into it. Maybe it was stupid, but it was a comfort to me.
The room was dark.
Silent.
Just the way I liked it.
I loved the power behind the drums, but there was something so intimate about playing the acoustic—just me, my Gibson Les Paul, and my voice.
I strummed a few chords, switched to G, and kept strumming as my mind decided to torture me by way of memories.
So many damn memories.
About the author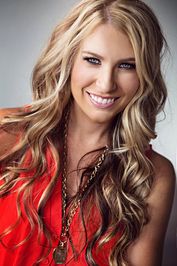 Rachel Van Dyken is a New York Times, Wall Street Journal, and USA Today bestselling author. When she's not writing about hot hunks for her Regency romance or New Adult fiction books, Rachel is dreaming up new hunks. (The more hunks, the merrier!) While Rachel writes a lot, she also makes sure she enjoys the finer things in life—like The Bachelor and strong coffee.

Rachel lives in Idaho with her husband, son, and two boxers.