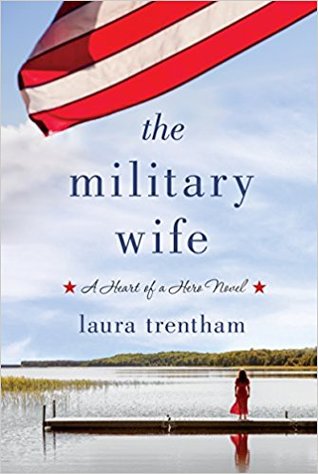 The Military Wife
(A Heart of a Hero #1)
by Laura Trentham
Paperback, 352 pages
Published February 5th 2019 by St. Martin's Griffin
ISBN 1250145538
An emotionally layered novel about family, loss and what it means to be a military wife.

Harper Lee Wilcox has been marking time in her hometown of Kitty Hawk, North Carolina since her husband, Noah Wilcox's death, nearly five years earlier. With her son Ben turning five and living at home with her mother, Harper fights a growing restlessness, worried that moving on means leaving the memory of her husband behind.

Her best friend, Allison Teague, is dealing with struggles of her own. Her husband, a former SEAL that served with Noah, was injured while deployed and has come home physically healed but fighting PTSD. With three children under foot and unable to help her husband, Allison is at her wit's end.

In an effort to reenergize her own life, Harper sees an opportunity to help not only Allison but a network of other military wives eager to support her idea of starting a string of coffee houses close to military bases around the country.

In her pursuit of her dream, Harper crosses paths with Bennett Caldwell, Noah's best friend and SEAL brother. A man who has a promise to keep, entangling their lives in ways neither of them can foresee. As her business grows so does an unexpected relationship with Bennett. Can Harper let go of her grief and build a future with Bennett even as the man they both loved haunts their pasts?
About the Author:
LAURA TRENTHAM is an award-winning author of contemporary and historical romance. She is a member of RWA, and has been a finalist multiple times in the Golden Heart competition. A chemical engineer by training and a lover of books by nature, she lives in South Carolina.
GIVEAWAY:
St. Martin's Press is giving away one copy of this title to one reader today. (US ONLY PLEASE) To enter, just fill out the rafflecopter below. Good luck!


a Rafflecopter giveaway