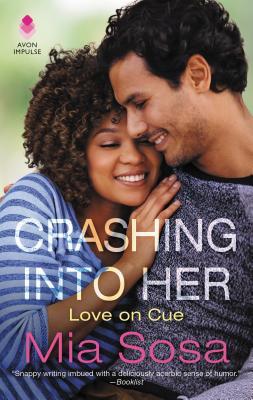 Title
: Crashing Into Her
Series
: Love On Cue #3
Author
: Mia Sosa
Format
: eBook, 384 pages
Expected publication
: Feb. 19th 2019 by Avon Impulse
ASIN
: B07BQ59RNJ
Links
:
Goodreads
|
Amazon
|
B&N
Source
: Edelweiss
Reviewer
: Kimberly
Rating
: 3.5 out of 5 Wine Glasses
Relationships are a thing of the past for Eva Montgomery. Her current motto? You can't spell "manipulative" without man. But Eva has needs, and a one-night-stand at her best friend's wedding is the perfect way to kick off her new approach to singledom. Then a job opportunity puts her in the same city with the guy she can't forget . . .

Anthony Castillo is a perpetual bachelor—no strings, just flings—a status he maintains by being honest about his intentions and never looking back. So why is he still thinking about the firecracker of a woman who rocked his world at his cousin's wedding? It's a question he refuses to answer, until she comes crashing back into his life, taking his emotional walls down with her.

When her father doubts her ability to make it in LA, Eva vows to go big and prove him wrong. With her athletic background, she's an ideal candidate for stunt work. But first she'll need training, and the instructor is none other than her former hookup, Anthony Castillo. Except he's not as cocky as she remembers and he's definitely still sexy as sin. The only problem is . . . Anthony doesn't want her anywhere near his stunt school—or his heart.
Kimberly's Thoughts:
"Eva," he whispers in a low groan. "Friends shouldn't do this."
Third in the Love on Cue series stars Eva and Anthony. Eva was the friend and Anthony the cousin to the heroine in the first in the series, Acting on Impulse. Series readers will enjoy the many appearances and inclusion of past heroines and heroes. However, newbies could comfortably start here as Eva and Anthony are just beginning their relationship. Eva and Anthony start off a little ornery with each other but when their thought to be one-night stand turns into now we're working with each other, their back and forth really heats up.
Eva was a gusty heroine, she moved from the east coast to the west, even though she lost financial and emotional support promised by her dad. She does gain proximity to her bestfriend and a job, which I must mention how wonderful it was to read about three women (heroines from #1 and #2 Pretending His Mine ) with varying personalities having fun together, encouraging, and being a support system for each other. It helps round out the heroine and series' world when they don't live in isolation or primarily for the hero. Even though I didn't get a great feel for Eva's relationship with her mother, I enjoyed how her issues with her father weren't heavy angst, more like family growing pains; it was nice to see them talk and work to improve their relationship.
Anthony had the often used, can't commit because my father loved my mother more than she did him and now I can never love because I don't want to turn out like him. This felt a little forced and I thought the overall theme and feeling of the story's two people trying to navigate life and open up for love, could have did without it. Anthony seemed like a pretty busy guy, he helps to run/instruct at a gym and stunt work business, just having him unsure if he could take time from his career while emotionally opening himself up could have worked.
"Last night was incredible, but I think you wanted to keep it impersonal, and only after experiencing impersonal did I realize it doesn't fit the way I feel about you."
I really enjoyed Eva and Anthony's back and forth and chemistry. There were a couple times where I thought they didn't have to be so clever with each other all the time but it was refreshing how they were generally friends through the majority of it. They both had a little bit of bitterness and fear of what could happen, instead of taking each problem as it came. It was enjoyable to follow along with them as their chemistry couldn't help but push their friendship into more heated situations. They also did a great job talking and owning up to mistakes or missteps.
This is written in first person point of view, alternating chapters, which not a personal favorite, I sometimes feel like I'm missing some connection between the two.
This author does a fantastic job writing family and friendship dynamics, I believe in her characters and world. I do think that while this is contemporary right now, the character's parlance could have this not aging well, even within 5/10 years; a lot of current/pop culture word usage. The author's use of food to immerse and showcase in some small way the characters' cultures was delightful and had me wishing there was a companion cookbook. All in all, an entertaining contemporary where two people try to just be friends but their chemistry can't be denied.
Suggested Reading Order:
Book #1 Acting on Impulse