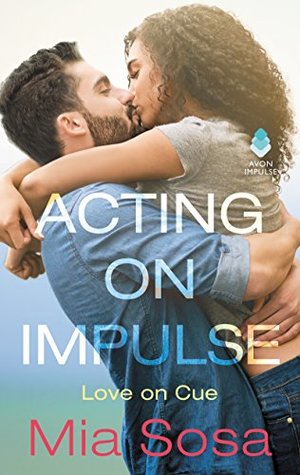 Title
:  Acting on Impulse
Series
: Love on Cue #1
Author
:  Mia Sosa
Format
:  eBook, 288pgs
Published
:  Sept. 19, 2017 by Avon Impulse
ASIN
: B01N4JZ3NL
Links
:
Goodreads
|
Amazon
|
B&N
Source
: Edelweiss
Reviewer
:  Kimberly
Rating
:  2.5 out of 5 Wine Glasses
After a very public breakup with a media-hungry politician, fitness trainer Tori Alvarez escapes to Aruba for rest, relaxation, and copious amounts of sex on the beach—the cocktail, that is. She vows to keep her vacation a man-free zone but when a cute guy is seated next to her on the plane, Tori can't resist a little harmless flirting.

Hollywood heartthrob Carter Stone underwent a dramatic physical transformation for his latest role and it's clear his stunning seat mate doesn't recognize the man beneath the shaggy beard and extra lean frame. Now Carter needs help rebuilding his buff physique and Tori is perfect for the job. It doesn't hurt that she makes his pulse pound in more ways than one.

Sparks are flying, until a pesky paparazzo reveals Carter's identity. Tori is hurt and pissed. She wants nothing to do with another man in the limelight, but she's still got to whip him into shape. Can Carter convince Tori he's worth the threat to her privacy that comes with dating a famous actor, or will Tori chisel him down to nothing before he even gets the chance?

Grab the popcorn…
Kimberly's Thoughts:
Tori isn't having the best week after a public break-up with her boyfriend. She decides a trip to Aruba for some rest, relaxation, and no drama is needed.
After losing a bunch of weight for a movie role, Carter decides that a week of rest, relaxation, and no drama is needed.
From the moment Tori and Carter meet on the plane bound for Aruba, rest, relaxation, and no drama go right out the window.