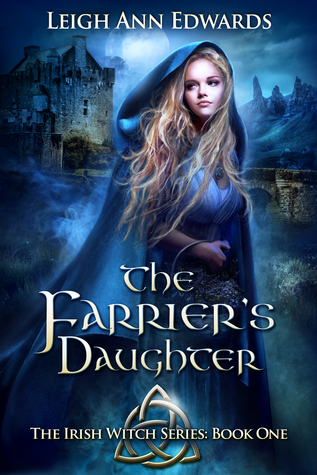 Title
: The Farrier's Daughter
Series
: The Irish Witch Series: Book 1
Author
: Leigh Ann Edwards
Format
: Kindle, 195 pages
Published
: July 7, 2016 (Tule Publishing; 2 edition)
ISBN
: ASIN: B01HST10T0
Links
:
Goodreads
|
Amazon
|
B&N 
Reviewer
: Linda
Source
: NetGalley
Rating
: 4 out of 5 Wine Glasses
In 16th Century Ireland. Young and beautiful Alainn McCreary, healer in training to the powerful O'Brien Clan, is on the cusp of discovering she possesses vast and unusual supernatural powers, which she hopes will help her unlock the secrets of her past and break the curse on the O'Brien Clan.

Alainn is counseled to hide her magical abilities, but how can she when dark forces rise up to threaten not only the O'Brien Clan, but Alainn and the life of the Chieftain's beloved, but forbidden nephew, Killian O'Brien, a man Alainn has loved as long as she can remember?

Your Thoughts:
"He snorted. "He fears you? Why ever would he fear a small girl like you, and his own daughter?"
She napped her eyes back up and whispered, "Because, I know of magic."
Killian smirked. "Of course you know of magic, everyone knows of magic. We live in Ireland. Everyone knows of fairies and druids, and the like. Magic cannot be disputed, even if the priests do not take kindly to these beliefs."
"Aye, but I can do magic."