Saturday, March 28, 2015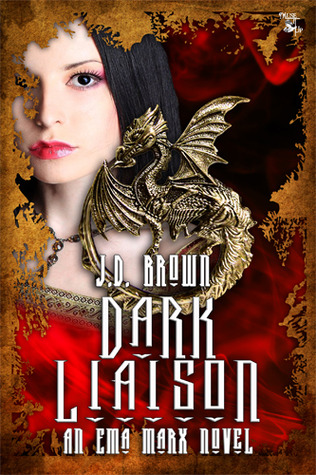 Are you holding your breath? Not yet? Then you might be as you read Dark Becoming. If you don't know what that is, let's ask our guest today, the author: J.D. Brown!
Lexi: Welcome back J.D.! In your last guest post you shared your love of coffee and a cute 'what kind of coffee drinker' are you quiz. I love a latte but that comes second to wine! What won't come second to anything are sci-fi fantasy books. Dark Becoming is the third book in your Ema Marx series and has truly caused more than one reader to read with baited breath. Do you get a little giddy before a release just knowing what you are going to put us readers through?
JD: I admit it, I enjoy torturing my characters and writing cliff hangers. It's as fun to write as it is to read. But before a release, I'm always nervous/anxious. You just never know if a funny scene or an emotional scene will come across to the readers the way you intended. So I'm kind of relieved when I scan the reviews and see that people 'got it'. LOL. Then, of course, reading their angst and longing for the next book is tons of fun. *evil laugh*
Friday, March 27, 2015
Title: Now You See Him
Author: Anne Stuart
Format: Paperback & eBook, 202 pages
Published: April 1, 1992 by Silhouette Books
ReIssued: February 11, 2015 by Bell Bridge Books
ASIN: B00TQZOR86
Links: Goodreads | Amazon | B&N
Source: NetGalley
Reviewer: Kimberly
Rating: 4 out of 5 Wine Glasses
Francey Neeley's life has been torn to pieces. Her handsome and charming Irish boyfriend turned out to be a terrorist who was only after her fortune and planned to kill her once he got it. His "sister" forced Francey to help her attempt a rescue when his cover was blown during a mission to assassinate a world leader. Francey barely escaped with her life in the shoot-out.

Now Francey's secluded herself amidst the beautiful, healing atmosphere of Belle Reste, her cousin's resort on a Jamaican island. She's emotionally shattered and remains under a cloud of suspicion even after being interrogated by every major law enforcement agency.

Warning bells go off from the moment British school teacher Michael Dowd arrives to recuperate from a car accident. Though he's obviously recovering from serious injuries, she sees glimpses of a coldly efficient predator that make her wary of her intense attraction to him. She made one horrible mistake already . . .

Michael Dowd is there to find out the truth about her involvement; he'll seduce her if that's what it takes. And if he learns she was one of the terrorists, he'll kill her.

But someone on the island is trying to kill them both. How will Francey know who to trust when Michael disappears and reappears as a perfect stranger? Who is the villain, and who is the savior? The wrong answer means death. 
Kimberly's Thoughts:
Thursday, March 26, 2015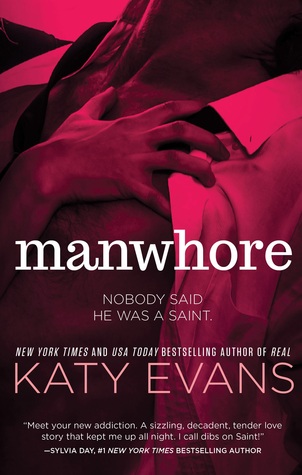 Title: Manwhore 
Series: Manwhore #1
Author: Katy Evans
Format: eBook/Paperback, 368 pages
Publication: March 24th 2015 by Gallery Books
ISBN: 1501101536
Links: Goodreads | Amazon | B&N
Reviewer: Crystal
Source: Netgalley
Rating: 4 out of 5 Wine Glasses
Is it possible to expose Chicago's hottest player—without getting played?


This is the story I've been waiting for all my life, and its name is Malcolm Kyle Preston Logan Saint. Don't be fooled by that last name though. There's nothing holy about the man except the hell his parties raise. The hottest entrepreneur Chicago has ever known, he's a man's man with too much money to spend and too many women vying for his attention.




Mysterious. Privileged. Legendary. His entire life he's been surrounded by the press as they dig for tidbits to see if his fairytale life is for real or all mirrors and social media lies. Since he hit the scene, his secrets have been his and his alone to keep. And that's where I come in.




Assigned to investigate Saint and reveal his elusive personality, I'm determined to make him the story that will change my career.




But I never imagined he would change my life. Bit by bit, I start to wonder if I'm the one discovering him...or if he's uncovering me.


What happens when the man they call Saint, makes you want to sin?
Crystal's Thoughts:
Manwhore is a downright hot romance that will keep you up all night turning the pages! 
Title: What a Lady Requires 
Series: The Eton Boys Trilogy #3
Author: Ashlyn Macnamara
Format:  eBook, 231 pages
Published: March 31, 2015 by Loveswept
ASIN: B00N6PD6YI
Links: Goodreads | Amazon | B&N 
Source: NetGalley
Reviewer: Kimberly
Rating: 3 out of 5 Wine Glasses
Perfect for fans of Julia Quinn, Eloisa James, and Sabrina Jeffries, Ashlyn Macnamara's blazing hot novel tells the story of mismatched newlyweds who discover a simmering connection.





Unlike every other proper young lady, Miss Emma Jennings views marrying well as little more than a means to an end. Such a merger would provide her industrious father with social credibility, and Emma with a chunk of her vast inheritance. Emma's practical views are shattered, however, when her father ties her to the fabulously handsome ne'er-do-well Rowan Battencliffe, a man she loathes on sight—from the smile that promises all manner of wickedness to the way he ogles her with those striking blue eyes.





Deep in debt, especially to his wine merchant, Rowan figures the sooner he gets his finances in order, the sooner he can go back to doing what he does best: burning through ridiculous sums of cash. Which is why Rowan agrees to marry the merchant's daughter, a prim and proper woman with delightful curves and an ample dowry. But Emma seems to think it's her business to reform him! Their marriage is a tinderbox—and it's just too tempting to resist playing with fire.
Kimberly's Thoughts:
Title: The Trouble with Texas Cowboys 
Series: Burnt Boot, Texas #2
Author: Carolyn Brown
Format: Mass Market Paperback, 384 pages
Published: January 6th 2015 by Sourcebooks Casablanca
ISBN: 1402296088
Links: Goodreads | Amazon | B&N
Reviewer: Linda
Source: Netgalley
Rating: 4 out of 5 Wine Glasses
When Sawyer O'Donnell takes a ranch job on a whim, he lands smack dab in the middle of a Texas-sized feud! The Gallaghers and the Brennans are at each other's throats to woo the red-headed spitfire, Jill Cleary, and stake a claim for the Fiddle Creek Ranch. 





Jill makes Sawyer's blood boil. They argue, they banter, but Sawyer soon goes from being driven crazy to crazy in love. Damned if he knows how that happened. But now that it has, how does he compete with two men that can give this cowgirl a lifestyle beyond her wildest dreams?
Linda's Thoughts:
"Jill is mine and Polly's only living relative and she has come to Burnt Boot to work for us. And this bunkhouse is big enough for the two of you."
Sawyer wasn't too sure about that last statement. The bunkhouse had looked huge when he moved in, but a woman living in it would damn sure make it smaller in a hurry. Travis Tritt's old song "TROUBLE" played through his mind.
DEEP is almost here and if you're like me, you are bouncing on your toes right now! In celebration of DEEP's upcoming release we have an excerpt and teaser image to share with you. Be sure to
pre-order
your copy today! 
Deep 
(Stage Dive #4)
by Kylie Scott 
eBook, 288 pages
Expected publication: March 31st 2015 by St. Martin's Griffin
Don't miss a beat with the fourth and final novel in the USA Today bestselling Stage Dive series from Kylie Scott.

Positive. With two little lines on a pregnancy test, everything in Lizzy Rollins' ordinary life is about to change forever. And all because of one big mistake in Vegas with Ben Nicholson, the irresistibly sexy bass player for Stage Dive. So what if Ben's the only man she's ever met who can make her feel completely safe, cherished, and out of control with desire at the same time? Lizzy knows the gorgeous rock star isn't looking for anything more permanent than a good time, no matter how much she wishes differently.

Ben knows Lizzy is off limits. Completely and utterly. She's his best friend's little sister now, and no matter how hot the chemistry is between them, no matter how sweet and sexy she is, he's not going to go there. But when Ben is forced to keep the one girl he's always had a weakness for out of trouble in Sin City, he quickly learns that what happens in Vegas, doesn't always stay there. Now he and Lizzie are connected in the deepest way possible...but will it lead to a connection of the heart?