Wednesday, April 24, 2019
Rescuing Macie
(Delta Force Heroes #9.5)
by Susan Stoker 
Kindle Edition, 120 pages
Published April 23rd 2019 by Evil Eye Concepts, Incorporated
ASINB07HCQ8TBT
From New York Times and USA Today bestselling author Susan Stoker comes a new story in her Delta Force Heroes series… 

After years of estrangement, Mercedes Laughlin has finally reconciled with her older brother. It should be the happiest time of her life, getting to know Truck and his new wife…and it would be, if an ex wasn't causing her trouble. Add in Truck's boss, Colonel Colton Robinson, an amazingly distracting man whom she met under embarrassing circumstances, and Macie's got a bit more on her plate than she can handle.

From the moment they met, Colt was fascinated by Macie, and helping her through an anxiety attack at her brother's wedding didn't diminish the appeal. He'd do his best to sweep her off her feet, if not for a little voice telling him to tread lightly—until a frantic phone call changes the plan. Macie's being targeted, and Colt's determined to keep her safe while he and her brother eliminate the threat.

Colt isn't about to let his friend lose his sister again so soon…or miss his own chance at a happy ending with Macie before they've barely had a beginning. 
Tuesday, April 23, 2019
Junk Mail
by Kendall Ryan
300 pages
Published April 23rd 2019 by Kendall Ryan
It all started with a sexy selfie.

Texted to the wrong number.

Oops.

Not my finest moment—but I have nothing to be ashamed of.

She thought I was no better, and I quote, than the knuckle-dragging douche-bags she was never dating again.

It was a stupid dare from a girl I'd met online, but since she'd given me a fake number, I didn't feel bad that my interests were suddenly focused elsewhere—on the fiery and sharp-tongued, Peyton that I found myself sparring with over text for the rest of the evening.

The following day, my case of mistaken identity came back to bite me in the banana.

When I strolled into the office, I was introduced to Peyton as the new client I needed to win over. The Peyton , in case you're not tracking.

And let's just say she had my full attention.

Brains? Check.

Beauty? Oh yeah.

And the best part? She hated me on sight.

Dear God, do I love a challenge.

Let the games begin. 
Tuesday April 23, 2019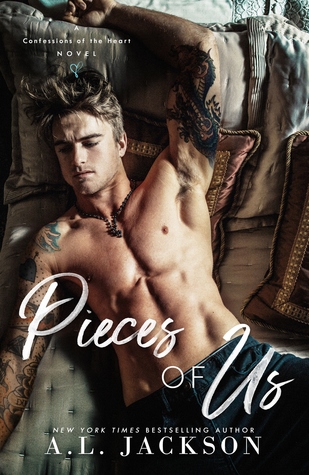 Pieces of Us
(Confessions of the Heart #3)
by A.L. Jackson 
Kindle Edition
Published April 22nd 2019
Maxon Chambers has a way of stealing all the attention.
All my affection, and all my dreams.
What I needed to remember was he'd stolen my good judgment and my virginity, too.

When he broke up with me, I ran across the country and swore I'd never return to Broadshire Rim.
But here I am, thirteen years later.

Maxon is all grown up.
Sexier than sin and more tempting than ever.
A detective on the Charleston force, he lives on the outside of safety, devoted to protecting the people of his city.
But with the way he's looking at me now? I'm pretty sure what needs protecting is my heart.

Can we mend the pieces of us? Or will he leave my heart shattered forever . . . 
Monday, April 22, 2019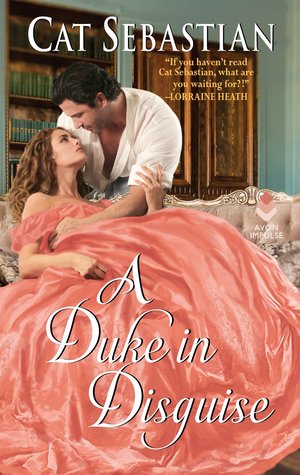 Title
:  A Duke in Disguise
Series
:  Regency Imposters #2
Author
: Cat Sebastian
Format
: Paperback/eBook, 216 pages
Publication
: April 9th 2019 by Avon Impulse
ASIN
:  B076ZGT6HQ
Links
:
Goodreads
|
Amazon
|
B&N
Source
: Edelweiss
Reviewer
: Kimberly
Rating
: 3 out of 5 Wine Glasses
One reluctant heir

If anyone else had asked for his help publishing a naughty novel, Ash would have had the sense to say no. But he's never been able to deny Verity Plum. Now he has his hands full illustrating a book and trying his damnedest not to fall in love with his best friend. The last thing he needs is to discover he's a duke's lost heir. Without a family or a proper education, he's had to fight for his place in the world, and the idea of it—and Verity—being taken away from him chills him to the bone.

One radical bookseller

All Verity wants is to keep her brother out of prison, her business afloat, and her hands off Ash. Lately it seems she's not getting anything she wants. She knows from bitter experience that she isn't cut out for romance, but the more time she spends with Ash, the more she wonders if maybe she's been wrong about herself.

One disaster waiting to happen

Ash has a month before his identity is exposed, and he plans to spend it with Verity. As they explore their long-buried passion, it becomes harder for Ash to face the music. Can Verity accept who Ash must become or will he turn away the only woman he's ever loved?
Kimberly's Thoughts:
He held out a hairpin.
"When did you start carrying those in your pocket?" she asked, recalling that this was not the first time he had produced a timely hairpin. A very faint blush darkened Ash's cheekbones and Verity felt her lips curl upward in response.
"I find them all over the house," he said. "You ought to consider what conditions you're subjecting your hairpins to if they'd rather plummet to their death than work for you. Here," he said, lifting a loose tendril of hair. "You expect your pins to do the work of subjugating the masses. It's oppression. Your hair clearly wants to be free."
Title
: Sedona Sin
Series
: Sedona Pack #1
Author
: Lisa Kessler
Format
: Kindle Edition, 195 pages
Published
: February 25th 2019 by Lisa's Lair
ISBN
: ASIN B07K6VXBY1
Links
:
Goodreads
|
Amazon
|
B&N
Reviewer
: Linda
Source
: Author
Rating
: 4 out of 5 Wine Glasses
A new Alpha will rise...

Asher Mateo's future was stolen the night the Sedona Pack Alpha marked him to be bitten. Drafted into the werewolf Pack, Asher was forced to become a man he hardly recognized. After heading up a rebellion to overthrow their Alpha, Asher can't wash the sins from his hands and yearns for a fresh start. But he can't bring himself to leave Naomi and her twin boys. Without a strong Alpha to lead the Pack, all their lives are at risk from a new threat who will stop at nothing to expose shifters to the world as blood thirsty killers.

Naomi Rossi used to be a graphic designer with a black belt in karate and deadly aim with ninja stars, but under a full moon a wolf bite left her changed forever. Now she's a single mom to her twin boys, and doing her best to help her friend Asher see himself the way she does, as a leader. But a passing touch, threatens all of her plans as her wolf recognizes this man is destined to be much more than a friend…
Linda's Thoughts:
We were just a group of people who survived psychological tortures and imprisonment at the hands of a tyrant.