Thursday, July 24, 2014
We have a book and excerpt to share with all those spots romance fans out there! Check out Alicia Spark's SIN BIN!
Sin Bin 
(Memphis Mayhem #2)
by Alicia Sparks
ebook, 146 pages
Published May 30th 2014 by Beau Coup Publishing
Goodreads | Amazon
Justine Rupf's entire life was built around hockey, from her father's Stanley Cup win when she was a kid to running the hockey themed bar, Sin Bin, across from the Memphis Mayhem's Hockey Center. She thinks of most of the guys as brothers except for the one who stole her heart years ago and has never given it back. Mark "Matrix" May knows his days as a professional hockey player are numbered, and he wants to spend the final years of his career in Memphis for several reasons, the most important being Justine "Ruff and Ready" Rupf, the girl who has always been the one for him. There's only one problem. Mark didn't make it to Memphis based on talent alone, and now the team owner's daughter is in town ready to blackmail Mark to get what she wants. He has a decision to make, and he knows no matter what he does, he's going to end up in the Penalty Box, a place known to hockey players as the Sin Bin. 





*Content Warning: Intended for 18+ Audience. May contain explicit scenes.
Wednesday, July 23, 2014
Title: The Winged Fae
Series: The World of Fae, #3
Author: Terry Spear
Format: Audio/ebook, 147 pages
Published: September 2nd 2011 by Terry Spear (06-20-14)
ISBN: 0013093517
Narrated by: Jeanne Whitehouse
Length: 4 hrs and 24 mins
Format: Unabridged
Links: Goodreads | Kindle | Amazon | Audible | B&N | ARe 
Source: Author
Reviewer: Linda
Rating: 5/5
Serena, a royal member of the Mabara winged fae, has one goal in mind. Stop an impending marriage with a dark fae. As the fae are known to do, she stirs up trouble that she hopes will make her point and get her off the hook. Only nothing goes as she plans.




Niall, a royal member of the Denkar, aka the dark fae, is visiting South Padre Island when he catches a winged fae painting graffiti on a wall on the island claimed by his people. He is at once fascinated with the lovely girl and intrigued by her audacity, but as one of the Denkar, he must take her to task. Yet she's armed with a sleeping potion that makes his life intolerable. Between freeing her from his people's dungeon, her own tower, and fighting a knight in her honor, he wonders if he's lost his mind over one beautiful winged fae--when she's betrothed to his cousin!
Thoughts:
***THIS REVIEW IS FOR THE AUDIBLE EDITION OF THE WINGED FAE by Terry Spear***
"Sweet as the lips that once you pressed."
            —William Winter
She may not have had anything more than book one written when she sold the first three books in the Tricks of the Ton series...but she sure has managed to connect all the stories and rope us readers in! Welcome back Elizabeth Michels!
Elizabeth: Aww, thank you so much! I'm so excited to be back! 
Lexi: Have some wine and let's toast your releases! You have kept up your crazy schedule and managed to write book three of your Tricks of the Ton series. Were there ever times you wondered if it would all click together?
Elizabeth: *clinks wine glasses with Lexi* Now that it's written and on bookshelves, can I admit I wasn't so sure I was going to be able to make everything come together?  My family got an earful everyday about how I would never get this book written in time and how the characters were stubborn and misbehaving…but, then I somehow accomplished it and my family took turns telling me, "I told you so."  I think the most difficult part about writing a series is matching up information from book to book when they're still being written.  Dates, conversations, even the way a character changes throughout a book, it all has to match across the series.  And now, of course, I'm doing it again with more books that link back to these three.  But, I love these characters and this world, so it's worth the toil.  ;)
Ethan Frost returns in the breathtaking conclusion to New York Times and USA Today bestselling author Tracy Wolff's seductive novel Ruined—perfect for fans of Release Me and Bared to You.
First of all, I want to say thank you so much for having me today!  I'm a big fan of your blog and I'm thrilled to be here.
Top 5 things I'm Addicted to
First off, I guess I should warn you that I'm all about girly stuff—always have been, always will be.  I, of course, have three sons all of whom are rough and tumble and totally uninterested in sparkly things, lol.  Which only makes it more fun to spoil my friends' daughters—and let them come play dress-up in my closet and with my make-up.  I'm laying this out there so that no one is surprised when my top five addictions look something like this:
See our review of Katee Robert's
Meeting His Match
HERE
. ☺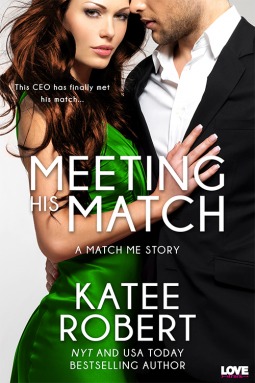 Meeting His Match
Match Me #1
by Katee Robert
ebook, 200 pages
July 21st 2014 by Entangled Publishing, LLC - Lovestruck
Goodreads
|
Amazon
|
B&N
|
ARe
A satisfying category romance from Entangled's brand new Lovestruck imprint…





When New York matchmaker Addison St. Claire is tasked with matching her best friend's new brother-in-law, she almost refuses. But the sexy southern CEO turns out to be a challenge she can't resist, because if anyone needs to meet his soul mate, it's this man. And if matching him with someone else removes the temptation of being near him? Even better.





The last thing Caine McNeill needs is a matchmaker—especially a gorgeous redhead who spouts nonsense about soul mates, critiques what he drives and how he dresses, buys him a dog, and pesters him about a million little things he couldn't care less about. It's a crying shame he has to keep his hands off because chemistry like what's flaring between them ought to be explored. Thoroughly.





And so the battle begins. Addison is determined to stick to her plan of setting him up on dates with other women, and Caine is equally determined to ignore these women and seduce her.
Tuesday, July 22, 2014
Title: Veiled Target 
Series: Veilers #1
Author: Robin Bielman
Format: ebook, 354 pages
Publication: July 22nd 2014 by Samhain Publishing
ISBN: 161922173X
Links: Goodreads | Amazon | B&N
Source: Author
Reviewer: Linda
Rating: 4/5
"Never take Fate along on a date. The kiss goodnight could be deadly. " - A Veilers Novel, Book 1



Tracking down Veilers-non humans-is only a sideline for Tess Damon. Vengeance for her fiance's murder is her reason for living. But with two botched jobs on her record, if she fails to eliminate her next mark, she's dead.





She's not afraid to die, but not before she gets even. Too bad fate has a really bad sense of humor.





Hugh Langston, a wolfen half shifter, lives to keep both humans and his pack safe. But when rogue humans kidnap his apprentice, his rescue mission is compromised by a hot-as-hell, kick-ass woman who makes him think only one thing: "mine."





Tess tries to ignore her feelings, but temptation trips her up. Especially when Hugh figures out he's her next target and forces her into an inconvenient alliance that tests all the laws "against" their attraction.





Now, with the line between good and evil getting blurrier by the minute, it becomes clear Tess's only hope of living to see another day-and finding a murderer-lies with the one man she's supposed to kill.





Warning: Contains one obscenely hot alpha and the woman who wants to love him before she kills him. Look out for a blind date, scorching sex, humor, lies, and untamable attraction. 
Thoughts:
Blind Date or  a Twist of Fate?
Today we have an excerpt to share with you from Rachel Harris' new release, ACCIDENTALLY MARRIED ON PURPOSE! See our review of this title
HERE
. ☺
Accidentally Married on Purpose 
Love and Games #3
Rachel Harris
ebook, 266 pages
July 14th 2014 by Entangled: Bliss
Goodreads
|
Amazon
|
B&N
|
ARe
One ring plus one wild night equals one crazy love



Sherry Robicheaux loves men. She loves love. And she loves an adventure. So when she meets a mysterious man while working backstage at a country music concert in Vegas, she's all about what's happened in Vegas staying there.





Country music superstar Tyler Blue just wants a weekend of anonymity…though there's something about the spunky waitress with the streaks of purple hair that tempts him like no other. Until the next morning, when they both wake up with fuzzy memories…and rings on their fingers.





Convincing Sherry to maintain the ruse for his public image isn't the hardest part—it's reminding himself that their time spent playing husband and wife in her small town of Magnolia Springs can't last. Tyler's first love will always be music—and the road is no place for a sweet downhome girl.
COLORFUL OR JUST PLAIN CRAZY?
Okay, sometimes it pays to get off the beaten path. The Isle of Palms is 3 hours door-to-door from where I live in Charlotte; we zip down I-77 and I-26 and we're there. My husband heads there as often as possible to soak up the relaxed Lowcountry vibe; we load up our three dogs and count the minutes until we reach our little piece of heaven on earth.
Sometimes, the traffic on I-26 stinks. For years, we've stayed on the Interstate and waited for the way to clear. And waited. But lately when that's happened, we've gotten off the crowded highway and headed back to Charlotte via the Hurricane Route that parallels the Interstate.
A Lesson in Temptation 
(Stanton Family #4)
by Audra North 
ebook, 116 pages
Published July 14th 2014 by Entangled: Edge
ISBN 1633750329
Goodreads | Amazon | B&N | ARe
Adam Harkness pulled himself out of poverty to become one of the world's most respected Finance professors, but at the cost of his personal life. When a well-meaning friend gifts him with a dance course, Adam decides to attend one class out of courtesy, but no more than that. He has work to do, after all - or at least, that's what he tells himself.





After being bullied in high school, Julie Stanton took refuge in her studies. But now that her hard work has paid off and Julie has found success in her job, it's time to focus on finding the same happiness in the rest of her life.





When Adam walks into the same tango class that Julie signed up for, she recognizes him immediately as the professor whom she had a crush on in college. Both Adam and Julie have proven themselves to be excellent scholars. But when the attraction between them turns into something more, will they be able to open their hearts and learn a new lesson - how to love.