Wednesday, July 18, 2018
Siren Beloved 
(Texas Sirens #4)
by Sophie Oak/Lexi Blake 
ebook, 2nd edition
Published July 17th 2018 by Lexi Blake
ISBN139781937608866
Aidan O'Malley walked away from his fiancée, Lexi, and their best friend, Lucas, after a night of passion left him shaken to his core. When Aidan returns home from Iraq, he's haunted by all he has lost. The enemy broke his body, destroying his dreams of a career in music. Worse still, he lost Lexi and Lucas. That damage he'd done all by himself. While he can't restore what combat took from him, he's determined to reclaim the two loves of his life.

Lucas Cameron is a changed man. After connecting with his brother, he found the discipline to get his life on track. His legal career is flourishing, but his love life is a train wreck. The woman he loves is spiraling out of control. After Aidan abandoned them, Lucas and Lexi clung together but no matter how hard he tries, Lucas can't find a way to heal the wounds that Lexi carries.

Lexi Moore feels like a jigsaw puzzle with too many missing pieces. Losing Aidan was hard, but the true reason for her shattered spirit is a secret she only shares with her beloved Lucas. She knows she is drowning and the time has come to heal, but the holes in her heart hold her back from moving on. Shedding the burden she carries is her only hope for a happy future, but she fears she will never have the strength to reveal her secret.

When Aidan walks back into their lives, Lucas and Lexi know everything is about to change. But as they fight to reconcile their past and reclaim what they lost, a vicious predator stalks Lexi. In order to stop the killer, all three must confront the secrets they've carried…before they're buried by them.
Re-released in a second edition with new content.
Tuesday, July 17, 2018
Steele 
(Daring the Kane Brothers #2)
by Kelly Gendron
ebook, 1st edition, 220 pages
Published July 17th 2018 by Kelly Gendron
She dared me to take her on and that's exactly what I plan to do…

I'm no stranger to daring things
However, there are a few stunts even I'm smart enough not to try
Jaylyn Rigsby is one of them
But when the raven-haired beauty
The insurance company sent to oversee my stunts
Dared me to take her on, well, now..
Challenge accepted ~ STEELE

My next assignment has a reputation of cutting through the red tape to get what he wants
But I'm good at my job
Steele Kane isn't going to get whatever he wants
Even, if one of the things he wants is me
Case closed ~ JAYLYN

Will Jaylyn be the first to tame this overbearing stuntman, or will Steele hold out and get what he wants?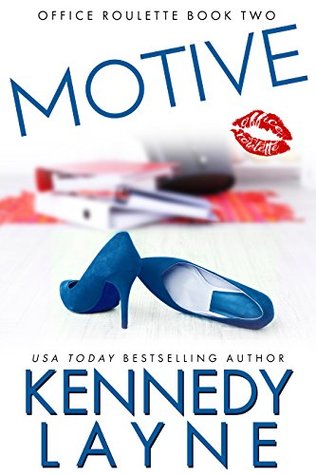 Motive 
(Office Roulette #2)
by Kennedy Layne 
Kindle Edition, 114 pages
Published July 17th 2018 by Kennedy Layne Publishing
ASINB07DFTBDYM
The Office Roulette trilogy continues with an epic battle between blame and forgiveness… 

Rye Marshall had it all—wealth, prominence, and the love of his life. But nothing lasts forever, and his perfect world came crashing down around him. When the dust settled, he found himself alone and starting from a clean slate.

Grace Dorrance had made many mistakes in her life, but one stood out above the rest—an epic ending to a complex and passionate relationship. She left her former lover's life in complete ruins and tried her best never to look back at the wreckage.

Seconds chances are hard to come by, but even more difficult when Grace is arrested for a murder she didn't commit. This gives Rye the perfect motive to forgive and forget, allowing for new beginnings. Unfortunately, someone is playing a game of office roulette with everyone's lives. 
Monday, July 16, 2018
Lexi: A few years ago, our guest said she believed vampires in stories would always be around, like zombies. And boy are we glad she was right, and is still writing them! Welcome back, Dianne Duvall!!
Thank you, Lexi! I'm very happy to be here. Thanks so much for helping me celebrate!
Lexi: I'm still hopping up and down with excitement from having read the blurb for your next Immortal Guardians series release, AWAKEN THE DARKNESS! I can't wait to pick up Stanislav and Susan's story! She digs him up, he has no memory, a little mystery and some excellent romance. How much fun was it to write the scene of Susan digging up Stanislav?
It was sooooo much fun. LOL. Poor Susan. She couldn't understand why she was digging this huge hole or why she didn't get the heck out of Dodge when she found what she thought was a body. I loved her reaction when she realized Stanislav was alive. Really every minute these two spent together thoroughly entertained me.
Love Machine
by Kendall Ryan
Expected publication: July 16th 2018 by Kendall Ryan
A best-friends-to lovers standalone romance from New York Times bestselling author Kendall Ryan. 

She says she needs some help ... in the bedroom.

Come again? No, really come again.

Sweet, nerdy, lovable Keaton.

She's my best friend and has been for years. Sure she likes numbers and math, and thinks doing other people's taxes is fun. And I like ... none of that stuff. She's obsessed with her cat and reads novels I'll never understand, and yet we just click. There's no one I'd rather share breakfast burritos with or binge watch hours of Netflix. She's my person. And so when she takes off her glasses and asks me to help her improve her skills in the bedroom, I barely have to think about it.

Of course I'll help her. There's no one better for the job.

I've been there for her through everything, why should this be any different?

But what happens when she's ready to take her new-found confidence and move on?