Featured Post
We're giving away the conclusion to Christina Lauren's Wickedly Hot Wild Seasons series - WICKED SEXY LIAR !  Wicked Sexy...

Thursday, February 11, 2016
Wednesday, February 10, 2016
Title
: Accidentally in Love with the Biker
Author
: Teri Anne Stanley
Format
: eBook,
Published
: Feb. 8, 2016 by Entangled:  Lovestruck
ASIN
: B01ARRWON6
Links
:
Goodreads
| 
Amazon
|
B&N
Source
: Netgalley
Reviewer
: Kimberly
Rating
: 3.3 out of  5 Wine Glasses
Aspiring writer Kelli Dalton needs a man, and fast. When she's rear-ended by a sexy-as-sin biker on the way to a Vegas romance readers convention, she sees her chance. If he'll pose as her fake boyfriend long enough to impress a bestselling author, Kelli has a shot at saving the bookstore for underprivileged kids she runs back home.

Quinn Anderson doesn't know what to make of the cute little writer who stirs his heart and his libido, but he does know he wants to get better acquainted. And if that means keeping up their sexy ruse all week, he's game.

Quinn knows girl like Kelli deserves someone with a secure future to help with her store, not a guy struggling to turn a profit on his chopper shop. But if his motorcycle designs win the big Vegas competition, he'll have enough prize money to fund his dreams…and hers.
Kimberly's Thoughts:
Welcome to Wine Wednesday, where ever Wednesday you'll learn a fun and interesting fact about wine! Have a fact of your own? Join the fun and leave us a comment or a link to your own post!  
Fact: 
The custom of bumping glasses with a "cheers" greeting came from old Rome where they used this method to make sure no one is trying to poison the other (bumping glasses makes the drink spill from one cup to the other). This tradition started even earlier in ancient Greece – where the host was to drink the first cup of wine to show his guests he does not intend to poison them.
This February, M. L. Buchman raises the stakes—and the heat—in By Break of Day, the latest in his acclaimed Night Stalkers series. To celebrate Buchman joins us on the blog to share an excerpt and answer a quick Q&A!
What type of scenes are your favorites to write?
The ones that race out of my fingers and onto the page are action scenes and great fun to write. But my favorite are also the hardest to write, those pivotal moments when my characters initially refuse the call to face themselves and their future partners, and later when they understand why accepting that call is the best possible choice. I may throw those out a dozen times before I get them right, but I love them when they finally come together.
Tuesday, February 9, 2016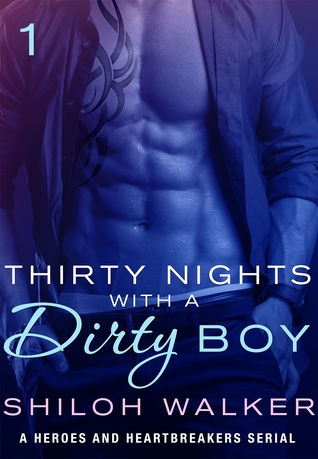 Title
: Thirty Nights With a Dirty Boy
Series
:  Serial  Part #1
Author
: Shiloh Walker
Format
:  eBook,
Published
: Feb. 2, 2016 by St. Martin's
ASIN
: B016VJAZK8
Links
:
Goodreads
|
Amazon
|
B&N
Source
: Netgalley
Reviewer
: Kimberly
Rating
: 3.3 out of  5 Wine Glasses
Introducing Shiloh Walker's erotic Thirty Nights with a Dirty Boy e-serial! 

Money Can't Buy Love... 
Ella Cruise doesn't like to be touched. A survivor of childhood abuse, she craves security in all aspects of her life: fulfilling work at the nonprofit she runs, more than enough money to live comfortably, and a good friend and confidant. But none of it can ease her longing for intimacy, even if just for a night. When she meets a gorgeous bartender who moonlights as a male prostitute, a bold idea begins to take shape...

But It Can Buy a Night of Passion —or Thirty... 
Sean Lachlan is stunned by the cool beauty's offer: 30 nights of no-strings sex in exchange for all the money he'd need to start over. The deal seems too good to be true, especially since his desire for her is no act, but Sean finds he can't turn her down. Before they know it, Sean and Ella realize they're in deep, their defenses crumbling. Will thirty nights with a dirty boy be enough after all, or will love lead Ella and Sean back to the negotiating table?

Read all three parts in Shiloh Walker's scorching-hot Thirty Nights with a Dirty Boy e-serial!
Kimberly's Thoughts:
Legend 
(Real #6)
by Katy Evans
Kindle Edition, 272 pages
Published February 9th 2016 by Gallery Books
ASINB00P42WQNS
Maverick "the Avenger" Cage wants to rise to the top and become a legend in the ring. Though he keeps his identity well guarded, he's known on the fighting circuit as the new kid with a chip on his shoulder and a tattoo on his back that marks him as trouble. He's got a personal score to settle with the Underground's one and only Remington "Riptide" Tate.

As Mav trains, he meets a young girl—the only other new person in the town--and sparks fly. When things get heated between them, he finds out she's none other than Reese Dumas, the cousin of Remington Tate's wife. A girl who's supposed to root against him and a girl he's supposed to stay away from.

But Maverick fights for the woman in his heart, and the monsters in his blood. The world's eyes are on them and the victor will go down in history as the ultimate fighting champion; the ultimate LEGEND.