Wednesday, September 19, 2018
The Christmas Wishing Tree
(Eternity Springs #15)
by Emily March 
Mass Market Paperback, 320 pages
Expected publication: September 25th 2018 by St. Martin's Press
ISBN 1250131723
Sometimes life's most magical journeys bring you back to where it all began...From USA Today bestselling author Emily March comes The Christmas Wishing Tree, an enchanting account of the magic and miracle of Christmas.

A man who loves adventure and the open sea, Devin Murphy returns for a short Christmas trip to his small hometown of Eternity Springs. Immersed in the joy and magic of the holiday season all around him, he doesn't hesitate to play along when a young boy phones Santa to ask for a very special wish. Devin never guesses that a wrong number has the potential to make everything in his life so right.

Jenna Stockton adopted Reilly when he needed a mother and she intends to keep him safe. A small town across the country called Eternity Springs seems like a good place to hide from their past without any complications --until sexy Santa himself discovers her secrets. When Devin proposes a daring plan to face down the danger together and defeat it once and for all, she is tempted. Maybe Devin really is capable of making wishes come true? Perhaps in a Christmas wish they'll both find the miracle they've been looking for all along...

A delightful Christmas novel in the New York Times bestselling Eternity Springs series.
Tuesday, September 18, 2018
Title
: Torched
Series
: Dark Kings #13
Author
: Donna Grant
Format
: Mass Market Paperback, 368 pages
Published
: May 29th 2018 by St. Martin's Paperbacks
ISBN
: 1250109590 (ISBN13: 9781250109590)
Links
:
Goodreads
|
Amazon
|
B&N
Reviewer
: Linda
Source
: Purchased from local independent bookstore
Rating
: 5 out of 5 Wine Glasses
The stakes are raised and the passion burns hotter in one of the most anticipated Dark Kings novel from New York Times bestseller Donna Grant.

The King of Silvers. Cunning, perceptive, resourceful. Determined. Banished from Dreagan eons ago because of a betrayal that shattered his entire existence, his sole focus in life is to exact revenge against the Dragon Kings. A formidable fighter with centuries of rage on his side, Ulrik will stop at nothing to take down those who exiled him.

He has been alone, trusting no one for thousands of years. Until she walks into his life. He should not yearn for her, but there is no stopping the fiercely burning attraction. When he's with her, he isn't thinking of war or revenge. He only thinks of her, craves her. Burns for her. But soon he will be forced to choose: Will he continue on his course of destruction or will he be able to set aside his vengeance to save the woman who risked everything for him.
Your Thoughts:
The most anticipated installment since the series' inception does not disappoint!
Cowboy Charm School
(Haywire Brides #1)
by Margaret Brownley
Mass Market Paperback, 384 pages
Published September 4th 2018 by Sourcebooks Casablanca
ISBN 1492658340
When Texas Ranger Brett Tucker accidentally derails a wedding, he's determined to bring the estranged couple back together...but he never dreamed he'd start falling for the bride!

Texas Ranger Brett Tucker hates to break up a wedding, but the groom―notorious criminal Frank Foster―is a danger to any woman. So he busts into the church, guns blazing...only to find he has the wrong man.

STOP THAT WEDDING!

Bride-to-be Kate Denver is appalled by her fiancé's over-the-top reaction to the innocent mistake and calls off the wedding―for good. Guilt-ridden, Brett's desperate to get them back on track. But the more time he spends with Kate, the harder he falls...and the more he yearns to prove that he's her true match in every way. 
Guilty as Sin
(Sin #2)
by Meghan March
ebook, 250 pages
Expected publication: September 18th 2018 by Red Dress Press
ISBN139781943796175
Guilty until proven innocent.
That's the way the world works, right?
I'm tired of being convicted without evidence, all because my last name is Gable.
The Riscoffs might own this town, but I'm done following their rules.
If only I could forget just how easily Lincoln Riscoff can drag me under his spell.
Monday, September 17, 2018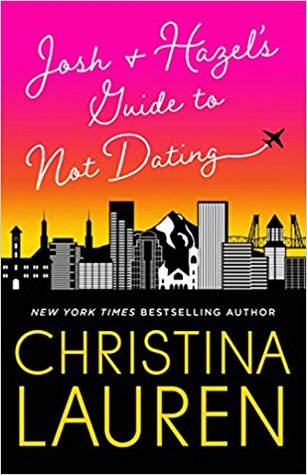 Title: 
Josh and Hazel's Guide to Not Dating
Author: 
Christina Lauren
Format:
 Paperback, 309 pages
Published: 
September 4th 2018 by Gallery Books
ISBN: 
1501165852
Links:
Goodreads
|
Amazon
|
B&N
Source:
 NetGalley
Reviewer:
 Crystal
Rating:
 4 out of 5 Wine Glasses
Hazel Camille Bradford knows she's a lot to take—and frankly, most men aren't up to the challenge. If her army of pets and thrill for the absurd don't send them running, her lack of filter means she'll say exactly the wrong thing in a delicate moment. Their loss. She's a good soul in search of honest fun.

Josh Im has known Hazel since college, where her zany playfulness proved completely incompatible with his mellow restraint. From the first night they met—when she gracelessly threw up on his shoes—to when she sent him an unintelligible email while in a post-surgical haze, Josh has always thought of Hazel more as a spectacle than a peer. But now, ten years later, after a cheating girlfriend has turned his life upside down, going out with Hazel is a breath of fresh air.

Not that Josh and Hazel date. At least, not each other. Because setting each other up on progressively terrible double blind dates means there's nothing between them...right?
Crystal's Thoughts:
Christine Lauren is sure to delight readers with their latest romantic comedy,
Josh and Hazel's Guide to Not Dating
. I thoroughly enjoyed this charming and campy friends-to-lovers anecdote!